If you've ever sustained an injury from running, you're not alone; about half of all adults who run regularly will get injured each year. And if that's not enough to put you off, having a history of previous injuries is one of the strongest risk factors for getting injured again.
So it's no surprise that avoiding injuries is a priority for runners.
One third of runners are so concerned about this, in fact, that they'll ditch their plain old running shoes for fancier footwear they feel is safer and will improve their performance. But do the promises made by global footwear companies about their expensive running shoes stack up?
The evidence
The first thing we need to address is whether the modern running shoe's extra safety features, such as increased stability or extra cushioning, are protecting people from injury. Not very much, according to a provocative 2009 review that highlighted a lack of research testing exactly this.
More evidence has emerged since, but we're still none the wiser.
One study that randomly allocated 81 female runners to shoes with different levels of stability based on their foot posture (pronated, neutral, supinated) found no difference in injury rates during a 13-week training program. Another, which randomly allocated hard or soft-soled shoes to 247 runners, also found no difference in injury rates over a five-month period.
But despite the current state of research literature indicating no clear benefits of running shoes with extra safety features, we're bombarded by claims from global footwear companies about the advantages of their expensive products.
When we dissect the content of the claims made by these manufacturers, we see a recurrence of vague terms, teetering dangerously between the medical and sportswear industries.
Words conjuring imagery of sport and performance such as "zoom", "fast", "elite" and "launch pad" are littered among others suggesting direct benefits from their shoes, such as "better" and "safer". Terms once synonymous with expensive cars are also adopted by global footwear companies, who claim their products offer the most "fluid", "smooth" or "plush" experience for runners.
Problematic claims
The problem is compounded by running footwear companies using "surrogate outcomes" to support claims that their newest technology may reduce risk of a running-related injury. But what's a "surrogate outcome"?
If we want to test whether a new model of footwear, or piece of footwear technology, actually protects against injury, we'd measure – in a controlled study – how many people get injured wearing (and not wearing) the product.
But tracking who does and doesn't get injured over an extended period is a time-consuming and expensive exercise. To circumvent inconvenience and cost, we could instead measure what effect the new footwear has on outcomes that may relate to increasing risk of injury.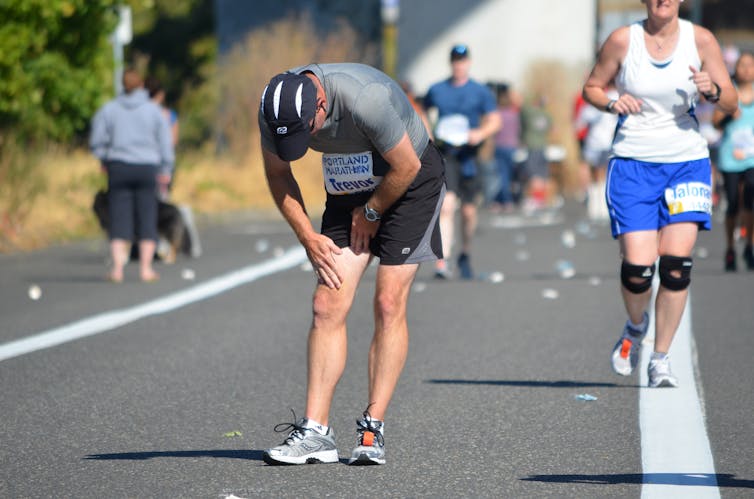 We may, for instance, measure how much they reduce your foot from rolling in (pronating) or soften your impact with the ground (ground reaction forces), as a "surrogate" for measuring injury. But these aren't strong surrogates because neither foot pronation nor high ground reaction forces are strong risk factors for running-related injuries.
The reason for measuring surrogate outcomes in place of actual ones then, is that they're cheaper, more convenient and provide indirect support for marketing claims about new footwear products.
Inviting controversy
In the search to gain advantage in an increasingly competitive marketplace, footwear companies are forever pushing the boundaries with their claims. And when they slip up, the results can be disastrous.
In 2012, a class-action lawsuit was made against Vibram USA, the company that makes the FiveFingers running shoes, the glove-like footwear at the epicentre of the "natural" or "barefoot" running phenomenon.
The case was based on unsupported and deceptive claims of "strengthened foot and leg muscles", "reduced risk of injury" and improved "balance and agility" and "spinal posture" from wearing the shoes. Vibram USA settled, offering refunds to customers and discontinuing the use of these claims about its footwear.
Similarly, promises of more toned buttocks from walking in Reebok's EasyTone shoes were found to be deceptive and misleading by the US Federal Trade Commission.
Reebok was required to pay US$25 million in customer refunds and banned from making unsubstantiated health and fitness claims relating to its "toning" footwear.
The solution
Selecting running shoes based on the purported benefits of certain foot protective features, such as "cushioning" and "motion control", offers no protection against running-related injuries. In fact, we may have reached a point where running shoes are being over-engineered in order to meet market trends, rather than being designed to make running safer.
But where does that leave people faced with the task of deciding the right shoe for them? Interestingly, the solution may lie in not what you think the shoes may do for you, but how comfortable they feel.
In the absence of strong evidence that modern running shoe features reduce injury rates, comfort may be more important than other factors, such as reduced foot pronation and shoe cushioning.
Although footwear comfort is difficult to define and quantify, most people are able to sense whether the shoes they're trying on are comfortable or not. Support, fit and foot alignment are among factors that influence feeling comfortable in a pair of shoes.
Comfortable running shoes are associated with lower frequency of injuries than uncomfortable shoes. This suggests your body may be the best judge of footwear that's ideal for you.
The next time you feel bamboozled by the cornucopia of gels, foams and rubbers in running shoes, arm yourself with the knowledge that comfort is one of the best determinants of whether a pair of shoes is right for you. And that may work best for preventing injuries, your wallet and your peace of mind.