Glastonbury Festival features a huge range of music, dance, comedy, circus arts, film and other expressive forms. Predictably, it looks like rain is set to feature this year, too.
This is a dairy farm that is transformed into the "largest greenfield festival in the world", one that triggers a feverish scramble for tickets unlike any other – this year they sold out within an hour and 27 minutes.
The choice of performances and zones is enormous. Working out what acts to see and where best to hang out can be a real logistic challenge – especially when you add mud into the mix.
But there is a gentler, less frantic, more contemplative and spiritual aspect to Glastonbury. For many, the festival experience consists not simply (perhaps not even) in seeing the headline acts, but in retreating to the upper reaches of the festival site to such areas as Green Futures, Healing Field and King's Meadow, which together create what some view as a more spiritual corner away from the madness – or, perhaps, a spiritual manifestation of it.
Environmentally friendly lifestyles are contemplated and lobbied for, and various forms of healing and contemporary religiosity of all hues can be explored, experienced and enacted. This might be a tendency of many festivals, but here it is extensive, and what's more, some would argue that this is at its very heart.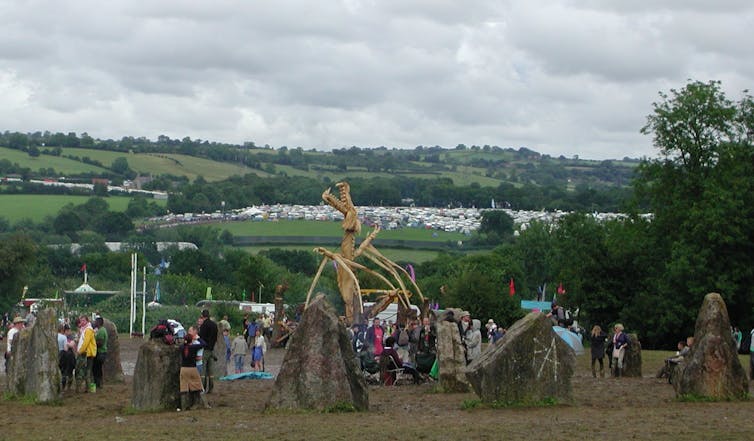 This is largely to do with its proximity to the town of Glastonbury and its iconic landmark, Glastonbury Tor, visible from many points on the site. Glastonbury enjoys a unique status in Britain's spiritual and physical landscape. Some view it as the cradle of English Christianity, linked in legend with St Joseph of Arimathea and even Jesus himself. Others believe Glastonbury boasted a great Druidic university, or was an ancient pre-eminent site of Goddess worship. Glastonbury is now regarded by many as "heart chakra of planet earth", at the node of powerful lines of earth energies.
The strangely contoured Tor has been described variously as the entrance to the fairy world, an ancient three-dimensional labyrinth, the left breast of a huge reclining Goddess figure and an interplanetary communications centre.
So there's a lot going on here. Glastonbury Festival first took place in 1970, a time when alternative ideas and lifestyles were being explored and embraced with gusto. What's more, the festival is traditionally timed to coincide with the summer solstice, which adds something else into the mix.
Because of all this, what goes on at Glastonbury can be a very interesting marker for trends in popular, non-institutional beliefs and practices. The festival taps into it all. Let me give you some examples. The Healing Field offers a huge array of "alternative" goods and services – there's homoeopathy and astrology, as well as chakra balancing and sound healing.
In the Healing Field spiritual groups and individuals, representing Christianity, ISKCON, Druidry, Brahma Kumaris and many more present themselves side by side, creating a landscape of mini temples, yoga workshops, and lovingly crafted spaces for people to relax, meditate, recover, chill out. Perhaps they'll even find enlightenment – but let's not ask how.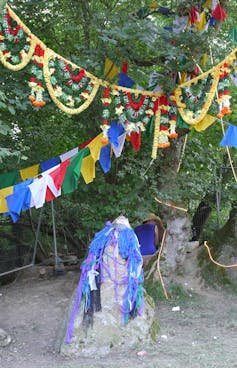 Many people congregate in King's Meadow at the highest point of the festival site, frequently in the early hours of the morning. Couples are regularly handfasted (with varying degrees of ceremony and seriousness) at the stone circle there. And alongside these alternative weddings and playful celebrations, you'll also see acts of remembrance, evidence of departed loved ones being incorporated into the Glastonbury experience. The festival and particularly its more spiritual corners has become an important site for remembering and celebrating the dead.
Spontaneous memorials were created for Joan Eavis, wife of the festival's organiser Michael Eavis, who died the year I attended my first Glastonbury in 1999. A Glastonbury stalwart, John Mellor (better known as Joe Strummer of The Clash) who died at the age of 50 in 2000 is commemorated by the Strummer Stone, a small standing stone erected in a wooded area frequently surrounded by tealights and garlands during festival time.
The significance of Glastonbury Festival as a special time and place is highlighted by the desire of families and friends to maintain a Glastonbury connection for their deceased. One poignant example is Joel Davies, a young man who died in 2005, only hours after receiving his Glastonbury Festival tickets, which were cremated with him. In June 2007 some of his ashes were scattered at the King's Meadow stone circle.
So there is far more to Glastonbury than bands and burgers, crowds and chaos. Some bemoan the increasing cost and commercialisation (and security fence) of the festival in its current form, but it hasn't entirely lost its heart. For many it's a truly extraordinary time and place where anything might happen, a place where the veil between the secular and sacred is extremely thin.