Rising sea levels could threaten up to 60,000 houses, 1200 commercial buildings and 250 kilometres of highway in NSW by the end of the century, a report by the federal government's Climate Commission says.
The report, The Critical Decade, NSW Climate Impacts and Opportunities, says extreme weather events of recent years - including heatwaves that swept NSW in 2009 and flash flooding in Sydney in March - will become more common as the average temperature across the state rises by 1 to 5 degrees by 2030 compared to 1990.
By 2070, the number of days above 35 degrees each year in the east of Sydney will triple from three to nine. While heatwaves, droughts and bushfires will increase in frequency across the state, sporadic and torrential downpours could also become more common as the warmer climate raises ocean temperatures.
The report warns of the health risk the hotter, drier climate will pose to children and the elderly, as well as people who work in heat-exposed jobs or have low incomes, and says that western Sydney in particular will suffer, due to an urban heat island effect.
Dominique Hes, a Senior Lecturer in Sustainable Architecture at University of Melbourne, said the western suburbs of Sydney were particularly susceptible because they were home to vast tracts of new, low-rise developments with few fully-grown trees and parks. "They've also got large areas of bitumen and new houses with dark coloured roofs - both of those absorb the sun's energy."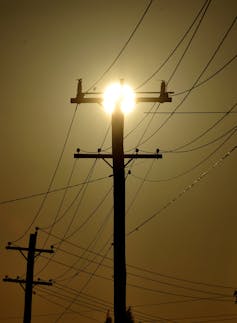 In warm weather charcoal tiles could get as hot as 80 degrees, while white tiles only got to about 35 degrees, Dr Hes said. "That's almost 50 degrees of temperature you're not capturing per roof - a huge difference.
"The best option is to have white roofs and also to improve shading. If you have more trees and plants, they create a micro-climate. That helps with the heat island effect, which can heighten temperatures by as much as 6 degrees. That's very dangerous for vulnerable people."
The report for NSW also warns that a forecast 1.1-metre rise in the sea level could threaten between 40,000 and 60,000 houses - at a value of up to $18.7 billion - and flood parts of Sydney airport, the busiest in Australia. The predicted rise was "modelled by the Australian Government to assess the highest likely risk", and could wipe out more than 170 kilometres of railway, with a replacement value of up to $1.3 billion. Wollongong would lose up to 51 kilometres of track, and Newcastle as much as 56 kilometres.
The chief commissioner, Tim Flannery, said that "changes in Sydney's climate will have far reaching implications for health, agriculture, tourism, water security and biodiversity.
"The silver lining is that in addressing climate change we can also benefit from the global clean energy boom. NSW has a legacy of producing the best minds in the world when it comes to solar technology. Four out of the big six solar manufacturers in the world are led by University of New South Wales graduates," Professor Flannery said.
By 2020, it has been estimated that $43 billion will be invested in clean energy in Australia, including $20 billion in solar.
The authors of the report, climate commissioners Will Steffen and Lesley Hughes, said the decade ahead would be a critical time for action. "NSW is home to over a third of Australians, 31% of the national economy and is highly vulnerable to climate change," they write in the report, which will be discussed at a public forum at Parramatta Town Hall tomorrow night.