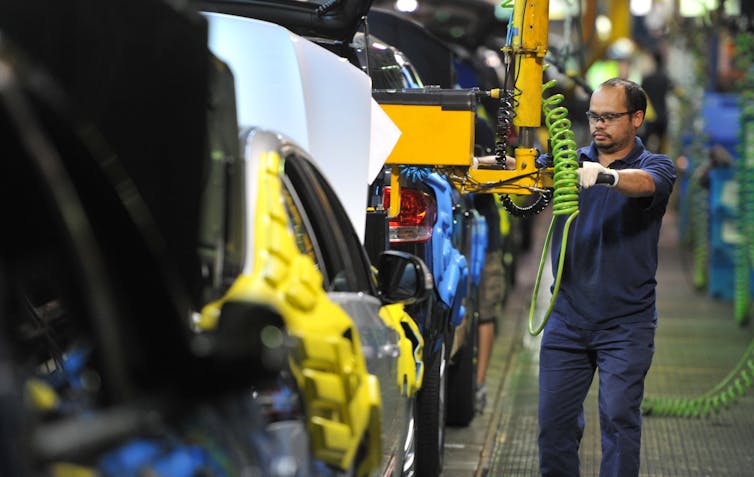 Julia Gillard and Tony Abbott had different emphases in their reactions to Ford's announcement that it will shut down its Australian production – which started way back in the 1920s.
Gillard and Craig Emerson (filling in for Industry Minister Greg Combet, who was sick) focused on the high Australian dollar which is making life difficult for Australian manufacturing, as well as on Ford's inability to reach economies of scale by linking into global or regional supply chains.
Abbott, invited at a news conference to target the carbon tax specifically, was careful not to fall into that trap – which in earlier times he probably would have.
While the carbon tax had contributed $400 to the cost of manufacturing a car, he said, which was something an industry under pressure didn't need, "a whole range of factors" were involved, he said.
Abbott has learnt from that time last year when he foolishly ran out and blamed the carbon tax (and the mining tax) in BHP's pause in its Olympic Dam project - when the company wasn't doing so.
The opposition has been quick to give in-principle support to the structural adjustment funding which has been announced by the federal and Victorian governments in the wake of Ford's decision.
It knows that being too partisan at a time like this could just backfire badly – like scoring points when there has been a tragedy. The blame game might get more willing later on.
Ford's situation seems to reflect in part some misjudgements of its own – there is not enough demand for the large cars it is producing.
While its 2016 manufacturing closedown will be seen as a pointer to the longer term unviability of the car industry in Australia, for the moment Holden and Toyota are making reassuring noises.
Ford has given as reasons for its decision "increasingly challenging market conditions – including market fragmentation and the high cost of manufacturing".
CEO of Ford Australia Bob Graziano, asked about the carbon tax, said "there are a number of costs and it's not just that cost".
The overall cost of production in Australia was double that in Europe and four times that in Asia, he said.
In political terms, the Ford announcement will feed into the general argument by the opposition and business that Australian costs are too high. It will also add to the public's feeling of uncertainty about Labor's economic management, which makes it harder for the government to get over its message that the Australian economy is in good shape.
While the Ford decision inevitably raises fresh questions about the big amounts governments of both complexions have poured into propping up the car industry, neither side is going to give up on it – which would have big implications for the components industry - although a Coalition government would put in somewhat less.
The automobile industry remains iconic – though not iconic enough for most Australians to buy its locally-produced cars.