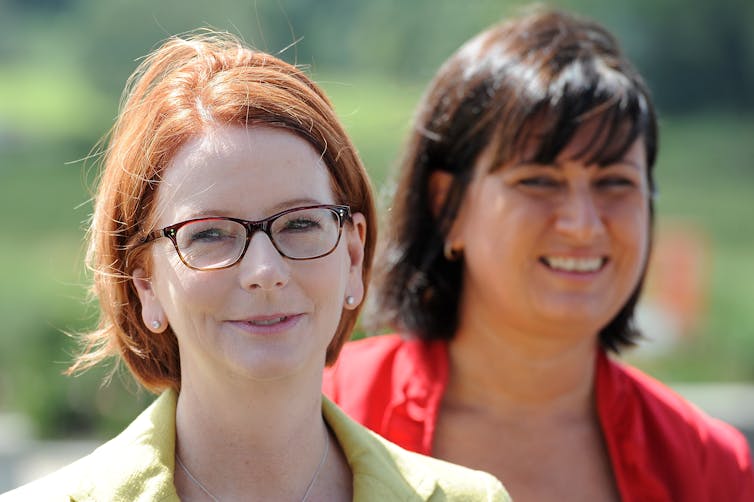 Julia Gillard, the adrenalin presumably still pumping, had quite a weekend. On Saturday she attended the wedding of one of her press secretaries, Laura Anderson, outside Byron Bay, an occasion where the jokes are said to have been good.
Then yesterday the PM was on the run with events in both Melbourne and Sydney, all the time working on reshaping the new frontbench she will announce today.
If she needed more time to think through these decisions that will be crucial to the depleted Labor team's ability to fight an election only a few months away, she didn't have it.
She flies tomorrow to Perth where there will be a community cabinet on Wednesday. She couldn't go without the new line up in place.
Only about half the ministers attend community cabinets these days. An initiative of Kevin Rudd, these gatherings have become more ritual than substance. Ministers who get new portfolios today will either be absent on Wednesday (if they're lucky enough not to have been rostered), or answering or dodging questions on the fly, having hastily studied quickly-prepared briefs.
As the government tried to steady itself after the horrors of Thursday and Friday, Leader of the House and Transport Minister Anthony Albanese declared he wasn't going follow the example of other frontbench Rudd supporters and resign.
"There's no reason why I should", he told Sky TV yesterday. "I continue to enjoy the support of the Prime Minister as Leader of the House." It was in Labor's interests that he remain a minister and House leader, he said.
The thought that "Albo" – who was Kevin Rudd's preference for deputy PM if there had been a leadership change - should fall on his sword was ludicrous, despite Gillard supporter Laurie Ferguson (brother of Martin, who resigned on Friday) saying on Facebook that Albanese and Mental Health Minister Mark Butler were "gutless wonders" for not quitting.
With Resources Minister Ferguson, Tertiary Education Minister Chris Bowen, Human Services Minister Kim Carr, and Regional Australia Minister Simon Crean (who was sacked on Thursday) plus parliamentary secretary Richard Marles all gone, only those after vengeance could believe the frontbench would be better off without Albanese and Butler.
The word late yesterday was that both were safe in their jobs, an outbreak of sanity amid the madness that has engulfed Labor in the last week.
The reshuffle will be judged in its totality but perhaps the single most critical appointment will be to the Resources portfolio, because of the signal it will send to business people appalled at Ferguson's loss.
Gary Gray, presently Special Minister of State, is expected to get the job. Gray is from Western Australia, a former ALP national secretary, and a former executive of the mining company Woodside Energy just before entering parliament. The Woodside position gives him special qualifications for the portfolio but also opens him to claims of being too close to the miners.
Defence Minister Stephen Smith, whose name was mentioned as a possibility for the resources post, yesterday made the case against his moving.
"I very much want to stay in the portfolio. We've got a white paper coming up, which we need to deliver by May/June of this year. We have another budget in difficult circumstances" - to say nothing of the ongoing work to change Defence culture in the wake of recent and past scandals.
The higher education sector has been particularly anxious about its future representation after the departure of Bowen, who had hardly had time to shake hands with his stakeholders. Lobbying from the sector over the weekend was for the post to remain in cabinet. It is said that it will.
It is expected that the cabinet, which currently has three vacancies, will be trimmed from 21 to 20 in the changes. Jason Clare, presently cabinet secretary but still in the outer ministry, could be put into the A team.
The bizarre events of last week have, unsurprisingly, looked even crazier from abroad. Writing for the Guardian, Paolo Totaro (formerly of the Sydney Morning Herald) said that viewed from Europe and considering Australia's more than two decades of growth "news of yet another political attack against Australia's leader smacks of a particular strain of antipodean madness". Commentary and reports in the Telegraph, Times, and Independent in Britain and Washington Post in the US also reflected the disbelief at the carryings-on.
The paradox for foreign audiences – and indeed for Australian observers - is that a government with everything going for it economically could have been so self-destructive. A bitter mixture of ambition, incompetence and retribution have dragged Labor down, and this fatal combination was never more dramatically on display than in the way last week played out.
The chaos has emboldened the opposition to say it will move a no-confidence motion in budget week (it would not be debated on budget day). Its aim is to put pressure on the crossbenchers. Country independent Tony Windsor said last night that if the motion was coming up now he believed it would have "negligible" chance of passing. "I don't know what they might have in two months", he said. "But if it is just based on people wanting to have a day at the polls – I don't negate agreements easily".
The opposition threat will simply keep the overseas watchers scratching their heads and wondering – something that in itself is not good for impressions abroad of what's going on with the Australian government.