Bernie Ecclestone, Formula One's chief executive, has poured water on the prospect of women drivers returning to the grid any time soon. In a recent interview he expressed his doubts, saying: "If there was somebody that was capable they wouldn't be taken seriously anyway."
Perhaps we should not be surprised by the statement, given former provocations like "women should be dressed in white, like all the other domestic appliances". But, for someone who controls the sport's commercial rights, Ecclestone is missing a trick. There are plenty of reasons to believe that women in F1 would make a lot of sense – especially in business terms.
Formula 1 is a multi-billion entertainment machine. Its financial performance depends on the ability to create "stars" who bring in revenue through sponsorships, merchandising, and entertainment initiatives like TV shows and public appearances. Like other sports, professional drivers hold a prime position in these. F1 celebrities are effectively products for mass marketing, and, as in all other markets, differentiating them from competition is important.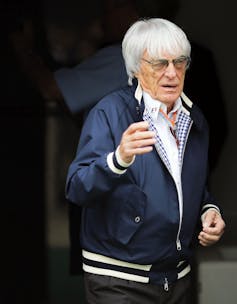 Product differentiation
In a setting over-represented by white men, drivers with a different identity would easily trigger and channel the interest of specific groups of consumers and fans. Lewis Hamilton's outstanding results on the track, for example, were further reinforced for fans by his being the first black driver in F1. It helped expand his popularity towards a group of consumers that are usually not that interested in F1 – something the British three-time world champion has acknowledged. Women – and a first female F1 on the starting grid – would be no different.
However, unpicking the story of why women haven't fared so well when they have been included in teams requires close attention. F1's Williams and Lotus teams have employed female drivers: Susie Wolff and Carmen Jordá, respectively. Wolff, until her retirement at the end of 2015, was a test driver. But despite making history as the first woman in 22 years to take part in a Grand Prix weekend, she lacked the speed to gain promotion to the starting grid – a major reason behind her decision to stop racing.
Jordá too is a test driver, but has never won a race. In her last three years racing in GP3 she never scored a point or finished higher than 28th in the final standings. So ultimately, in both these cases, performance has limited the racing opportunities of the sport's two most high-profile women drivers.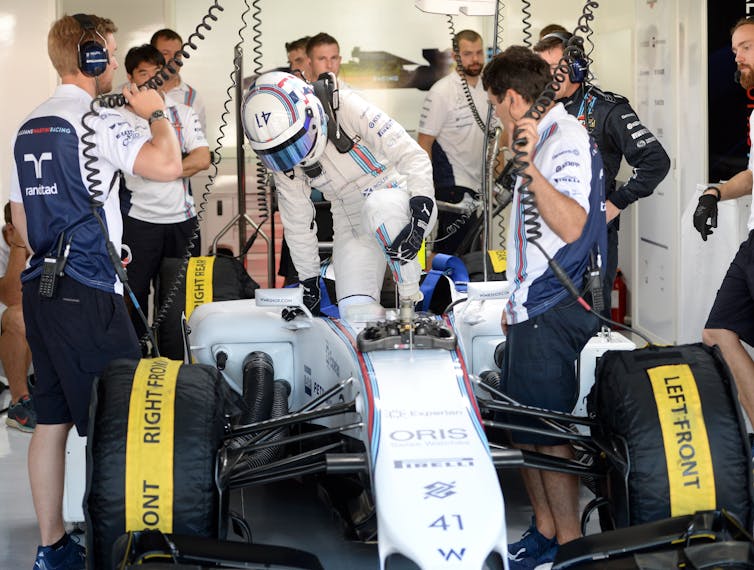 Lack of opportunity
However, the reason for the lack of successful women drivers is not due to biology. Rather statistics and social biases hold the answer. To become a successful professional driver, you have to start karting at a very early age (as a four or five-year-old) and have continuous driving training and financial support from sponsors. Very few families push little girls to start training as drivers when they're this young, as this is not considered a sport for girls. As a consequence, there are far fewer girls doing professional racing compared to boys. The likelihood of having among them the next big F1 phenomenon is therefore much lower.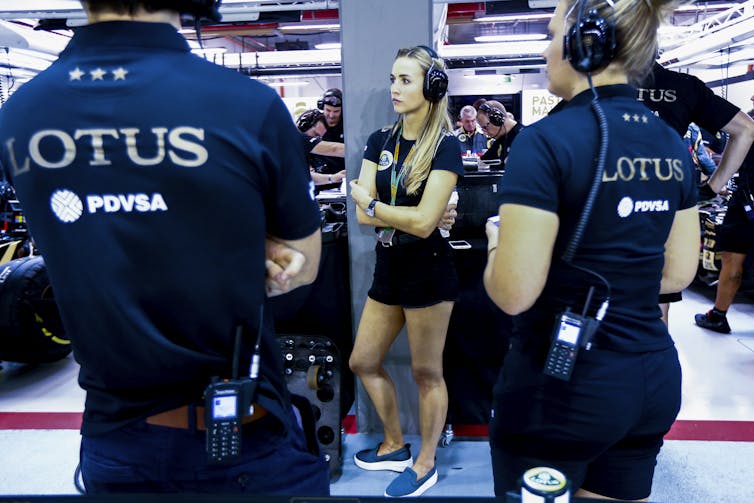 Also, the few girls who race often start their career much later. This means they do not get enough time to gather the necessary training and support for F1, which their male counterparts receive. So statistically we end up not having women in F1.
There is no scientific proof that women cannot equal male drivers in the sport. Although being smaller and lighter is seen as an issue in some sports where men and women don't compete, if anything it is an advantage in F1 racing. More key though are excellent cognitive abilities to focus on the task at hand. So, if properly trained, women have the same potential as men to become proficient F1 drivers.
And this being F1, there is a compelling business case for women drivers. A female driver in F1 would definitely trigger the interest and support of a wider fanbase and provide excellent marketing opportunities for more products targeting women – something Williams and Lotus no doubt realise to some degree.
Two out of the 11 teams in F1 have women at their helms. Claire Williams is deputy team principal at Williams and Monisha Kaltenborn became the first team principal in the sport when she took the reins at Sauber in 2012. With growing participation of women in the industry, we can hope that more women will be introduced to the sport early enough to acquire the necessary skills and resources to make it to the F1 starting grid. Despite women representing a valuable opportunity for the business, only undeniable driving qualities will ultimately see discrimination fall.