As Melbourne lights up for tomorrow's White Night Festival, the façade of RMIT's Storey Hall annex will transform into an illuminated billboard of morphing lupine femmes. The portraits - my original linocuts of female werewolves - might seem curious bedfellows for a Melbourne icon of deconstructivism. However, there is a long connection between female werewolves and suffragettes - and this building has a feminist history.
In the early 19th century, Hibernian Hall (now Storey Hall) was leased to the Women's Political Association, whose purple, green and white flag flew from the rooftop. Across the world, the Women's Social and Political Union was also making its mark — literally — on London's Suffrage Atelier. Founded in 1909 by Alfred Pearce and the Housman siblings, Clemence and Laurence, the atelier's print workshop advanced feminist causes, making and circulating pro-suffrage publications, and providing employment for female illustrators.
The Houseman siblings are better known, however, for their collaborative novella of 1896, The Were-Wolf. Written by Clemence with illustrations by Laurence, The Were-Wolf sees its title heroine, White Fell, find her way into the hearts of a Swedish family — while they find their way into her belly.
White Fell is part of a groundswell of female werewolves who surfaced in Victorian gothic literature, fuelled by paranoia surrounding the suffragette movement. The hirsute sisterhood are notable for preying on families and upending the gendered status quo, recognisable by their supernaturally shining eyes, foreign accents and aristocratic penchant for white fur. Inverting contemporary werewolf conventions, these shaggy suffragettes also revert to wolves — not women — after death, thereby revealing their "true" lupine selves.
Cultural constructions of women as intrinsically lupine have existed throughout the centuries, whether as nurturing mothers (think Romulus and Remus), ravening man-eaters, or as inherently demonic.
The female werewolf has been far more prevalent than her relatively modest profile suggests, flourishing most conspicuously at times when the female gender came under attack. We see this not just in the suffragette era but also — with rather more dire consequences — during the Early Modern witch-hunts.
A severed head and rampant misogyny
The earliest record I have found of a reputed werewolf (male or female) being brought to trial is that of Catherine Simon of Andermatt in Switzerland. In 1459, Catherine confessed to having transformed into a wolf with the aid of a salve (ointment) and causing an avalanche.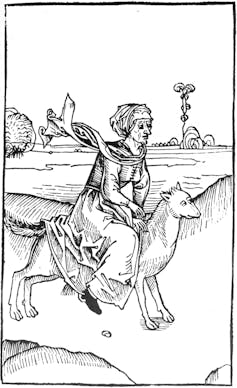 Catherine's crimes were considered so serious that her executioner was charged to "divide her into two pieces, of which one shall be her head and the other her body, which shall be so completely severed that a cartwheel can be rolled between them".
Her remains were burned, and the ashes cast into the Reuss River as further insurance against her causing harm.
This climate of religious paranoia and misogyny is captured in a sensational German broadsheet by Georg Kress, Of 300 Witches and Their Pact with the Devil to Turn Themselves into She-Wolves at Jülich, 6 May 1591.
It depicts the destruction of men, boys and cattle by a horde of ravening she-wolves, complete with rhyming descriptions of brains being sucked and hearts being eaten.
Kress' introductory proclamation that his broadsheet is "published in print for all pious women and maidens as a warning and example" makes it clear that women were considered in greatest need of the lessons in the text.
Even pious women, it seemed, needed to be mindful of their inherent bestial natures and moral susceptibility – a sentiment echoed in witch-hunting treatises of the day.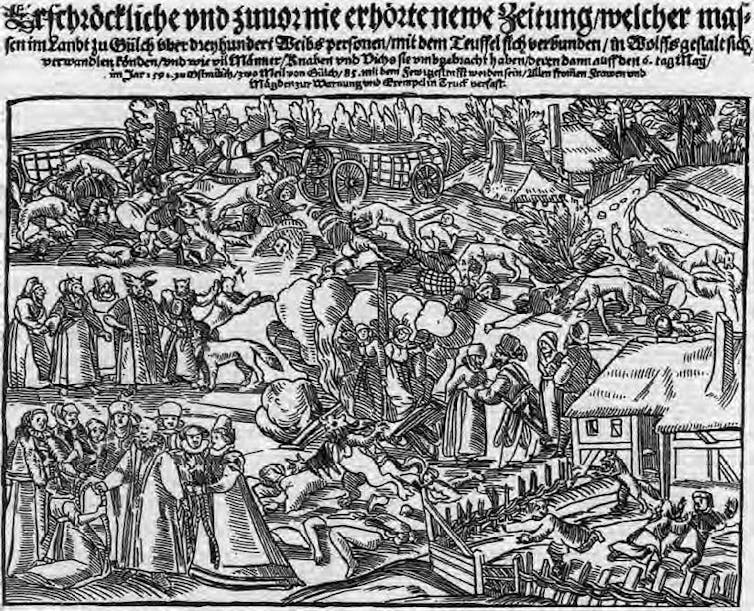 Werewolves and vampires
As the witch craze subsided and society's critical gaze turned instead towards the excesses of aristocratic depravity, werewolves were swept up in the vampire wave. This peaked in 1730s Hungary, Czechoslovakia and Poland, with Austro-Hungarian Countess Erzsébet Báthory setting the template for the clichéd Eastern European lycanthrope (werewolf).
Rumoured to have butchered and bathed in the blood of 600 local virgins for cosmetic purposes, Erzsébet has since been claimed by the vampire "cause". However, she first came to the attention of the popular imagination in Sabine Baring-Gould's The Book of Werewolves, published in 1865.
Her legend includes a she-wolf familiar (an animal spirit that accompanies her and helps bewitch enemies) and a family crest composed of wolf fangs, which, like her infamous bloodbaths, seem to have had little basis in fact.
Nevertheless, Erzsébet reflects the intimate link between werewolves and vampires, an intimacy that is also shared in medicine.
A medical foundation for the werewolf myth?
In the 1980s, biochemist David Dolphin suggested that porphyria, a hereditary blood disease that causes severe anaemia, might be treated with injections of blood products, thereby popularising the notion of a medical origin for vampirism.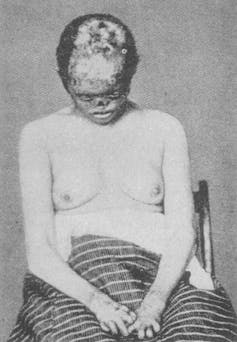 Porphyria symptoms include severe phototoxicity, demanding its sufferers avoid sunlight or risk progressively "beastly" skin lesions, especially on the face and hands. Reddish teeth and urine and extreme hairiness (notably on the forehead) complete the litany of ailments that have also seen porphyria proposed as a medical foundation for the werewolf myth.
Porphyria is not alone in its medical claim on the werewolf legend. Congenital generalised hypertrichosis (hereditary full-body hairiness), commonly known as "werewolf syndrome", has seen Mexico's Gomez-Aceves family listed in the 2000 Guinness Book of Records as the world's hairiest family. Some members have achieved further celebrity status as wolf children in local circuses.
Louisa Lilia Lira de Aceves is the best-known female family member. Her hirsutism has been proposed as a genetic atavism, a "throwback" to an earlier evolutionary stage. Such thinking perpetuates Social Darwinist anxieties in the face of humanity that does not conform to the norm. However, human difference was not always viewed in this light.
Hirsute marvels
When the hairy Gonsalvus sisters received public attention in 16th-century Europe, for instance, they did so as marvels rather than monsters. Seen as evidence of divine wit and inventiveness, they led privileged lives as members of royal retinues in France and Italy.
The sisters, whose equally hirsute father had been captured as a child on the Canary Islands and brought to the French court of Henry II, lived in an age of colonial expansion marked by conquest, discovery and wonder.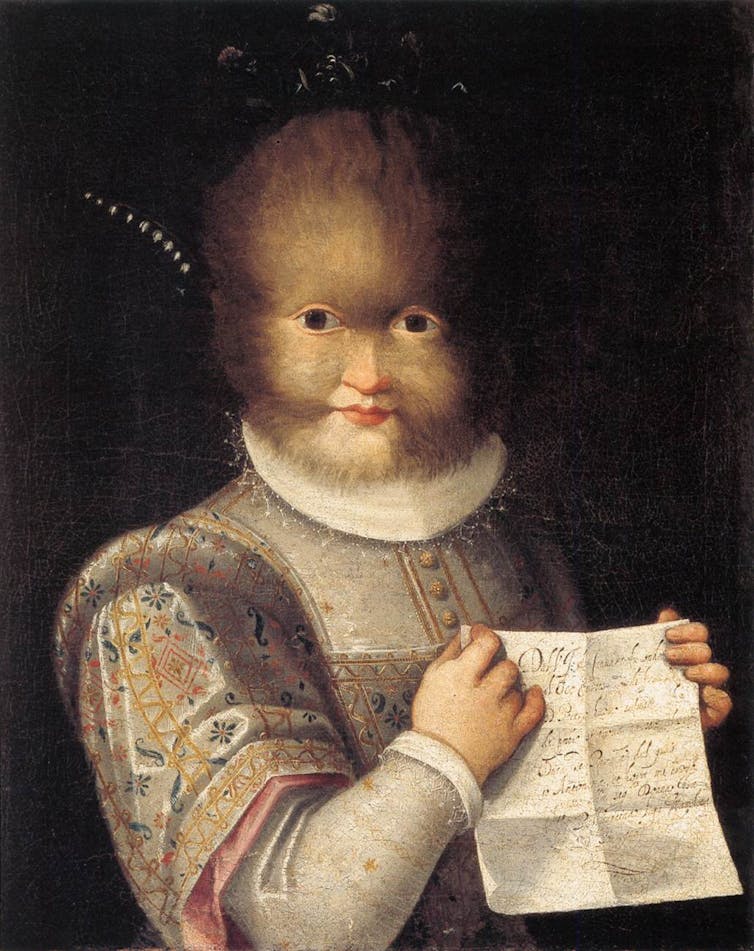 The family's hirsutism was viewed in the same light as the other extraordinary flora, fauna and peoples being brought back to Europe from the New World. Their place in the royal entourage was seen to demonstrate the king's erudition and power, rather than voyeurism as we understand it today.
The religious iconography of the age also provided a sympathetic model of the hairy woman. A hairy pelt symbolised saints' and wild folk's penitential rejection of society's vanities, in favour of a more virtuous co-existence with the wilderness.
Contemporary readings
Similar sentiments have resurfaced in contemporary times. In fiction and film, the female werewolf has increasingly been presented as gaining virtue and empowerment from, rather than being corrupted by, her lupine self. Novelist Angela Carter opened the floodgate in 1979 with her feminist re-writings of fairy stories, The Bloody Chamber, notable for her re-imagined Little Red Riding Hood that borrows heavily from archaic versions of the tale.
Carter's newly menstruating Red is more than happy to usurp her grandmother's place in the bed, embracing the wolf and growing her own pelt by morning.
In breaking with taboo, Carter provides a template for Red Riding Hood as a coming of age tale. In Carter's version, the onset of menses represents a pubescent girl's sexual awakening, her transforming body and appetites signalling, and celebrating, her becoming one with the wolf.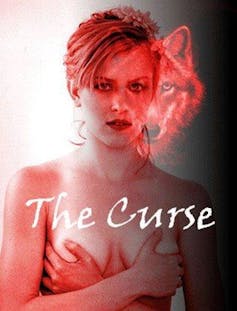 This, in turn, has led to a uniquely feminine manifestation of lycanthropy (werewolfism) whereby a new generation of novelists and filmmakers draw on the correlations between the werewolf's lunar cycle and a woman's monthly cycle.
Independent filmmaker Jacqueline Garry employs this motif in her 1999 film, The Curse. Garry's heroine, Frida Harris, was inspired by 1980's news reports about Sandie Craddock, a UK barmaid who stabbed her co-worker to death.
Journal entries and psychiatric reports testified that Craddock was rational for most of the month. However, during her "moon time" (ie in the days surrounding her menstruation), she experienced uncharacteristic aggression. Craddock was released on the grounds of extreme PMS with a court order to take hormone replacements.
The menstrual-werewolf motif is also central to the cult Canadian film, Ginger Snaps (2000), in which suburban teenager Ginger Fitzgerald is attacked by a werewolf attracted to the smell of her first menses. Ginger's alarming transformations include insatiable appetites and unwelcome body hair. This, in turn, causes increasing anxiety for her conflicted younger sister, Brigitte, who is forced to come to terms with her own nascent sexuality.
The third instalment in the trilogy, Ginger Snaps Back: the beginning comes full circle, returning the sisters to Canada's pioneer past. There, Old World superstitions cast the sisters as inherently susceptible to demonic suggestion.
The nebulous figure of the female werewolf has encompassed different, often contradictory, identities over time, absorbing changing perceptions of women, wolves, morality and the monstrous.
The advent of menstrual lycanthropes and Red Riding Wolves is part of an ongoing evolution and revolution in werewolf lore. Borrowing from the past, it creates new imaginative possibilities for the lupine woman.