Girlhood, Céline Sciamma's new film, opens with one of the most remarkable sequences that I have ever seen in a cinema. Figures play a game of American touch football under the glare of floodlights set to Dark Allies by New York-based retro electro duo Light Asylum. "We're all alone in this world," it begins.
Helmets rut and bodies clash in slow-mo as Shannon Funchess sings:
Nail me to the cross in the darkest alley
I said, the Prince of Peace doesn't have to know about it.
A touchdown is scored. High fives all round. If you didn't know it, you'd never have thought that the butch, rasping voice on the soundtrack belongs to a woman.
Then, as the game ends and helmets are removed, we discover not only that all of the players are women, but that they also are largely black women living somewhere in the banlieues of Paris. More extraordinary: both teams all celebrate together. Winning, it would seem, consists only in the joy of playing.
The extraordinary doesn't end there. From black women whooping and cheering, a sight and a sound that is more or less alien to contemporary cinema, they then walk past the camera, which turns to follow them as they laugh, chat and exchange tales. Still the film shows us something that in cinema is rare.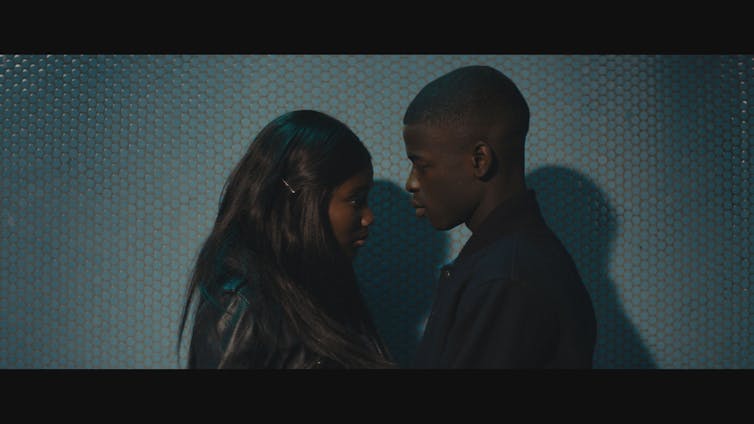 But even more: as the women climb some steps and approach a group of men, their whoops, their cheers, their laughter, their chatter and their tales disappear from the soundtrack and the group drops to virtual silence. Just footsteps across a concrete platform.
All that has preceded – playing as winning, community, joking, laughing – in short, joy – is something that these men will never be allowed to see or hear. And as the band of girls (the film's original French title is Bande de filles) disperse to their various homes on the cité (housing estate) on which Girlhood is set, we sense that director Sciamma has placed before us one of the most beautiful, if short-lived, visions of an alternative to patriarchy, a vision that is truly extraordinary given that she has done this within a cinema that is largely the product of patriarchy and whose products are largely patriarchal.
But this is just the first five minutes of Girlhood. What follows is an astounding and memorable exploration of what it means to be young today in contemporary France, as told through the eyes of Marieme (Karidja Touré).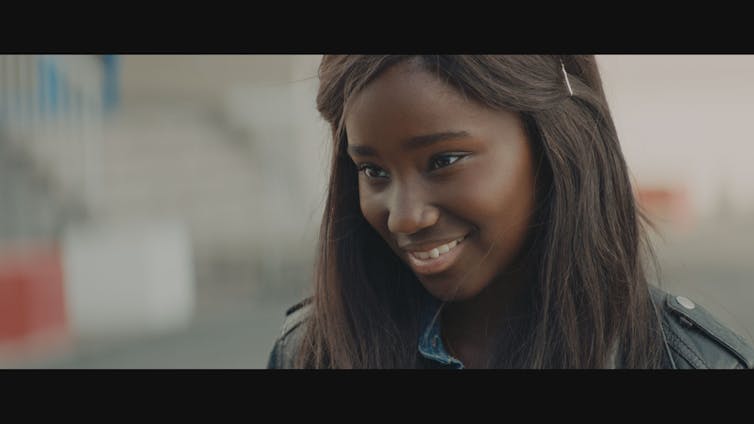 Marieme has poor grades at school (it doesn't look as though she'll progress past 16), and in the evening she has to look after her younger sister as her mother (Binta Diop) works a night shift as a cleaner at a hospital near to Paris's La Défense, whose central icon, the square Grande Arche, was erected in 1989 to commemorate the bicentennial of the French Revolution. She also has an authoritarian brother, Djibril (Cyril Mendy), who uses violence in order to get his way.
Skipping class one day, Marieme comes across Lady (Assa Sylla), Fily (Marietou Toure) and Adiatou (Lindsay Karamoh), who invite her to join their gang. She initially says no, before cropping up next to them when they chat to a group of boys that includes Ismaël (Idrissa Diabaté), on whom Marieme is sweet, even if he is a friend of Djibril and thus somewhat off limits.
From that moment, the girls hang out in Les Halles, shout abuse at other girl gangs, dance and sing on the Métro, and generally try to find more moments in life that might be characterised by joy – for apart from their moments of solidarity, joy isn't too forthcoming.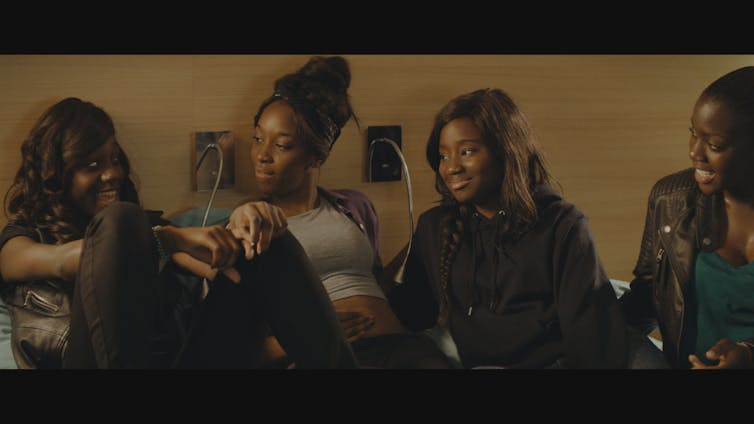 Indeed, we see that Marieme's options are limited. Around her are other girls, former members of the band even, who have fallen into young motherhood and thus near-invisibility, while a criminal life dropping off drugs to rich white kids in the centre of Paris seems like the only chance of working and so of getting some money.
With the help of Lady and the others, Marieme becomes Vic, as in victory, and she begins to dream that she can escape from the estate. The film imbues her attempts with dignity and beauty.
The most commented-upon sequence from Girlhood shows the four gang members, whose relationship is defined by a general intimacy that seems all-too exceptional to today's screens, wearing stolen dresses and singing along to Rihanna's Diamonds under cool blue light in a hotel room.
But this isn't a moment of lip sync, seeming to suggest that these girls desire simply to capitulate to image culture, seeing fame as a gauche dream that means never having to work. No – as it slips from lip sync into live sound, this moment, like many others in the film, suggests that these girls just want to live a life that is their own, not the life that patriarchal society imposes upon them. To live a life at their own rhythm. In their own bodies.
In this, Sciamma's film is elevated to a work of art. As Vic and friends burn to live, Girlhood expresses the irrepressible potential within us all not to follow, not to echo, but to live a life defined by those moments in which we feel joy.
That this message of empowerment comes from a story about black girls on the verge of womanhood in a Parisian suburb in the shadow of the Grande Arche, France's monument to independence, makes Girlhood all the more extraordinary.
One could rightfully and usefully compare Girlhood to many films: Boyhood, Boyz n the Hood, La Haine, Bande à part and The 400 Blows. But in some senses Sciamma's film envisions more than these. Her film is not simply a reaffirmation of revolutionary principles. It calls for a revolution that leads not to liberty as a thing, but to liberation as a process in which we all intimately take part.
Girlhood is in UK cinemas from May 8.