Following the shocking news of the destruction of flight MH17, foreign minister Julie Bishop wasted no time in boarding a plane for the United Nations in New York. Australian diplomats engaged in intense late-night negotiations over a form of words that would secure unanimous assent for the Security Council resolution calling for an international investigation.
Prime minister Tony Abbott appeared on domestic media channels, insisting on the imperatives of accountability and international cooperation, and reiterating his determination "to get justice for Australia":
The only way we will get justice for the dead and closure for the living is if there is a full, comprehensive, impartial, international investigation starting more or less immediately.
The unanimous passing of the resolution will be seen, rightly, as a success for diplomacy and international co-operation. It was a call, as opposition leader Bill Shorten put it, for the states involved to pass the "test of decency". Yet, do we ourselves, as a nation, pass the test of decency in terms of meeting our international responsibilities?
Australia's call to the authority of international institutions to investigate the "atrocity", as Bishop described it, of the downing of MH17 has deservedly received an immediate response from the Security Council. Australia's own responses to calls for international accountability and cooperation, in contrast, have been decidedly selective and tardy in recent years.
Australia declined to co-sponsor or support the UN Human Rights Council resolution seeking an international investigation into atrocities at the end of the war in Sri Lanka. This was despite the strong support the resolution received from key allies such as the US and UK.
Here, Bishop gave little consideration to the need for justice for tens of thousands of hapless civilians killed in that war zone, instead lauding the Sri Lankan government's economic achievements.
The Human Rights Law Centre, among others, condemned Australia's stance:
Australia's short-term, one-eyed interest in stopping boats, and its perceived need to keep Sri Lanka close in order to do that, has led to these outrageous results where we don't support accountability for war crimes in our region.
Fair-weather friend of the UN
In recent years Australia has also ignored or downplayed calls for accountability for its own international obligations. When its own conduct is under scrutiny, the government has rejected the UN's criticism and authority.
Polices such as offshore detention, including the detention of children and exposure of people under Australian care to violence and abuse (the murder of an asylum seeker on Manus Island is yet to be independently investigated), have been compounded by the recent instances in which the Australian Navy intercepted asylum seekers in international waters.
One group was returned to Sri Lanka after a highly dubious "screening" process and were all put under arrest. Another boatload of 157 people remains confined at sea.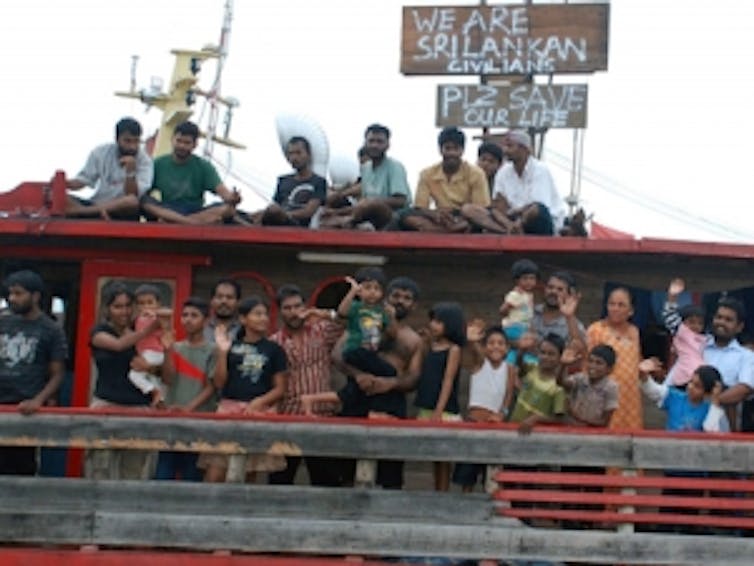 It was in the context of these events that hundreds of academics have called for Abbott to:
… affirm a vision of the nation that is committed to non-negotiable ethical principles that override the mere fulfilment of election slogans such as 'stop the boats'.
Law and morality demand consistency
As we write this, the bodies from MH17 are on a refrigerated train travelling through the war-ravaged terrain of the Ukraine. Meanwhile, just outside the ocean borders that surround our own peaceful and lucky country, a boatload of Tamil families, many certified refugees from a terrible conflict, are being held in limbo, in windowless cabins, by our own navy, on orders from our government.
Some will balk at the juxtaposition of two very different stories. We are not positing an equivalence between these events, but seeking to focus attention on the principle of accountability to international institutions, and on the very different responses elicited from the Australian government.
In our view, membership of the international community cannot be selective. We either respect the authority of international institutions, or we do not. As a nation, we believe in the principle of accountability for atrocity or we do not.
The atrocity of MH17 bears out that no state can isolate itself from the international community. Innocence is no defence against arbitrary violence, destruction and war, just as geographical distance is no guarantor of safety.
No-one is an island. No island is insulated from the flow of global currents. Lines of connection link us across borders; they ensnare us in unexpected, random ways, by air and sea, regardless of the papers we may or may not carry.
What fragile protection we have from the uncertain forces of war and terror resides in the (albeit partial) authority of international law and the moral force of community. We squander these protections for passing political gain at our peril.
---
Suvendrini Perera and Joseph Pugliese are the organisers and lead signatories of a statement on ethical leadership signed by more than 500 academics in Australia and overseas. The Public Statement by Humanities and Social Sciences Scholars on Australia's Refugee and Asylum Seeker Crisis and the list of signatories can be seen here.