You may have heard of Deborah Kelly, the well-known Sydney-based artist with a work in the 2014 Biennale of Sydney entitled No Human Being Is Illegal (In All Our Glory).
The work features a suite of life-size collaged portraits and is the product of Kelly collaborating with about 70 other people. Over the course of six months, collaborators, including me, worked with Kelly – and I would like to offer some reflections on the experience.
Deborah Kelly's provocations
Kelly is both a sensitive and a politically staunch person. She has been making art that upends comfortable notions of white Australia, unpacking gender and media representations and exploring elusive questions of community, for many years.
Kelly works with subtle and subversive provocation. Drawing on the legacies of German Dada (Hannah Höch) and American feminists of the 1970s (Martha Rosler), with the science-fictional utopias of Ursula K. Le Guin, Deborah is first and foremost a collage artist. A collector and re-combiner of images, she re-presents the world in surprising ways.
The artist has amassed a collection of imagery from opshops, garage sales and libraries, material discarded in the waste streams of history and memory. She has affectionate humour toward unlikely things – strange protozoa in a 1970s science almanac or the long limbs of a 1950s noir comic femme fatale – all grist for the mill. Refreshing as a low-tech art form, in Kelly's hands collage engages the imagination and destabilises the media universe.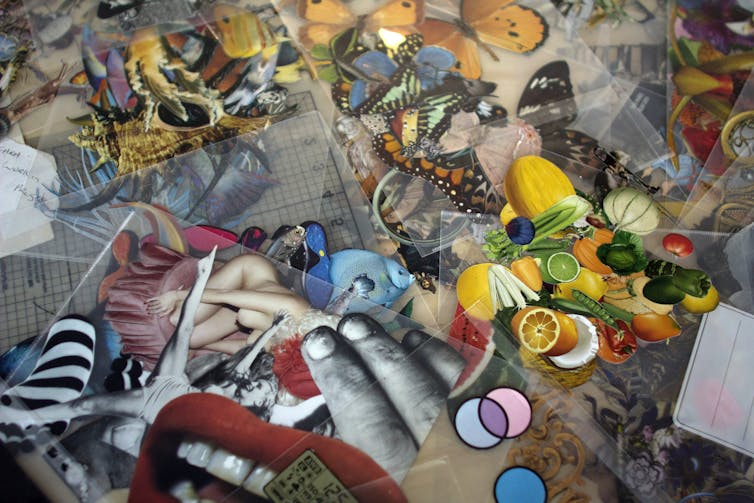 The art of collaboration
I began contributing to her workshops late last year.
As with other artists working in participatory ways, Kelly's new project attempts to make the creation of art a more social experience, and the institutions of art more porous civic spaces.
The figure of the Western artist as solitary genius has been thoroughly ingested by most of us. It's the classic modernist image and the predominant legacy of the 20th century. But there are other legacies worth remembering. The experiments of artists such as Allan Kaprow and Robert Morris forged art as an experience to be shared, bringing people into contact with each other in revealing ways.
These artists questioned their isolation, the production of luxury objects, the hermetic domain of art institutions and the separations between art and life.
On display at the Sydney Biennale
As mentioned already, No Human Being Is Illegal (In All Our Glory) is a suite of life-size photographic portraits. Twenty people were selected out of 230 volunteers. They have been "collaged" in workshop sessions which will continue throughout the Biennale period.
The workshops are set up with materials primed for hours of freely-given manual labour. We have been coming in two or three times a week to talk, listen, discuss and to "cut and paste". The atmosphere is always relaxed, focused and creative.
Kelly moves around the workshops in her own way, suggesting rather than directing the flow of activity. She has relinquished most of her control to a democratic process that appears to delight her and everyone else involved.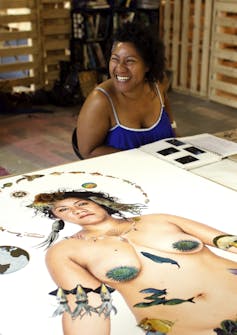 The workshops are a space of learning and exchange. The brave and sometimes nervous subjects come in to meet and share ideas while their collage-portraits are developed.
Latai Funaki Taumoepeau, a Sydney-based Tongan artist, offered powerful reflections from her Island Exile Workbook, a collation of information about the realities of climate change, particularly the impacts on vulnerable Pacific Island communities, including her relatives in Tonga.
The people of her community are facing a future displaced from their ancestral islands and they are already living with the devastating impacts of king tides, contaminated water tables, degraded reef systems, tsunamis and hurricanes. Latai's own creative practice gives voice to these communities' struggle to come to terms with their loss.
It engages with a grieving process she believes is essential in considering the psychological dimensions of climate change.
Making art through creative exchange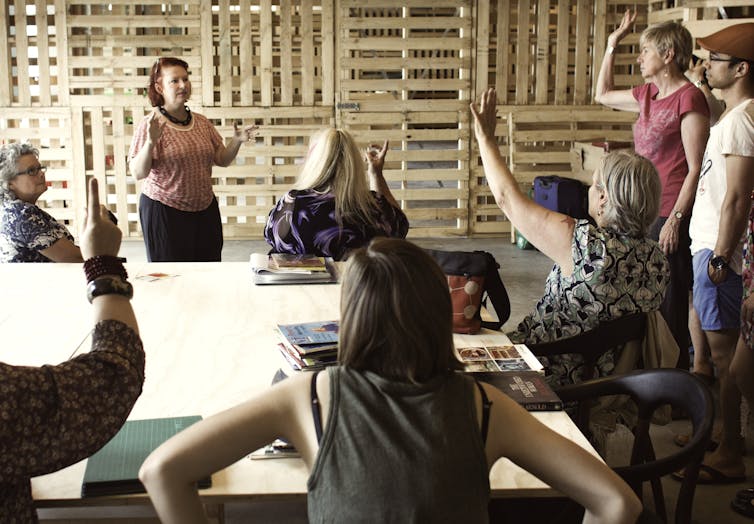 Kelly places political value on participatory process. When I asked her what motivates her to work collaboratively, she told me:
To zoom out from this question, I guess I'd have to say it is the atomisation of our era, the fragmentation of communities of interest, that we see played out in, for instance, the brilliant slow-motion destruction of organised labour by the forces of capital.

To zoom in, I'd have to say that the experience of collective genius is absolutely intoxicating to me. I'm keen to reproduce that feeling, and especially to disseminate it.
Developing skills in cooperation is not necessarily easy or therapeutic, but in order to be good at it, it needs to be practised, worked like a muscle. You need to be strong but flexible to collaborate, especially where formal structures don't exist. Providing this kind of opportunity is an artistic gesture toward living and working in more co-operative ways.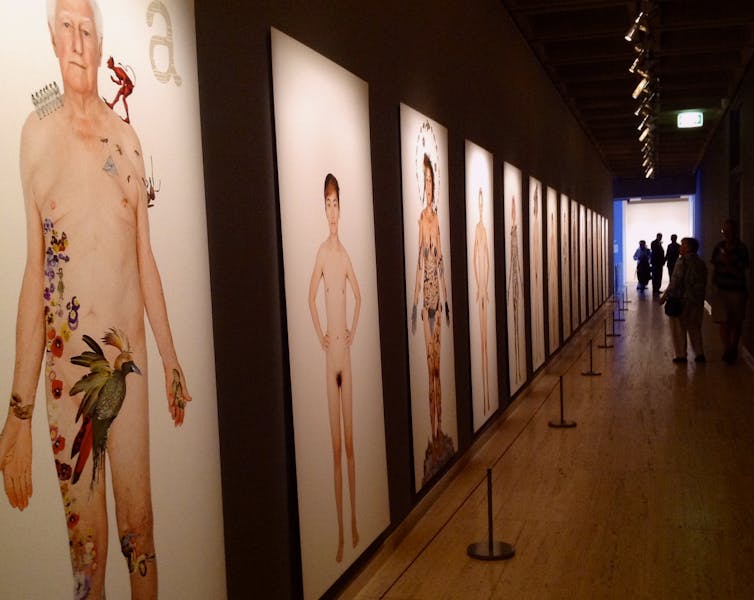 Leading up to the Biennale, the calls for artists to boycott the event in response to major sponsor Transfield's contracts on Manus Island led to lively discussion of what our response should be. No-one wanted our work linked to the "anti-refugee" regime – but also, no-one wanted to withdraw. Originally called "In all our glory" the show's title expanded and conversations now continue about how to use the works to raise funds for useful initiatives, including the Refugee Art Project, the Asylum Seeker Resource Centre and the KM Wellness Project.
There are many contemporary artists who have become smart cultural workers. It takes a certain kind of charisma and confidence for an artist to engage with the social world as a material of its own.
The space Kelly has created enables us to listen, talk and create, and for our labour to have value in the exchange. It is all relatively modest but powerful in its modesty, banging the drum with collage, provisional democracy, chocolate and conversation.

No Human Being Is Illegal (In All Our Glory) is on display at the Art Gallery of NSW as part of the 2014 Biennale of Sydney until June 9 2014. Details here.