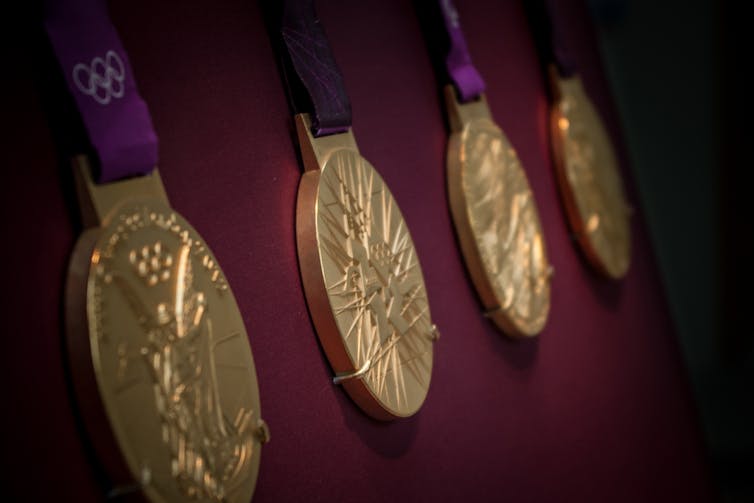 I had my ticket, jumped on a train and who would have thought that the day would have ended up with Gold, Gold, Gold. I was at the morning session of the athletics. The Olympic park is I have to say an amazing place…and actually passing through security was a very smooth and quick process.
The stadium was packed for the morning session as it has been for all morning sessions. The crowed was kept entertained not only by the performances but also by 'stadium TV'. Of course whenever a Brit appeared the crowed did indeed go mad. There was Jessica Ennis in the long jump and Javelin of the heptathlon. The latter event was the last event of the session and the stadium was still almost full.
Then there was Bolt et al's first appearance. Bolt jogged to a 10.09s win (after quite a big stumble out the blocks), Ryan Bailey of the US ran 9.88s but the rest of the main protagonist ran around 10s. It looks as though the final will have 3 Americans and 3 Jamaicans and it will be fast. Will Bolt win? He will need to be in top form.
Before the 100m we had the 400m heats and Oscar Pistorius (double amputee blade runner) who when practising his starts received a huge cheers from the crowed. He qualified for the semi-finals. Has he got an advantage/disadvantage the debate rumbles on but what is certain is that the man is a superb athlete.
Then came evening – the stadium was electric and crowed were at their most enthusiastic – and a moment of British athletics history was made. Three Gold's in the space of 45 min – Jessica Ennis (Heptathlon), Greg Rutherford (long jump), and Mo Farah (10,000m). This is building up to be the most successful athletics meet ever for the GB team.
If there are any UK readers then surely one of these should be up for BBC sports personality of the year – my moneys on Ennis with Mo a close second (especially if he does the double and wins the 5000m).