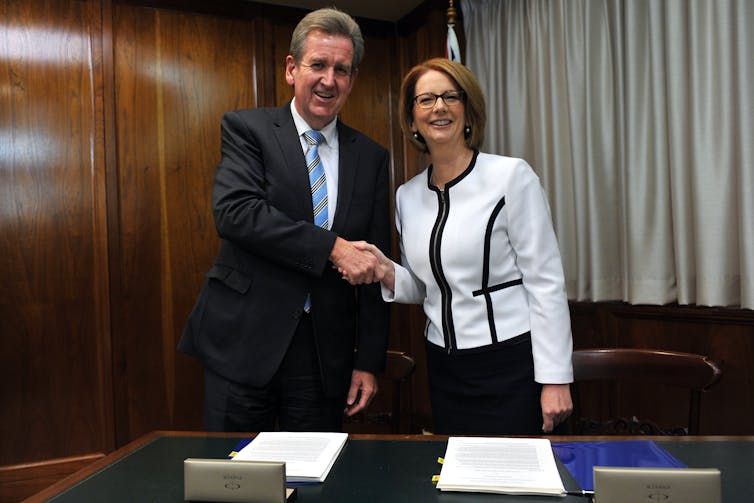 Barry O'Farrell's signing up to the Gillard offer on schools funding could be the tipping point for the federal government to get a deal with most states.
But the other key conservative states – Victoria and Queensland – are still holding out for better arrangements for themselves.
The Labor states will agree. If the Liberal government in Western Australia, for which the offer doesn't hold much, refuses to reach agreement, it won't matter.
Athough it was always considered the easiest of the conservative states, getting NSW on side is a big win for Gillard when she desperately needs one. Those around her have been confident of success on Gonski and now she has taken a significant step towards it. But she does need Victoria and Queensland for real victory.
Tony Abbott reacted grudgingly. "I always expected some states would sign up", he said. "When you've got a government making enormous promises of money, money and more money, the temptation - particularly from hard-pressed state governments - is to sign up."
Less a temptation, more a rational calculation. Particularly as NSW (and other states) know that if Abbott is elected, the new federal government will be parsimonious. Best to get money in the hand – knowing Abbott would find it very hard to take away.
Opposition education spokesman Christopher Pyne repeated that there needs to be "overwhelming" agreement "in order to secure a nationally consistent school funding model". In his statement he didn't define "overwhelming" or say what a Coalition government would do in a less than overwhelming situation.
NSW schools get $5 billion from the deal (which will be legislated by the Gillard government before the election). The state government has announced measures to provide the $1.7 billion state money that will be required under the $2 for $1 agreement.
These include temporarily deferring the abolition of inter-governmental agreement taxes, introducing an efficiency dividend, and some savings from NSW's VET reforms.
O'Farrell said the Gonski changes provided more resources and a fairer distribution, and aimed at higher standards. "This is a once-in-a-generation opportunity for NSW schools".
Victorian premier Denis Napthine said his state was happy to negotiate but wanted something that was more generous than what was on the table so far. He also claimed the deal kept changing.
Queensland education minister John-Paul Langbroek was dismissive of the actions of a fellow Liberal state. "It's obvious that NSW were preparing to make his statement, as last year they cut $1.7 billion from their education system", he said
"Now in Queensland total education spending this year has gone up 4%. We're not going to rob Peter to pay Paul just so we can rebrand our education as a Gonski reform."
It was important that the Premier keep the lines of communication open with the PM, he said, but Queensland was not willing to find the $1.3 billion asked of it. "We'd just like the Prime Minister to meet us half way." But she "hasn't indicated that she's prepared to give an inch at all".
Although Queensland insists the NSW decision doesn't put it under pressure, the federal government believes that as other states come in, it will be harder for Newman – considered the hardest nut to crack - to resist, just as it was on the National Disability Insurance Scheme.
Federal Treasurer Wayne Swan, a Queenslander, said: "If it is good enough for NSW kids why do Queensland kids deserve to miss out? Don't let our school system be second rate to NSW's."