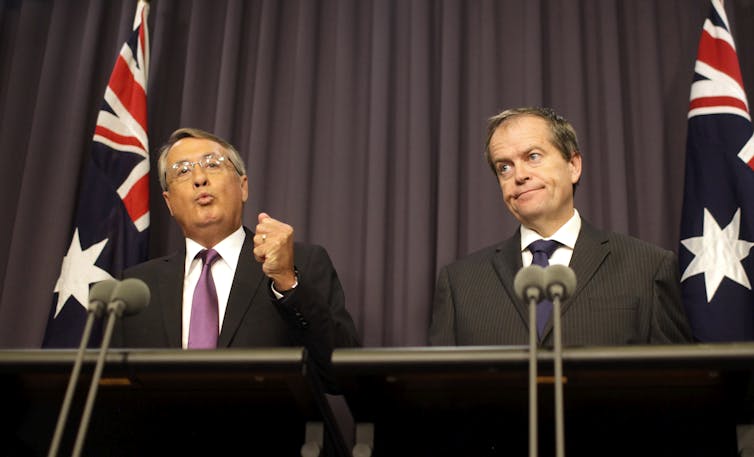 While no doubt there will be devils in the detail, the government's superannuation changes are mild and appear fair. They should not be subject to a scare campaign.
But they will be. Tony Abbott immediately said the governments was slugging the superannuants of Australia.
Fewer than 20,000 people will be disadvantaged. But Abbott's line is that if the government "comes for your neighbour today it'll come for you tomorrow."
The central measure in the government's package is that from July next year the tax exemption for earnings on super assets supporting pensions and annuities will be capped at $100,000 (which will be indexed to CPI). A 15 % tax rate would apply to earnings above that. You would need assets of about $2 million to be affected.
There are special arrangements for capital gains on assets bought before July next year. The government says this will give people who have already purchased superannuation assets more than a decade to decide whether they want to restructure their super holdings.
The government has steered away from an approach based on people's income, knowing that opens up the argument about who is "rich". It has avoided, in any substantive way, retrospectivity (warned against by Simon Crean).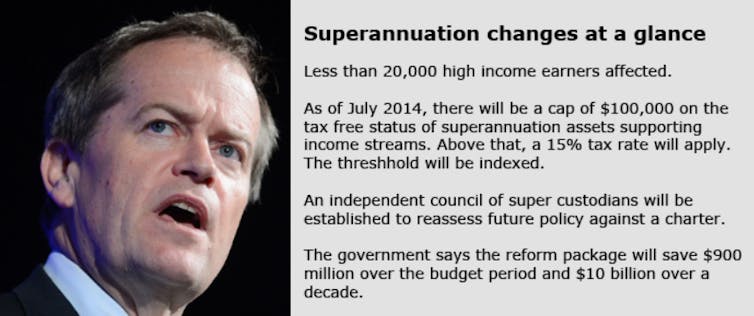 It has also given a carrot, bringing forward for the over 60s a more generous maximum for putting in contributions at a concessional rate.
The reform package has been a long time in gestation, including industry consultations, but it has been rushed out to stem to public bleeding as the debate has raged in recent weeks. A Cabinet phone hook up last night ticked off the plan. There will be no fresh super measures in the budget.
But once again Labor has mucked up its timing, in two ways. It has sparked this massive row in an election year. Its defence is that talks with the industry take time. The answer is to start earlier in the term.
Secondly, this modest package will not be law by the time of the election. After the fiasco of the media reforms, the government won't even try to rush its measures through Parliament. They will form its election policy.
There is a touch of cunning here, however. This is announced policy so the savings will help the budget bottom line. They are only $900 million over the forward estimates ($10 billion over ten years) and Treasurer Wayne Swan emphasises this is about long term sustainability rather than immediate "saves". But still, in hard fiscal times, everything helps.
So the governments gets the benefit of the savings but at a political cost. Tony Abbott will not be able to claim any savings for his bottom line because if he becomes PM, the measures will never go ahead. But he will be reckoning that he will still reap a political windfall.
Superannuation Minister Bill Shorten says a proposed Council of Superannuation Custodians (to ensure future changes are consistent with an agreed charter) would help to put the issue above politics. A nice aim, but not political reality.