Tony Abbott promised a government of no surprises but has delivered a year chock-full of them.
A prime minister expected to lean to caution has thrown it to the winds. A leader without a cushion of popularity has taken big political risks. A man who campaigned on trust has squandered much of that precious political commodity.
Tribal, ideological, arrogant and over-centralised – these have been Abbott government faults in its first 12 months. It has often presented an unattractive canvas, desperately needing more subtle hues.
But for all the roughness, it would be unwise to predict from the first year – the anniversary is Sunday – what the second and later ones will be like. There are indications that performance and fortunes could be on the turn. A few Senate wins, some more deft touches, better polls, could shift the political dynamic and put Labor under more scrutiny.
If one looks back on recent prime ministers, their initial year contains seeds of future success and portents of failure: there is no surefire way of knowing which will prevail.
Poll expert Peter Brent, a blogger for The Australian, says Abbott has "polled very badly for a freshly elected prime minister". Comparing Howard, Rudd and Abbott (the last three PMs to take power from opposition), Brent says that on the measures of voting, approval and better PM "Rudd was the most impressive [in year 1]; Howard was nearly as impressive, and then there's daylight to Abbott".
Because of its them-and-us view of the world, the Abbott government has eschewed inclusiveness. It has appointed a slew of mates to positions; denigrated those seen as "them" (like the ABC); displayed partisan pettiness (cancelling Steve Bracks' appointment to New York).
Key election mantras have been delivered on. The boats have stopped. The carbon and mining taxes are repealed. Roads are planned.
The quest to repair the budget has been a less successful story. There have been some poor decisions, exaggeration of the problem, trashed promises, confused lines, bad selling, Senate logjams.
The government has frequently seemed insensitive to the pressures many ordinary men and women feel under in their daily lives. Tellingly, it wasn't able to effectively rebut the argument the budget was "unfair".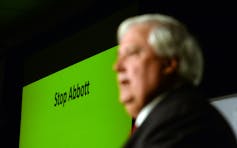 After writing off the old Senate it has struggled with the new one. To have its legislative fate largely in the hands of Clive Palmer, a man who used to be "one of us", as it were, has been almost beyond bearable.
This week's deal with Palmer to get rid of the mining tax was a fillip, for its symbolism as much as its substance, a sign the government could negotiate with this ragtag Senate. Nationals whip Mark Coulton says: "I think we're starting to see the Senate settle down. I'm more confident of Senate outcomes than a few months ago".
Abbott has struggled to make the transition into the job for which no preparation is fully adequate. Yet, in another surprise, he has shown an unexpected sureness on the international stage. His handling of the MH17 tragedy won wide praise; his response was, in the words of one Liberal, "visceral Abbott, coming out of the blocks very strong". Now Australia is on the brink of ramping up its role in the Iraq conflict and even preparing to dabble in the Ukraine one as well.
Domestically, a flicker of Abbott's old pragmatism has recently come through the government's hardline approach. When its pursuit became untenable he dropped, with barely a political tear, the plan to weaken the Racial Discrimination Act. A cost of pragmatism is that it disillusions the true believers. Walking away from the RDA change deeply disappointed some commentators and MPs from the right.
Many in the government look at the top of the pyramid and see not one but two power wielders. "I think Peta Credlin is running the country," says a Liberal backbencher, referring to Abbott's omnipresent, super-influential chief of staff.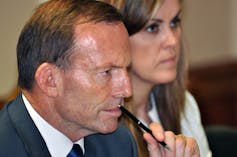 Credlin has a hand in everything from appointments to ministers' offices to the flowers for a William-and-Kate function. When she attended the pre-budget meetings of cabinet's expenditure review committee with Abbott she had plenty of views, officials recall.
She had a strong voice in the sacking of Treasury secretary Martin Parkinson, out of favour because of his role as a former head of the former climate change department. A better articulator of the government's economic policy than the government itself, Parkinson's dismissal (still to take effect) was a bad own goal.
Complaints about Team Abbott's command-and-control approach are still heard. Decisions can be slow to come from the Prime Minister's Office, a mild case of the disease that afflicted the Rudd PMO. The routine briefing out of most announcements exclusively to the Daily Telegraph, the Sunday Telegraph or The Australian has become something of an in-joke around official circles.
After such stunning success as opposition leader, Abbott has found it difficult to exit the campaign bus and hang the fluro jacket in the cupboard. An opposition that thrived on slogans has become a government that deals in them. Some sources put this down less to focus groups than to the fact Abbott's an old journo, with a love of the cut-through line. "Sometimes the memorable phrase can be just a bit too memorable," as one Liberal puts it. Think Team Australia.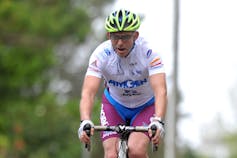 In an abnormal job, Abbott battles to keep a little normality in life. He didn't like moving from his home into Kirribilli House – I don't want to live in a palace, he was heard to say – but had no choice. He rides the bike, lives at the Australian Federal Police College when he's in Canberra, the gym on hand, and occasionally climbs onto the rural fire truck.
But leadership, whether in opposition or government, has drained some of the colour from his personality. Greg Craven, Australian Catholic University vice-chancellor and Abbott's friend, wrote a month ago: "Abbott has been so careful and so measured in most of his public utterances that he seems to be channelling a funeral director at a chancy burial. But it does not work. The genuine spontaneity becomes strain. The quirkiness becomes awkwardness. The deeply held convictions become potential traps to be avoided … The only way for Abbott to succeed as Prime Minister is to be Abbott."
Since then, we have seen a touch more spontaneity, encouraged perhaps by the reaction to his handling of MH17 but also, as he approached the anniversary, by feeling he was settling into the job. A senior colleague says: "It's starting to look more like he belongs there".
But the challenge remains to "be Abbott" and bring that off politically with a public who has never warmed to him.
The report cards of the Abbott ministers are mixed.
Foreign Minister Julie Bishop receives the ultimate accolade. She's coming through strongly in Labor research, seen as confident and cool, with voters impressed by her shuttle diplomacy over MH17. She has that status of "next big thing", which Julia Gillard once enjoyed under Kevin Rudd. Bishop, it is worth remembering, is not without leadership ambition.
Scott Morrison has delivered on his KPIs, although even some on his own side find what comes through as pitilessness difficult to stomach. With an eye on the future, the Immigration Minister is using the rise of the wider national security issue to broaden his profile, but he remains little noticed out in the electorate, other than as a man who has done the job.
Mathias Cormann received a lucky break when he landed the finance portfolio. He is one of the strongest performers, also competently taking on the work of assistant treasurer Arthur Sinodinos, who stood aside after being embroiled in the Independent Commission Against Corruption. No one doubts Cormann covets the Treasury but he'd need to switch to the lower house to ever get it.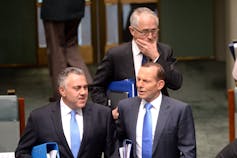 For Joe Hockey, a confident start in the early months turned into annus horribilis (including the ill-timing of his biography). Some believe he'll never recover, which ignores the changeability of politics. Hockey aspired in his maiden budget to out-perform Peter Costello, only to rate behind Wayne Swan in a poll of recent treasurers.
It has been almost as bad for Attorney-General George Brandis, the once small-l liberal who forgot he was in the Senate, not the Oxford debating hall, and tripped on the hurdle of free speech. He will forever be tagged with his defence of the right to be a bigot.
Senate leader Eric Abetz unwisely ventured onto a popular TV show, to be entangled in a bizarre proposition about abortion and breast cancer.
Other senior ministers are ranged between, awarded the Bs and Cs of the class.
Malcolm Turnbull, limited by the narrow portfolio of communications, has been fenced in. Team Abbott, the PM and his senior advisers, will always see Turnbull as a threat, though the right so dominates the Liberal party that it is nearly inconceivable he could lead again.
Mostly, Turnbull flashes that charming smile, his frustration kept behind closed doors. Sometimes he kicks back, most recently when he was excluded from the first round of an important decision on metadata, left to read it in the Daily Telegraph.
In opposition the Coalition accused Labor of gross economic and budgetary mismanagement. Saul Eslake, chief economist at Bank of America Merrill Lynch, observes the economy "hasn't performed materially differently in the Abbott government's first year than in the Gillard-Rudd government's last year".
Both consumer and business confidence picked up in anticipation of the change in government. But consumer confidence is now lower than at the election and business confidence is no higher than then, while unemployment is half a percentage point above a year ago.
Describing the budget as economically sound but politically ill-judged, Eslake says the Coalition assumed the public had bought its line about an "emergency"; it made the mistake of assuming the election "was a vote for them rather than a vote against the other mob".
The government has set out down controversial reform paths, with its initiatives to deregulate higher education, make Medicare patients pay, and put the acid on young job seekers (it believes bludging, rather than an obvious lack of jobs, is the problem with some of them). The fate of these measures will depend on Senate crossbenchers, with the numbers so far not there.
Other, yet to be drawn up reform plans - on taxation, federalism, industrial relations – are to emerge after inquiries, with promises that proposals will be presented to the 2016 election before any attempt to implement them.
On certain fronts, the government has been anti-reform. It has dismantled one of the most significant changes of recent decades – the imposition of a carbon price – that only a few years earlier was briefly a bipartisan policy.
As part of the mining tax repeal deal, it has pushed back to 2025 the increase to 12% in compulsory superannuation, despite the growing burden of pensions on taxpayers. The hit on superannuation has opened another battlefront, with the government's argument that the decision means workers will have their money sooner, rather than in retirement, unconvincing.
It is itching to kill or cripple the renewable energy target, but aware the politics could be negative. This week Abbott called a meeting between the relevant ministers and interested backbenchers to get feedback.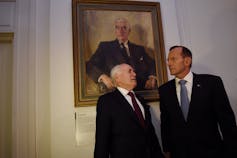 Abbott has taken some flack from his backbench, well beyond disgruntled Liberal senator Ian Macdonald, a constant critic who called the PM out for being late to a party meeting. Cory Bernardi, from the right, was outraged by the budget income tax levy. At this week's Coalition party meeting, West Australian Liberals threatened to put a submission about the GST to the government's tax inquiry (and were warned against doing so by Abbott).
Liberal Warren Entsch, a former whip from the Queensland seat of Leichhardt, usually has a finger on the backbench pulse. "I think morale is improving," he says, but "there is still a way to go.
"We've got some of the key stuff through the Senate and that has helped significantly. There still needs to be more sharing with the backbench. In some areas that's starting to happen. We need to make sure it is continuing." He discussed these matters with Abbott on Monday and was pleased at the response. "He agreed with me."
Craig Laundy, a new Liberal MP from the western Sydney seat of Reid, with an Islamic component of 11% in the last census, had many constituents worried about the mooted changes to the RDA; now they're concerned at the anti-terrorism proposals. On the latter Laundy says: "I'm being approached on a regular basis; I've been to half a dozen meetings". He doesn't believe the anti-terrorism measures are discriminatory, and sees his job as explaining them.
Jason Wood, a Liberal from the Victorian seat of La Trobe, was in Parliament from 2004 to 2010 and re-elected last year. He notices the big change from the Howard government days. "The economy was flowing along, there was money in the bank – as an MP, every budget brought tax cuts and projects being delivered." It's a very different focus now.
The voters, he says, "want us to get things under control but with a gentle landing. They don't want to see any more hardship on themselves. But they also understand we have to clean up the Labor mess."
Wood says Abbott has improved consultation in the last couple of months, more directly asking for backbench feedback.
"Before, it was just a polite 'how are you going?' without seeking direct feedback. Now he wants to know what you are thinking about."