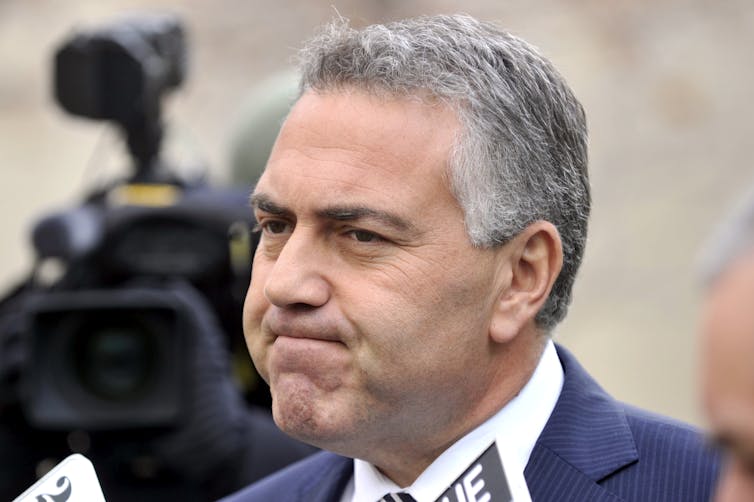 Election campaigns are all about trying to pin down politicians on plans and commitments. But what later happens is usually rather different.
Joe Hockey, expected to be treasurer in fewer than 100 days, is frank. The opposition will hold back much detail until Treasury and Finance produce the Pre-Election Economic and Fiscal Outlook in the early days of the campaign. But some things won't be known before September 14 "because we won't have that information until after the election, if we are elected".
The PEFO figures are the last and most reliable (untouched by political hands) available prior to the election. But Hockey is not satisfied.
"I've identified very publicly three areas where I think the numbers are not credible in the budget. The issue will be how far PEFO is different to that".
The alleged "holes" are carbon tax revenue, mining tax revenue and the modelling behind it, and the shortage of money for dealing with boats. "If PEFO has similar numbers to the budget on those three, then how can it be deemed credible?" He's also suspicious of some costing in the defence area.
He gives the same qualification about the pathway to surplus that the opposition will outline during the formal campaign. It will be "on the best available information. But again I want to emphasise the problem is that the information presented is not going to be the total picture.
"I'm not going to have a comparison between our budget and their budget before the election. Because we can't present a budget – we're in opposition", Hockey says, in an interview with The Conversation.
As shadow treasurer, Hockey's role is to try to keep opposition promises as limited as possible (not easy with Tony Abbott although the leader is at least talking the talk) and maintain maximum flexibility for a prospective Coalition government.
A government should not have to break undertakings, he says, because a party shouldn't make ones it won't be able to keep.
"What you and others are trying to do is force us into locked positions. Circumstances from time to time change in some situations. I think you've got to be careful about exactly how far you go in your policies and how conditional commitments are".
But isn't it also unrealistic to say you can never break undertakings? "What matters is whether you give an undertaking in good faith".
Speaking after the release of last week's national accounts which showed the Australian economy growing annually at 2.4%, below trend, Hockey "absolutely" believes growth would be higher under the Liberals (no, he won't put a number on it).
Most immediately, "if there is a change in the government on September 14, there will be a surge of confidence in Australia. Just to get predictable, stable government will be a big step forward.
"Corporate balance sheets are in pretty good shape … household balance sheets are in pretty good shape. It's just about getting a bit of credit growth there and a bit of risk taking".
Structural changes will also be needed: he points to the proposed white paper on tax reform – with recommendations to be taken to the 2016 election. This obviously raises the question of reform of the GST. Hockey says: "You've got to get away from looking at an individual tax and look at the total tax package", and once again stresses the GST is a "state tax".
Preparing for government, the Coalition has had the razor out. But in its cost cutting in government, its approach would be "prudent" rather than going down the path of "austerity". "Austerity in other jurisdictions is massive cuts to outlays - 10-20%. There's no suggestion that we'd be cutting $40-$80 billion of government expenditure each year – that's ridiculous – that's austerity". He declines to quantify "prudence".
The opposition has made a lot of use of the new Parliamentary Budget Office for costing its policies and found it good, including for assumptions. "For example, what is the assumed cost of the average public servant in a particular department? Because if you are going to have a program in that department, then you can try and find out how much the assumed cost of a public servant is."
He remains secretive about who is costing the rest of the policies.
(After the last election, Treasury declared a multi-billion hole in the Coalition numbers; the accountants the opposition used were fined by their professional body for a breach of standards.)
The new numbers people will be revealed during the election proper, Hockey says, when "we'll give you the full box and dice on the process." He doesn't want the costers to be "demonised" by Labor.
Just over a year ago Hockey hit the headlines with a speech, delivered in London, declaring "the age of entitlement is over". Asked whether he is still on this case of excessive entitlements (which include middle class welfare and other subsidies), Hockey reminds that the speech was primarily directed to Europe but "I think the most important thing we should do for ourselves and those that follow us is to live within our means. It is just a starting point. Nothing comes for free in this world".
In a couple of recent opposition battles around the baby bonus Hockey has been firmly on the side of "prudence".
On industry "entitlement" – an issue revived by Ford's recent announcement that it will close Australian production in 2016 - he says: "My views are well known. I think the starting point is that you don't have subsidies, but sometimes you need to help industries through an adjustment period and I recognise that".
The opposition is already committed to reducing the subsidy for the car industry and Hockey flags that the Ford decision will mean that reduction will be increased. "That changes the complexion of the total package. With Ford leaving there will be change, but as to a total amount I can't give you an answer".
Hockey, 47, would arrive in the treasurer's job as an experienced hand. Elected for North Sydney in 1996, he was a minister (financial services and regulation) by 1998. After the 2001 election he hoped for a promotion into cabinet – instead, John Howard delivered the man who had been dining with the financial sector's high flyers a sharp reality check. Hockey found himself minister for small business and tourism.
"He moved me sideways to toughen me up. And it did. I owe John Howard a lot. He promoted me to a very senior portfolio [financial services] when I was just 33, and then I had the round and round on the GST [which started mid-2000] and had the HIH collapse with the royal commission.
"That was a very tough portfolio and I thought I did well but he moved me sideways, and I thought downwards at the time, but it was a lesson for me … I swallowed what I thought was a pretty tough reshuffle and put my head down and made it work.
"Adversity does make you stronger, and how you deal with adversity", he says. "It was a tough time for me. [Howard] called a royal commission into HIH and he had me as one of the terms of reference. He didn't do that with the wheat board scandal – he refused to have Downer and others as part of the terms of reference.
"It was a lot to deal with and I came through with flying colours. We all have moments when we think we should have been promoted earlier. I have a lot of respect for John Howard because in the end he was right".
Abbott had a similar experience, he says. "When Andrew Thomson [later defeated for preselection in his seat of Wentworth by Peter King] was promoted ahead of Tony, Tony was very upset and that was part of the toughening up process for him".
Hockey went on to be human services minister and then at the start of 2007 took over the poison chalice of workplace relations (which also saw him put into cabinet); he presided over the attempt to soften its harsher edge. But the political damage was irreversible.
In opposition, he became shadow treasurer under Turnbull, after Julie Bishop stepped down in face of criticism about her performance. Then he had an extraordinary chance for the top job when Turnbull's leadership collapsed. Hockey, a moderate, was offered the position from people, including Abbott, across the party spectrum. The catch was he would have had to repudiate the emissions trading scheme that he had backed – and which had brought Turnbull down.
He couldn't, and in the subsequent ballot he was eliminated first and the leadership went to Abbott, who immediately made the fight against carbon pricing his political signature policy (and that of the rest of them too).
Hockey doesn't want to revisit those days, other than to say "I was entirely consistent … I am entirely happy with my position."
Is the leadership baton still there? Obviously, if the opportunity came, but he has a stock answer: he wants Wayne Swan's job (which could be Chris Bowen's by the election, if Kevin Rudd displaced Julia Gillard - Bowen might be a tougher opponent than Swan).
He would bring to government some lessons from his previous ministerial experience.
"The first is that whenever you have power, you've got to take people with you and you've got to consult broadly – and if you do consult for various reasons narrowly, you've got to get the top expert advice.
"Number two is: don't be afraid to exercise power, because you are here to make a difference. You're not here to just keep the wheel rolling over.
"Number three: consult with the best people you can find and don't be afraid to repeat good lessons from history."
Government and opposition present different pressures, he's found. "There are more emotional pressures in opposition. I think you walk through the depths of the darkest, coldest valleys in opposition". (He has a video he made of himself during the 2008 Gippsland by-election. He was staying at a cheap motel, the people next door trying to sell him drugs. It was as far as could be imagined from ministerial glory days.)
But there's more to it than that. "You're at the prime of your working life and you're trying to take someone else's job. Spending all your time trying to take someone else's job can be very soul-destroying.
"I am instinctively a person who always looks at a glass half full. I'm not a pessimist. I'm not a dark person. An opposition has a duty to point out flaws, has a duty to offer alternatives. Offering alternatives is more rewarding than giving commentary on things - that can be rather bleak at times".
Regardless of the soul-destroying aspect of seeking to bring him down, Hockey insists he never feels sorry for Wayne Swan."Not at all, because he has done it to himself, and there has never been a moment of reflection for him to say 'I've screwed up here.'"
But he gets on well with Kevin Rudd, once again his sparring partner on Seven's Sunrise, a gig that over the years has helped both their careers. (They were at it again on Friday, with Hockey pressing Rudd to repeat his March commitment that there were no circumstances in which he would ever be leader again.)
"I get on well with Anthony Albanese; I get on well with Rob McClelland, Joel Fitzgibbon. I like to think I have a cordial relationship with a whole number of them.
"I ran into Peter Garrett in the street and we had a nice chat.
"There are some people that are engaging and others that are not. I'm a more extroverted person. I don't start by hating someone."
After he had surgery over the summer to lose weight and seemed to be performing better, observers remarked that "sloppy Joe" was changing in the quest for office. But he doesn't take this as a compliment - he bridles when it's put to him that he's become more focused. "I don't think I've changed. I think I'm the same as I've always been".