You pass through the Chinese gate and into the red wash of the main thoroughfare. Strings of lanterns hang above you, lighting your passage. To your left, a glaring neon sign blinks on and off, while on your right, pagoda roofing and latticed woodwork adorn an otherwise non-descript building.
It's clear that you're walking through Chinatown. But this small, highly-stylised slice of the Orient could be located in almost any Western city in the world – and perhaps surprisingly, almost nowhere in China.
There's a reason that Chinatowns across the globe bear a strong resemblance to one another. They are a spectacle specifically built and replicated to attract tourists. And they were all spawned from a single event: the great earthquake of San Francisco, in 1906.
A bad reputation
Chinatown existed in San Francisco before the earthquake, too, but the area was despised by the rest of the city. Although the stories of underground tunnels, brothels and opium dens were mostly fabricated, they gave Chinatown an aura of notoriety which marked it out as different and debased.
Public health investigations found or invented faults fuelled by racist invective. Chinatown was declared a "cancer in the heart of the city", crowded with the "filth" of an "infamous race".
In 1882, the widely-supported Chinese Exclusion Act became the first (though sadly not the last) law to exclude a group from the United States on the basis of race or religion: a testament to the levels of antipathy harboured towards the Chinese, and Chinatown.
When the earthquake struck San Francisco, the inhabitants of Chinatown were not even included in the death toll.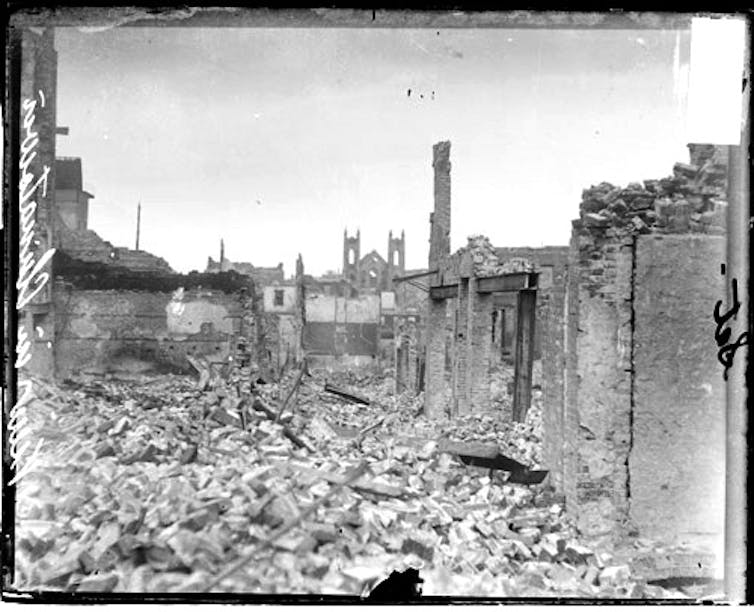 Less than one minute's worth of seismic activity was all it took to change the face of Chinatown forever. Space opened up in the heart of San Francisco. Where once had stood the buildings and streets of Chinatown, there now lay an opportunity to build – and to capitalise.
Influential figures such as mayor E E Schmitz saw a chance to claim the central space for their own, proposing that Chinatown be rebuilt in Hunter's Point, on the very margins of the city.
A new vision
Nevertheless, the leaders of Chinatown managed to secure the previous location for their community, and began to refashion San Francisco's Chinatown as an exotic wonderland for non-Chinese visitors. Look Tin Eli and other Chinatown leaders had a vision of an "Oriental city [of] veritable fairy palaces filled with the choicest treasures of the Orient."
Unlike the brick, Italianate buildings of pre-earthquake Chinatown, which were common throughout the city at the time, Look commissioned buildings that would imitate Chinese design elements. The process was continued two decades later, with Chingwah Lee's popular seven step plan to make Chinatown a "tourist magnet".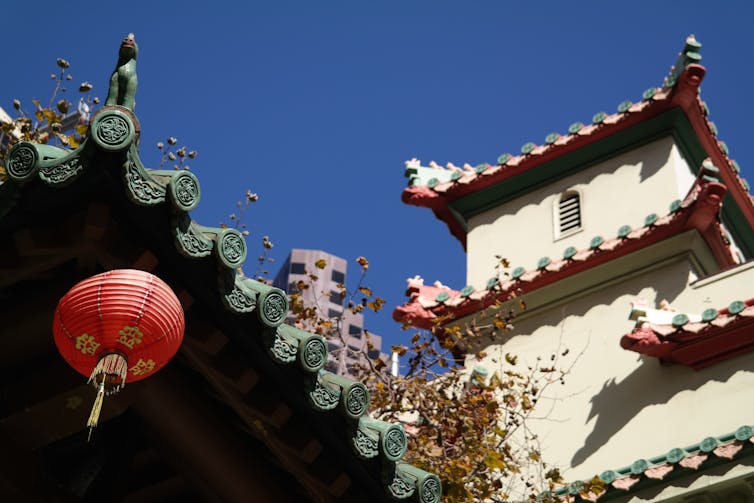 Yet the architects initially responsible for designing this Oriental scene were, in fact, white men who had never visited the Orient; and their designs betray an inexperience with Chinese architecture.
Nevertheless, Look's creation of an Oriental city was a success. The design of San Francisco's new Chinatown reestablished a centre of business for the Chinese community, and enticed non-Chinese customers to explore the exotic-looking streets and shops within.
A real phoney?
Throughout the 20th century, most of the West's Chinatowns went on to mimic San Francisco's successful, tourism-based model. There are unique features to be found in each of these Chinatowns, yet many of the aesthetic and commercial genes of San Francisco's post-quake enclave are expressed in its offspring.
New Chinatowns are still being designed and proposed today. For instance, the city of Liverpool in the UK is anticipating the construction of the New Chinatown project, which advertises itself as a "distinctively Chinese urban quarter" and "an utterly unique shopping experience". The project is designed and managed by UK-based, non-Chinese community companies, but has sought investors from China and Hong Kong.
Chinatown has come to represent a clear, cohesive and supposedly "authentic" idea of the Orient. But it's based on a version of "Chineseness" designed for consumption by tourists. The identity of Chinatown's inhabitants is, in fact, far more diverse than its name implies.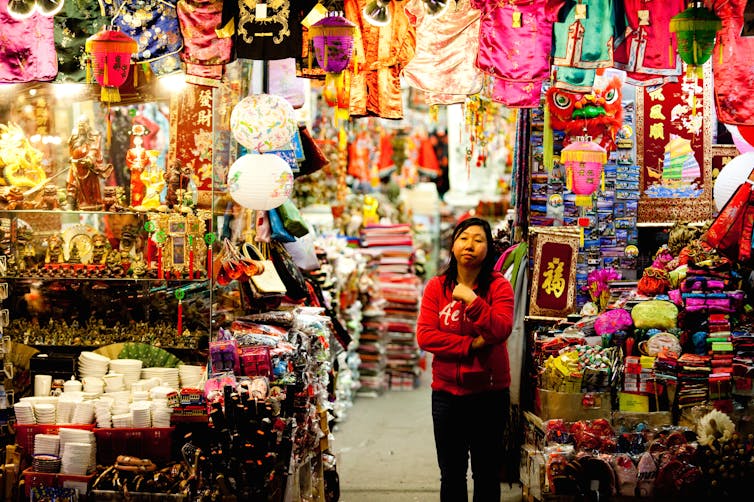 In San Francisco, the area is inhabited by migrants from Hong Kong, Taiwan and mainland China, their American-born offspring, people of other Asian backgrounds and increasingly, people of non-Asian descent. All bring their own political, cultural and social allegiances to the space.
Yet the skyline of modern Chinatown can also be viewed as a response to decades of discrimination; a protective surface defending a vital inner world. San Francisco's new Chinatown was designed and marketed as a beautiful and fantastical vision, to encourage a new outlook on the space and to make it a more attractive area.
Under threat of relocation to the outskirts of the city, the reconstruction of Chinatown atop its old site was a declaration of fortitude, and its stylised Oriental design was a means of survival. Chinatown's exotic aesthetic attracted custom and ensured a Chinese presence in the centre of San Francisco — and other cities across the world — for well over a century, and continues to do so today.