The Netflix series Black Mirror is a supreme example of contemporary television fantasy. It is hard to think of any other modern show that is so constantly unpredictable, aesthetically accomplished, stylistically eclectic or downright disturbing.
Over 19 self-contained episodes split into four series, Black Mirror seamlessly blurs genre boundaries – science fiction, horror, thriller and satire all meld into one another.
But despite the eclectic sense of genre, Black Mirror is united by the theme of digital technology. The name of the programme itself refers to a turned off phone, television or any of the other screens that dominate our lives – the haunting black screen like a mirror. It seeks to identify the radical changes brought about by digital technology and push them to their logical conclusion.
Just as the pioneering science fiction of the 19th century incorporated the scientific discoveries and technology of the industrial revolution, so Black Mirror pushes our contemporary experience of the digital revolution into possible projections of the future.
Some episodes of Black Mirror can even be seen as adaptations of much older literature. One striking example is Be Right Back from series two, a clever reworking of Mary Shelley's Frankenstein from 1818.
In the Black Mirror version, after a man is killed in a car accident, his distraught widow purchases a biosynthetic model of her husband. It downloads all the extant digital documentation of her late husband and comes alive as a seemingly faultless imitation of the dead man.
Tragedy is inevitable of course. Despite his superficial perfection (it is even, in some respects, an improvement on the original), the resurrected figure – like Frankenstein's creature – can never be human. And once she has passed through the euphoria and solace she finds in the biosimulation, the widow gradually comes to regard her reconstructed partner with horror.
Be Right Back is an effective re-imagining of Frankenstein for the 21st century. It updates Shelley's ethical questions to assert that the digital presence which surrounds us is no more the vital essence of humanity than Frankenstein's assemblage of body parts. But while Frankenstein explores the tragic relationship between the creation and his creator, Be Right Back focuses on the creation and the consumer.
That consumer is also centre stage in the satirical comedy Nosedive, from series three. Set in a not so distant future where social media "likes" determine a person's job, lifestyle and prospects, its story could have been framed within any number of genres. Here it is presented as a sardonic farce in which a young woman has a journey from hell travelling to a wedding where she is due to be maid of honour.
Far from comedic is Metalhead (series four), a tale of ultra-surveillance and materialism. It is told as a super-stylish monochrome horror story in which security systems have created anti-theft machines that have become so vigilant they have killed off nearly all living creatures.
The supreme irony in this episode is that the dystopia has not destroyed the very materialism that created the surveillance technology in the first place. When it is revealed what the group of human survivors were risking their lives for, we realise that although it was emotive and humane, it seemed an absurd risk to take.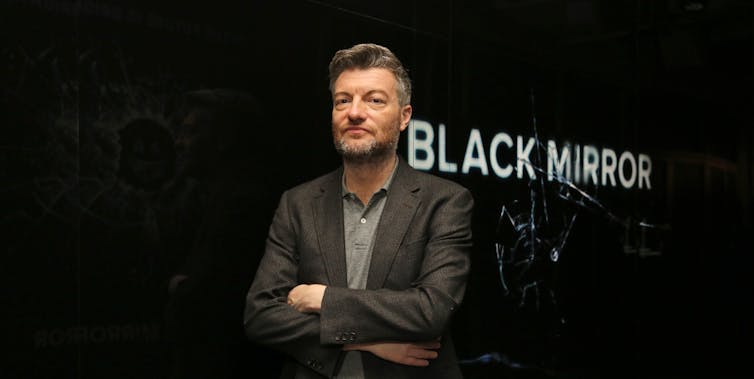 Dark reflections
Black Mirror is the creation of Charlie Brooker, a figure formerly best known for his satirical journalism and biting assessments of popular culture. Appearing on BBC's Desert Island Discs radio programme, he recently recounted how he spent years screaming at the television: "I could do better than that!" With Black Mirror, he probably has.
As well as drawing on the foundations of science fiction, Black Mirror belongs to the rich tradition of dark fantasy on television. Even the monochrome opening sequence of a buffering signal and cracking screen pays homage to the opening credits of The Outer Limits – the 1960s TV series which informed viewers they had lost control of their televisions.
The Outer Limits and Black Mirror both draw emphatic attention to the very technology being used by viewers. Half a century ago, The Outer Limits (and the even more successful The Twilight Zone) used television to present metaphors of social anxieties, including communism, the loss of social values and technophobia. These were quintessential examples of television fantasy. Where better to disquiet and unnerve us than in the safety and comfort of our own homes?
Black Mirror is a direct descendant of these shows. It examines the increasingly complex technological systems of our domestic environments and ways of living in the 21st century – making both seem dangerous and fragile.