Drop Bears. Look up. Stay alive. pic.twitter.com/3L2yNsQJj7

— David Feeney (@Feeney4Batman) August 4, 2013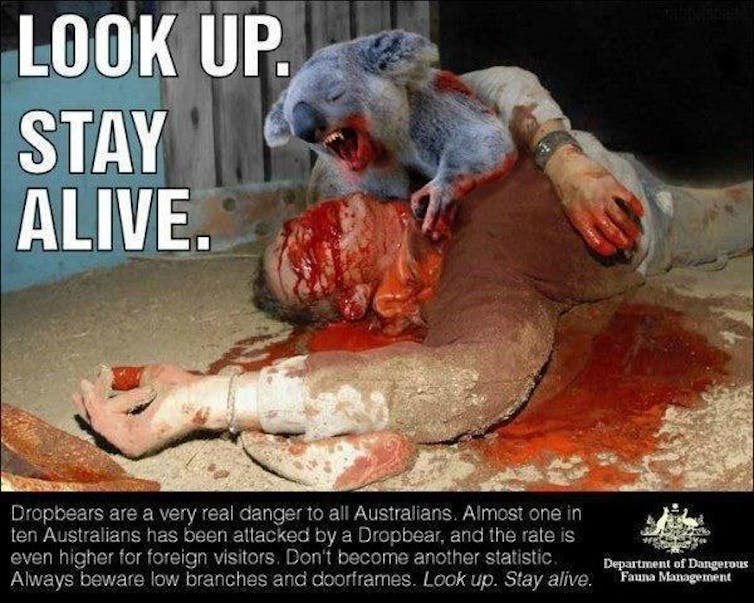 The women of Australia scrutinised ALP numbers man David Feeney when he wrenched the Labor candidacy for the seat of Batman from the warm hand of beloved local Mary-Anne Thomas.
But that may be nothing compared to the scrutiny of his first off-message tweet during an election campaign.
And the tweet?
It wasn't to let Australians know about the dangers of electing politicians. The tweet, posted at about 9pm Sunday night, focussed on the horror of another enemy of the state.
The drop bear.
"Almost one in ten Australians has been attacked by a dropbear," said part of the caption on a grisly photo of a body, dripping blood, with the bear still in attack mode.
Feeney, off Twitter, said plaintively last night that the dropbear yarn has "a little bit of history to it" and revealed there'd been a fake academic essay about drop bears circulated among defence staff.
It was an "in-joke", he said.
"It wasn't relevant to my seat at all," he said. "I used my Twitter account to communicate with people in defence." Feeney has been the Parliamentary Secretary for Defence since 2010 so likes to keep in touch.
On the day an election is called, should politicians be using their social media accounts to make in-jokes?
Feeney replied: "I guess that's a judgment we can make. It is about humour, it is about personality, it is about mixing it up a bit."
And what, you may ask, about the serious nature of being a local candidate.
"You've got plenty of other mediums to do it with," he said.
But the message on Twitter was clear. Weird. Gross. And vote #alex4batman (the local Greens candidate). Strange tweet. That's quite a way to campaign there. Odd. How is this effective campaigning? Is that part of the government campaign to stop the boats?
So yeah, no. First social media misstep. And only 33 days to go.