The Conversation has "provided an avenue for academics to present an informed view of topical questions" and has become a "reliable source of information for the public at large around questions of major topical interest," according to Monash University Vice-Chancellor Ed Byrne.
In a message read out at event hosted by RMIT on Monday (26 March) to mark The Conversation's first year, Professor Byrne said that The Conversation was doing what "it set out to do" and was making "a real contribution to Australian society".
Editor Andrew Jaspan said that since launching a year ago, The Conversation has attracted 4 million total visits and 2,500 academic authors, making it the largest virtual newsroom in Australia.
He said The Conversation had set out to be a "journalism project and a democracy project" that aims to provide "trusted, authenticated, responsible and ethical journalism from expert sources" as well as "taking the information that sits deep within universities and research institutes, and sharing it back with the people who paid for it in the first place."
Co-founder Jack Rejtman said The Conversation "set out to change the way that news was reported [but] in the process we became news" citing 50 news articles written about the site as a new model for journalism and academic public outreach.
Former president of the Australian Academy of Science, Sir Gus Nossal, described the Conversation as an "articulate youngster, wise beyond her years", and said the site had been successful for five key reasons – it was informed, topical, literate, eclectic and mature. The opinion articles are "always … formed via real and acknowledged expertise – rare in today's journalism."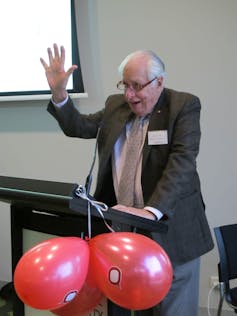 Mike Whelan, deputy chief executive of CSIRO, a founding partner of the Conversation, said the site had done more within its first year to "bring more authentic research outcomes to the wider Australian public than the rest of the media channels put together."
In another message University of Melbourne's Vice-Chancellor, Glyn Davis, said it had been "a privilege and an education to see how a small team with great leadership can help shape the future of the media."
Paul Johnson, Vice-Chancellor of University of Western Australia, described the Conversation as "an ideal platform for researchers at all levels to develop a national and public profile."
Daine Alcorn, Deputy Vice-Chancellor of RMIT, a strategic partner of The Conversation, said the site was "an enormous move in the provision of information" and a "fantastic contribution" to public debate in Australia.
Ernst & Young's Janine Kirk said the site "gets the voices of the researchers and academics out into a much broader audience where they can connect with the community."
The Conversation was "a fantastic new model" for the democratisation of knowledge according to Commonwealth Bank's General Manager, IT engineering Jon Waldron. "It's not just a public good, but the future of how we will interact," he said.
Corrs Chambers Westgarth's Rick Leder also spoke at last night's event.