What do you think of when Italian fashion is mentioned? Versace's shiny, gold Medusa-head logo? Armani's sleek, unstructured tailoring? Prada's textural, ladylike sportswear? Or maybe Jeremy Scott's recent reinvention of the Moschino brand – all colourful, kitsch and surreal? Whichever way your mind jumps, Italian fashion represents a keen eye for colour, fabric and detail – and more than a little luxury.
The V&A Museum's new exhibition, The Glamour of Italian Fashion, 1945-2014, will explore all these elements. With Bulgari as a major sponsor, and "glamour" in its title, the show foregrounds Italy's importance to the luxury market and the high status of many of its foremost brands, whether in fashion clothing, leather goods or fine jewellery.
It is interesting that the V&A is focusing on a "national school", given fashion's global scope, from design to manufacture, promotion and consumption. It is significant that this is still a key way that the industry, and cultural institutions, organise and promote fashion. The exhibition follows on from previous shows, such as New York Fashion Now (2007), but broadens the idea of the fashion city out to incorporate an entire culture.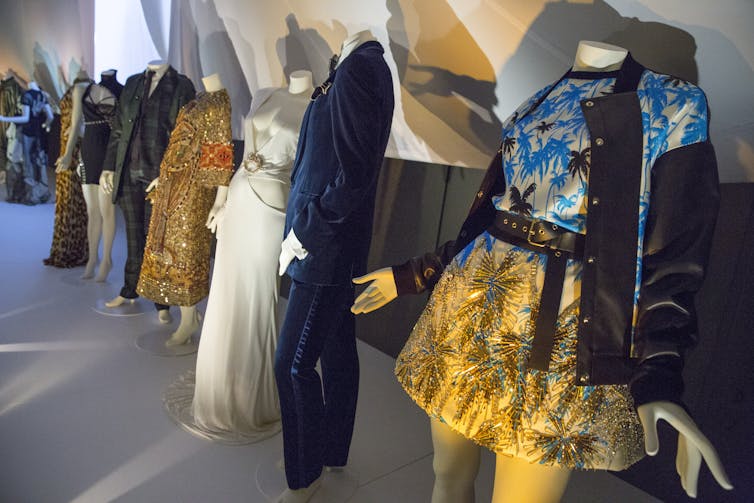 The curator, Sonnet Stanfill, who was also behind the New York exhibition, clearly aims to integrate discussion of different aspects of fashion design – from tailoring to ready-to-wear and couture – with an understanding of wider issues such as production and craftsmanship. And promotional tropes that highlight "Made in Italy" as a mark of quality, taste and style are also incorporated.
In doing so, fashion's deeper significance and meaning as a visual and material symbol of national identity comes through. And importantly, fashion as a significant contributor to national economies – both in and of itself, but also by attracting tourists and through connections to other aspects of culture such as cinema and interior design – is made clear.
This grounded view opens up the fashion landscape. The show moves between almost 100 mannequins displaying outfits ranging from a 1960s' Pucci bikini printed in the label's signature swirling marine colours to Dolce and Gabbana designs inspired by Byzantine church frescoes. Also on display are film clips and designer sketches that enable visitors to consider the creative process in relation to social, economic and political contexts. This means that the exhibition presents far more than an opportunity to marvel at the sheer breadth and scope of high-end Italian style – impressive though this undoubtedly is.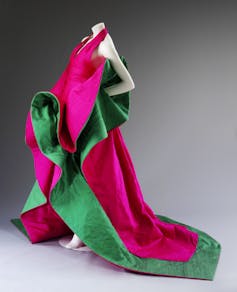 By starting in the post-war period, the exhibition immediately addresses Italy's weakened position in the aftermath of conflict and America's role in giving financial and practical support via the Marshall Plan. What emerges is a story of fashion history that connects strongly to emergent and, indeed, recovered national identities, which spans Roman opulence in its couture shows, Florentine historical influences and craftsmanship, to a push towards the industrialised yet quality-focused production of Milanese ready-to-wear by the late 20th century.
This also shows the fundamental importance of textiles to Italian fashion. This may sound like an obvious point – all fashion relies on fabric. But in Italy the range and quality of textile production has a centuries-old tradition and unrivalled reputation. Able to respond to designers' precise demands and produce high-quality materials, Italy's fabric mills have underpinned its success and surely inspired the strong use of colour, texture and embellishment in the designs of labels as diverse as menswear brand Ermenegildo Zegna and knitwear specialists Missoni.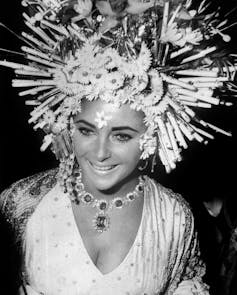 Within this expansive exhibition, the role of the few individuals whose clear vision shaped Italy's fashion identity is showcased. This includes designers, such as Giorgio Armani and Miuccia Prada, and those icons who wore the clothes, whether industrialists wives or film stars, such as Marcello Mastroianni and Elizabeth Taylor, who form Italian fashion's loyal clientele. It also shows how important family-run businesses have been, for example the Fendi sisters whose fur label defines another aspect of Italian expertise.
Ultimately, it makes clear the direction Italian fashion is moving in. Political scandals, economic difficulties and social unrest have marked Italy in recent years, and these have necessarily impacted its fashion. But new markets – and new production centres – are opening up, China being a significant example. Large conglomerates, which own several brands, such as Gucci, have continued to influence global taste.
And, perhaps most excitingly, younger brands such as MSGM have finally begun to emerge. Hopefully we will see a re-invigoration of Italy's style. Italy's new brands continue to show the importance of Italian heritage – MSGM's signature style, for example, focuses on inventive prints, interesting colour combinations and sportswear worn with tailoring.
The Glamour of Italian Fashion, 1945-2014 is at London's Victoria and Albert Museum from April 5 to July 27 2014.