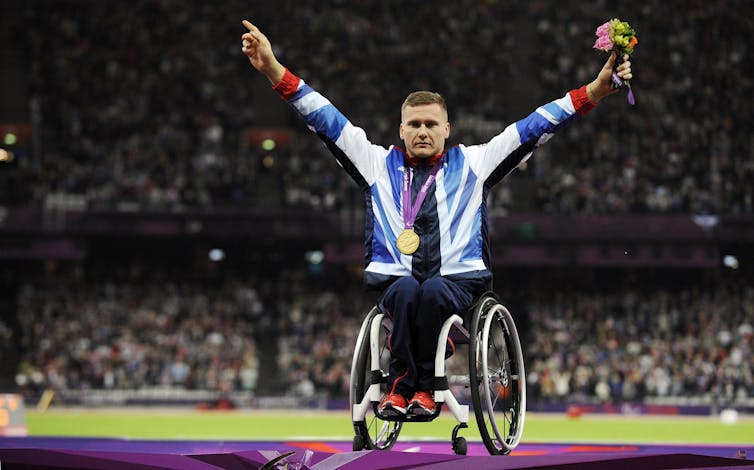 There were 48 medal events in 7 sports on Day 8 of the program in London. There were 14 sports in total.
One of the early highlights of the day for me was the success of the Australian Women's Wheelchair Basketball team, the Gliders, in their semi-final against the USA. The USA outscored the Gliders by 9 points in the final quarter to set up an exciting, if nervous, finish to the game. The Gliders won by one point and will play in the final against Germany.
The Rollers, the Men's Wheelchair Basketball team, won through to the final of their competition with a nine-point victory over the United States.
There were two penalty shoot outs in the Five-a-Side Football Tournament. China defeated Great Britain and Brazil defeated Argentina. Brazil will play France in the final of the Tournament.
In the pool Grant Patterson broke his second Oceania Record of the Games. He added the 150m SM3 Individual Medley to the record he set in the S4 50m Freestyle. On the same evening Jacqueline Freney and Matt Cowdrey carried on with their gold-medal winning habit. Jacqueline set a world record in the Women's S7 400m Freestyle. Matt won his fourth gold medal of the Games in the SM9 200m Individual Medley. Maddie Elliott and Andrew Pasterfield won bronze medals in their events (S8 100m Freestyle and S10 100m Freestyle respectively). Andrew set a new Oceania record in his race.
At the Athletics Stadium, China had a very successful day winning six gold medals. Great Britain won three golds. David Weir won his third gold medal in the T54 class. Jonnie Peacock defeated Oscar Pistorius in the T44 100m and did so in a Paralympic Record time. Oscar finished fourth in the race.
Louise Ellery broke the Paralympic Record for her class to win a silver medal in the F32/33/34 Shot Put. Angie Ballard set a Paralympic Record as well in her T53 200m race to win a silver medal.
At Brands Hatch, David Nicholas won a bronze medal in the C1-3 Road Race. There were four road races at Brands Hatch on Day 8. Four nations won gold medals (Ukraine, China, Italy and Great Britain).
At Weymouth, at the sailing venue, Daniel Fitzgibbon and Liesl Tesch won gold in the Two-Person Keelboat class.
There are three days of competition left at these Paralympic Games. The Closing Ceremony is on Sunday.
Previous instalments: