With the defeat of the so-called Islamic State (IS) on the battlefield looking imminent, Iraq is confronting a monumental challenge: to repair a deeply fractured society fraught with ethno-religious, geographic and socio-economic divisions. It must end infighting within its political power blocs, and navigate the dangers of assorted regional conflicts. The state must also earn legitimacy among traumatised people, liberated from the areas formerly held by IS, many of whom felt disenfranchised even before the group took hold in 2014. Some estimates say that at least 3.1m people – 10% of the population – are displaced, while 11m need humanitarian assistance.
On top of all this, Iraq faces an economic crisis, with high government debt, falling oil prices and high unemployment, meaning the state is unable to provide security or even the most basic of public services. The costs of immediate humanitarian assistance will eat into both the normal economy and plans to rebuild the country for the future; in June 2017, the Abadi government announced a ten-year reconstruction plan, but the funding in place or pledged is totally inadequate.
To keep Iraq from imploding into a new state of civil conflict a clear political strategy is necessary to build an effective, inclusive society that meets people's common demands for security, economic opportunity, services and equal citizenship.
Post-IS nation-building will require negotiation among political elites with strong sectarian identities. But the long-term stability of any settlement they reach depends crucially on their ability to address popular priorities and national interests, not sectarian ones. And fortunately for those tasked with the job, there is clear evidence of what the Iraqi public want.
As they see it, a significant barrier is poor governance, and in particular corruption. According to Transparency International, Iraq is one of the most corrupt countries in the world; systematic corruption pervades all levels of government and is widely accepted as the price of doing business, and extortion and patronage networks are a major impediment to stabilisation, reconstruction and the delivery of basic services. Beyond draining the treasury and wasting public money, corruption also breeds resentment and violence; when a democratic government is seen as weak, illegitimate and corrupt, extremism flourishes.
In 2015 there were mass protests across the country demanding better public services and an end to corruption, but promised reforms to fight corruption have yet to materialise.
Judging by what Iraqis themselves say about their country, this is a major missed opportunity.
Just fix it
Recent data from the Arab Transformations nationwide public opinion survey, on which we ourselves worked, indicate that what people want is stability, jobs, decent services, and an end to corruption. And crucially, these concerns cut across ethno-religious lines.
The survey included districts in Iraq's Kurdish autonomous region, central region and southern region: those living in the Kurdish districts were virtually all Sunni Muslim, those in the southern ones Shiite, and those in the central area roughly evenly divided between the two. This allowed us to look at the relative impact of region and ethno-religious identity on people's views.
Most people of all identities agree that corruption is pervasive: between 88% and 98% identify it as a problem, regardless of regional location or religion. Only around 10% thought that the government was making a concerted effort to tackle corruption, varying from 13% of Shiites in the south to 7% of Sunnis in the Kurdish region. Even the highest levels of confidence that government was making at least some effort to work towards tackling corruption – among Shiites in the central and southern regions – remain troublingly low, at 50% and 40% respectively. And as far as employment goes, between 86% and 97% thought it was generally necessary to have wasta (patronage) to get a job, regardless of region or ethno-religious identity.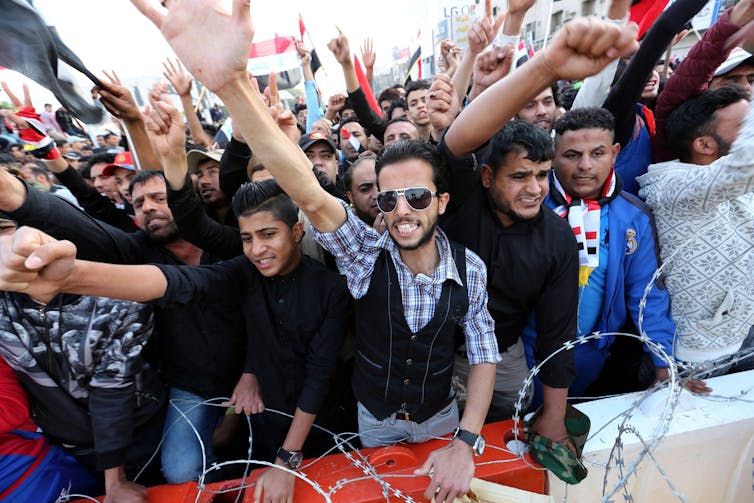 Perhaps not surprisingly, trust in central government was also worryingly low nationwide. Only around a third of Shiites in the southern and central regions consider it trustworthy, with rates far lower among Iraq's Sunnis. Satisfaction with the government's performance was even lower: only just over a quarter of Shiites in the southern and central regions rated it as good, and this fell to a fifth in the Kurdish region and a mere 7% among central Sunni.
Local government was considered more trustworthy, especially among Shiites, but satisfaction with its performance was rated as "good" by just 47% of southern Shiites, with a low of just 10% among central Sunnis. The government's performance at creating jobs and inclusive development opportunities was universally rated as poor, winning the praise of less than a fifth of the central region's Shiites and only 7% of its Sunnis.
On providing basic utilities the government fared slightly better, but even then its best performance was mediocre: just 57% of southern Shiites thought the government was performing at least quite well. This fell to just a quarter among central Sunnis.
Rocky road
It's easier to say what should be done than to come up with a concrete plan for doing it. Iraq's sectarian divisions run deep, the legacy of sectarianised politics and political marginalisation. The United Nations Development Programme and the Iraqi government are already working to stabilise communities liberated from IS, but commendable as their efforts are, more work is urgently required.
Governance and development are both politically sensitive and practically complex, and the territorial defeat of IS complicates this dynamic, rather than reducing it. As the country reclaims territory from IS and moves on, it must quickly strike a national compact of non-violence and co-operation to follow one common struggle with another.
Tackling corruption, meanwhile, promises to boost economic growth and legitimise both the federal government and the political forces who support it. But the sad fact is that corruption's main beneficiaries are Iraq's political elites and political parties.
Nonetheless, the data above show that Iraq has a major opportunity on its hands. Simply recognising that people's concerns are not determined by their identity alone can help forge a socially, economically, and politically inclusive social contract. Both Saddam Hussein's "Sunni-centric" regime and the "Shia-centric" post-2003 government proved that governing along sectarian lines is a road to ruin. However it's done, sorting out the way Iraq is governed is the surest way to secure peace.