It may come as a surprise to some that the biggest story out of the 2015 Cricket World Cup this year has not been about hosts Australia, or its foes England, South Africa or India. Instead, Ireland's shock win over the West Indies on the second day of the tournament left many asking if the cricketing world order was about to shift.
The win confirms Irish cricket success can be sustained and is not based on neo-patriot has-beens and the "never-quite-made-it" players prominent in its 2007 World Cup victories over Pakistan and Bangladesh.
The current team is one of seasoned campaigners and eager early-career professionals effectively coached and led. Behind the scenes, the Irish Cricket Union has ambitious plans to achieve test status by 2020. Through astute collaborations with English first-class counties, Ireland can refine talents emerging from its domestic game with the aim of achieving what has so far been the hallmark of cricket status, to be an ICC member and play five-day matches.
As for the West Indies, the World Cup isn't over, but the side bears hallmarks of a disparate, uninterested group with variable professional virtues. Despite the presence of Indian Premier League mega-stars such as Chris Gayle and Marlon Samuels, it seems unable to find a unifying cause. This side may do better, but there is little prospect that it will repeat the successes of the 1970s team, winners in 1975 and 1979. Currently ranked 8th out of 10, the challenge for the test team is colossal.
Where there's a will …
Do these stories say anything more about cricket's world order in a wider sense? I think they do, but let's put the global dynamics of cricket into perspective. Cricket is not football. In global terms, popularity and money means more frequent and greater fluctuations in the footballing world order – did anyone predict Costa Rica and Belgium could get so far in a World Cup?
In cricket, we have, and will retain, the big five – Australia, England, India, New Zealand and South Africa – which will continue to dominate on and off the field. Cricket, a game shackled by its colonial past and at variance with trends in modern living, will change its guard more slowly, less dramatically.
Change is more likely outside this group of nations and much depends on how the two vital ingredients for cricket success – the possession of a will and a way – are played out at a national level.
"Cricketing will" is a shared desire for on-field success framed by cultural heritage, social significance, and political capital. So the game will thrive better in countries where there is a long history of playing the game, where cricket contributes to a shared sense of identity, and furthering cricketing interests meet with broad political appeal. "Cricketing way" is about the availability of cash to build sustainable cricket systems. The flow of money into cricket to provide talent identification, player development, quality coaching, high-level competition and merited rewards is where performance excellence will occur.
The big five have both the will and a way to cricket success which will see them good for the considerable future – advantage to India if the wealth generated from the IPL is redistributed effectively to nurture the potential talents of its grassroots game.
At-risk nations
Where change is most likely is within the next tier of nations. At risk are Pakistan and Sri Lanka, who despite their history and passion for the game require significant advances in developing infrastructure to remain competitive with the big five. The most notable decline may happen to Sri Lanka, who will find it difficult to sustain the achievements of the past ten years. Internal political stability threatens Pakistan.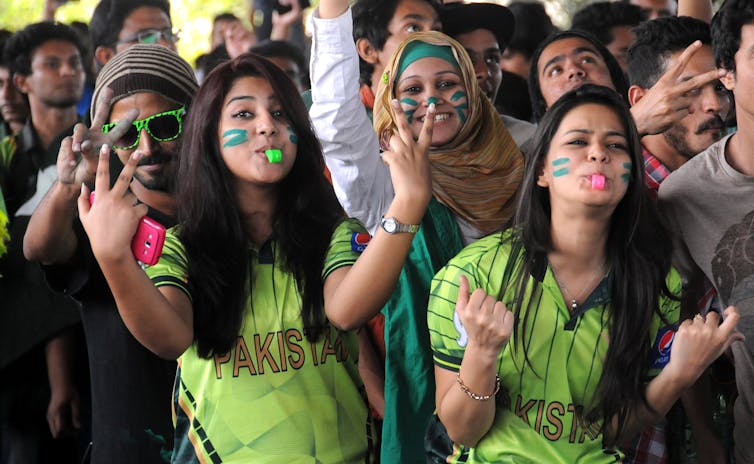 Then come the West Indies, Zimbabwe and Bangladesh, who for varying reasons face challenges in sustaining the willingness and the means to merit their ICC status. These "at-risk" nations will be challenged on and off the field by successful associate nations.
Newcomers
At the present World Cup, the gap between the "minnows" Ireland, Scotland, Afghanistan and the United Arab Emirates and West Indies, Zimbabwe and Bangladesh, all full ICC members with test-playing status, is smaller than ever.
The cricketing future of Scotland will be similar to that of Ireland. The other two nations are likely to progress the most, but for quite different reasons.
Afghanistan has improved its cricket status the most in recent years, though it did lose its first game to Bangladesh. Its challenge will be the extent to which its cricket infrastructure can progress alongside increasing economic, political and democratic autonomy. When left to go it alone, can Afghanistan find a way to match the cricketing will of its people?
The UAE (host to the ICC headquarters in Dubai) perhaps presents the greatest cricketing enigma; 90% of its 7.8 million-strong migrant population out of a total population of 9.2m come from India, Pakistan or Bangladesh. While oil revenue has provided a way to support cricket development, at the same time a national transformation has also created the "cricketing will".
Changes in cricket tastes, particularly a growing resistance to the charms of the longer form of the game (Ashes aside) is developing faster than changes to international rankings. The irony may be that by the time any associate nation satisfies the criteria for ICC full member status, the right to play test cricket may well be a burden rather than a blessing. So Ireland, UAE and others, be careful what you wish for – campaigning for the right to play test matches may be like signing up for a gourmet French cooking course and learning how to make French toast.