The Olympic brand is an attractive proposition for sponsors, due to the global visibility and goodwill associated with the games. Multinationals pay staggering sums to join the exclusive club of official sponsors. And there is a swathe of special legislation that polices who gets to capitalise on the Olympic brand.
These laws go much further than conventional consumer protection or trade mark laws, which are designed primarily to prevent consumer confusion. In contrast, the bespoke Olympic legislation prevents any unauthorised association with the games. Critics view this as speech-restrictive thought-policing. Proponents argue that such exclusivity for sponsors is necessary. So to what extent is this specialised brand protection regime justified?
Financing the Olympics
A huge amount of the financing for the Olympics comes from its sponsors. After struggling financially in the 1970s, the International Olympic Committee (IOC) began to diversify its sources of revenue from the 1980s onwards. Most income today comes from broadcasting rights (47%) and sponsorship deals (45%), supplemented by ticket sales and merchandising revenues.
At the apex of the sponsorship pyramid is the Olympic Partners programme. For Rio 2016 these include global brands such as Coca-Cola, McDonalds, Samsung and Visa. These top tier sponsors generated US$957m for the IOC in the 2009-2012 period.
In return, sponsors like Coke are granted worldwide Olympic marketing rights and category exclusivity (here, for non-alcoholic beverages). The IOC then distributes more than 90% of Olympic marketing revenue across the movement, including to national committees, their Olympic teams and athletes. Commercial partners help to fund the games.
Ambush marketing
While the IOC's sponsorship model favours fewer sponsors who pay more, the games continue to generate worldwide public interest. This presents an irresistible opportunity for those who either cannot afford to be official sponsors or choose not to be. It creates the potential for so-called ambush marketing. The Brand Protection Guidelines for the Rio Olympics describe this as "any intentional or unintentional attempt to create a false, unauthorised commercial association with a brand or event".
But ambush marketing comes in at least two distinct flavours. Where it misleadingly suggests that the advertiser is officially associated with the games, it is already unlawful under existing laws. Then there are more creative attempts to indirectly evoke mega-sports events by way of a subtle, clever or potentially humorous association.
Lufthansa memorably repainted the nose cones of 40 of its aircraft as footballs during the FIFA 2006 World Cup in Germany. Unsurprisingly Emirates, the official airline sponsor, cried foul – though it was unsuccessful, as the imagery was too generic to be protected by IP laws. The IOC has been zealous in policing the use of its logos. It shut down local London cafes that used "Olympics" in their trading names during the last games and prohibited a US-based knitting network from using "Ravelympics" to describe its knitting competition.
With specific expressions being off limits, some advertisers turn to more subtle techniques. For London 2012, online betting company Paddy Power's billboards invoked the IOC's ire when it proclaimed itself the official sponsor of "the largest athletics event in London" that year. The place was London, in France, and the event was an egg-and-spoon race. When asked to stop, Paddy Power threatened to challenge the legal validity of the association right and the complaint was dropped.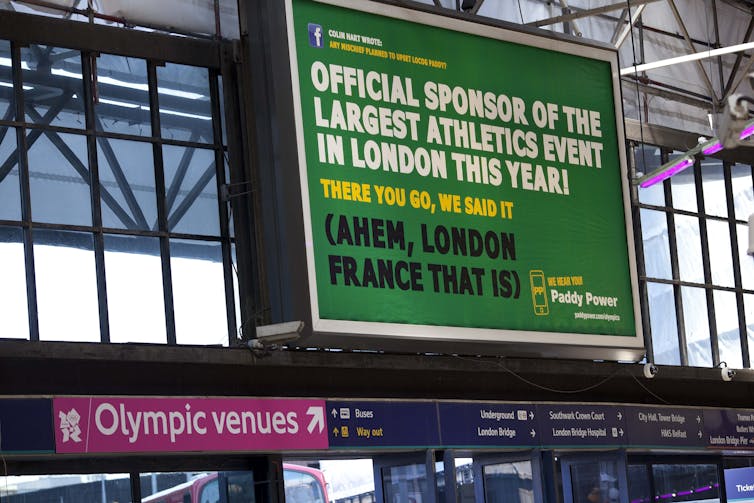 Legislation creep
In response to these indirect methods, a new type of intellectual property right – something called an association right – is increasingly being invoked. Laws were written for the London games and Brazil has introduced similar provisions, which preserve the right to be associated with the Olympics for authorised sponsors via a "core and penumbra" model.
Essentially, certain terms or logos are protected against any direct reproduction or modified uses similar enough to trigger an association with them, including translations. These include the five Olympic rings logo, the Olympics motto of Citius, Altius, Fortius, the Paralympic Agitos logo, the flames and terms like Olympic games, Paralympic games, and Rio 2016.
Penumbral protection is much broader. Any other representation which alludes to the Olympics infringes the association right. To assist courts the London Olympics Games and Paralympic Games Act 2006 provided an indicative – but not exhaustive – list of terms deemed to trigger such an association. These included combinations of terms from a first group ("games", "Two Thousand and Twelve", "2012" and "twenty twelve") and a second group ("gold", "silver", "bronze", "London", "medals", "sponsor", and "summer").
While there are civil and criminal remedies available through the courts, in practice a co-ordinated campaign of "cease and desist" letters ensures compliance, well before formal legal proceedings are initiated.
Certain non-commercial uses are permitted in defined circumstances. So news reportage, making statements of fact, or communicating personal opinions while making use of protected expressions is permitted. Yet the advent of social media has blurred some of these boundaries. For example: is a post on a widely read blog that is supported by advertising a non-commercial expression of opinion?
Taking things too far?
A certain amount of control over the use of Olympic logos and terminology is reasonable. The IOC and its affiliates should have the means to stop advertising misleadingly suggesting a sponsorship connection or where protected expressions are associated with partisan, political or religious agendas. But broad association rights are difficult to justify for at least three reasons.
First, it goes much further than the most generous trade mark law regimes. The International Trade Mark Association has expressed concerns that excessive legislation against ambush marketing fails "to appropriately balance the interests of official sponsors and event organisers with … the legitimate commercial activities of others".
Second, the validity of this right has never been tested in a court. It is arguable that the association right disproportionately impinges on the commercial speech of non-sponsors, or limits their ability to use their own (intangible) property such as trade marks.
Third, if one of the policy objectives of mega-events like the Olympics is to distribute economic benefits across the host country, then a clampdown on small businesses attempting to tap into the Olympic feelgood factor is questionable. Just ask the butcher from Weymouth in Dorset, who was given official warnings for putting up depictions of five interlinked sausage rings in the lead up to London 2012.
The IOC is entitled to protect its brand against harmful uses – those which create confusion or trigger undesirable associations. However the Olympics are sustained by global public goodwill. The symbolism of the games exists in the minds of the public. For the IOC to lay claim to all this goodwill, while also acting as a censor, goes too far.