Kevin Rudd's announcement of resignation as Foreign Affairs Minister and subsequent leadership challenge has been a carefully constructed exercise in the sort of politics on which Queensland thrives. He has praised the Queensland premier, Anna Bligh, referring to her as his "good friend" and not for the first time, wore his Queensland heart on his sleeve. Just today, the former prime minister was mobbed on Queen St Mall in Brisbane by a throng of vocal supporters.
Why talk up one state at the risk of irritating or worse, alienating, the 80% of the Australian population that don't live in Queensland?
To understand the significance of Rudd's tactics, we need to look at Queensland politics generally. More than any other state, Queensland produces and celebrates populist politicians: tub-thumping Queenslanders who decry the treachery of the southern states and appeal directly to a long-held parochialism. Joh Bjelke-Petersen, Wayne Goss, Pauline Hanson, Peter Beattie, Bob Katter, Barnaby Joyce, and, yes, Anna Bligh and Kevin Rudd – the list goes on.
The reasons for this are complex and go back as far as the separation of the colony of Queensland from New South Wales in 1859. You just don't mess with that kind of history.
Queensland has produced only four of the country's 27 Prime Ministers. Two of them – Arthur Fadden and Francis Forde, only lasted in the job a matter of weeks between them. Fadden assumed the leadership of a deeply divided government after the resignation of Menzies in 1941 and for six weeks presided over the only government in Australian history to be forced to an election due to loss of supply. Forde was Curtin's Deputy Prime Minister and was sworn in as Prime Minister after Curtin's death in 1945. Precisely one week later he lost the leadership ballot to Ben Chifley. It would be another six decades before another Queenslander took the keys to The Lodge and Rudd's popularity in his home state, and by extension, approval of his party, soared.
Rudd, along with his federal parliamentary colleagues, is well aware that in order to win the next federal election the ALP needs to win Queensland. In 2007 they won 15 of the state's 29 seats. In the 2010 election, after Rudd was deposed, Labor lost 11 seats across the country – seven of those in Queensland. The message from north of the Tweed was clear and Rudd has spent much of his time since August 2010 capitalising on it.
Does the message, however, hold any validity? Radio National's Breakfast on Thursday morning ran a brief segment on the relevance of the federal leadership to the coming Queensland state election. The segment included a vox pop recorded in a shopping centre in the electorate of Ashgrove which is being contested by LNP leader, former Brisbane Lord Mayor and son of former Liberal Senator Jocelyn Newman, Campbell Newman, against popular Labor incumbent, Kate Jones.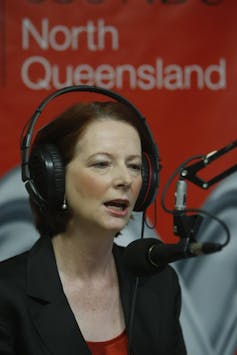 The interviewer asked shoppers who they would be supporting in the state election and whether the federal leadership might be a factor in their decision. The answers confirmed what the polls have been indicating: a majority of voters nominated Newman as their preferred candidate and while the federal leadership was not an issue in every case, almost every person interviewed expressed anger or disappointment over Rudd's ousting in 2010. Queenslanders can hold a grudge and Rudd knows it.
His direct appeal to voters to "pick up the phone and ring your MP" is an insult to Westminster style democracy, but in the context of the political cauldron from which Rudd emerged, having been Chief of Staff to former premier Goss, this is how politics is played. Rather than place his policy agenda and timetable for achieving it on the table in front of his caucus colleagues, he is attempting to highlight his personal support, appealing to voters to threaten their local members with electoral annihilation if they don't support the boy from Queensland.
Will the tactic work? Unlikely. Blackmail is seldom a good way to manage government. It might sway a few backbenchers sitting in marginal seats or some of his seven fellow Queenslanders, but the majority of caucus members will be more inclined to look at the broader picture of a government with a reform agenda based on a full term.
The Gillard government may be a precarious one, dependent upon the support of three non-government members, but despite the current crisis, it has largely been a government of substance, if not good leadership.
Playing to the populist gallery north of the Tweed might work for football matches, but is more likely to annoy those representatives from the seven other states and territories who see themselves as part of an Australian government rather than a satellite of Queensland.
Related: Professor Clive Bean says the Queensland election is not in play.