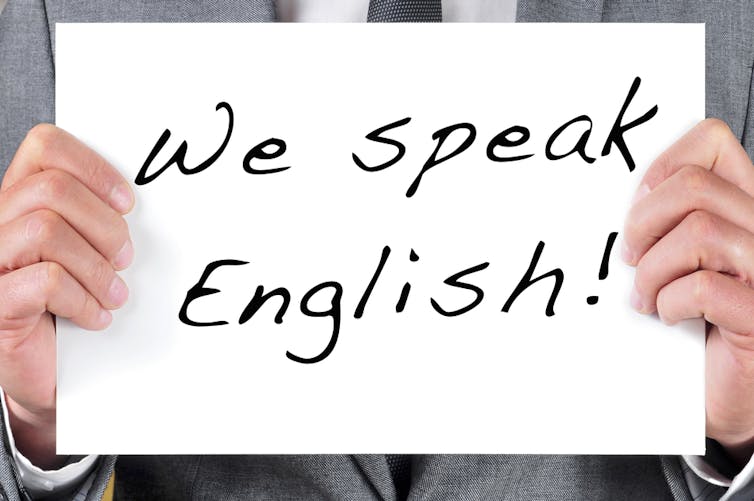 About 20% of the Australian population speaks a language other than English. In fact, around 250 languages are spoken in homes around the country. This would seem to be cause for celebration. After all, successive governments have spent millions trying to increase the numbers of students studying languages in schools. However there is little connection between the languages taught in schools, and the languages spoken in homes.
Foreign language learning in schools
In 2001 the Howard Liberal government set a target of 25% of Year 12 students studying a foreign language. The same target was set by the incoming Rudd Labor government in 2007. In 2014, the new Abbott Liberal government upped the ante to 40% of Year 12 students studying a foreign or classical language within the decade. This was ambitious given that the previous targets of 25% had never been reached.
Barely 10% of Year 12 students study a language. Yet 20% of the population speaks a language other than English in the home. How does that add up? The answer is governments pay little heed to the languages spoken in Australian homes; they prefer "foreign and classical" languages to "local and community" ones.
Not all languages are equal
There is a clear hierarchy of languages in Australia. English is at the top. Next are the "classical" languages like French and German, particularly when learned at school. These are followed by languages deemed useful for Australia's economic prosperity - e.g. Chinese, Indonesian and Japanese - but only if they are being learned as "foreign" languages. Because that is quite clever, learning a foreign language.
But if they are languages already spoken in the home, they slip down the hierarchy of languages, into the community languages pile along with about 245 other languages. Somewhere towards the bottom of that community languages pile are the Indigenous languages of Australia, about which most Australians know nothing.
The chances of those 245 community languages surviving in Australia are remote. Australia is remarkably adept at wiping out languages. Of the 250 Indigenous languages in existence at the time of British colonisation, only around 20 remain viable today. The languages immigrants bring with them are usually dead within two generations.
It seems remarkably odd policy to pour millions of dollars into setting consistently unachievable targets for learning foreign languages at school, while simultaneously watching community languages slide into oblivion.
Is it just linguistic snobbery?
We always seem more impressed by a native English speaker who has managed to learn another language at school than we are by those who learn their languages at home.
Everyone was quite impressed by ex Prime Minister Rudd's proficiency in Mandarin, but I expect Senator Dio Wang's Mandarin runs rings around Mr Rudd's. I'm guessing Belgian born Finance Minister Mathias Cormann speaks German, Flemish, and perhaps also French. I suppose Senator Nick Xenophon speaks Greek, but perhaps he doesn't. Maybe his Greek language heritage has been lost, which would be ironic as his surname means "foreign voice". Does Deputy Opposition leader Tanya Plibersek speak Slovenian? Does the Malaysian born Leader of the Opposition in the Senate, Penny Wong speak Malay and Mandarin or Cantonese or Hakka?
I don't know. I've never heard any of them speak another language, or be reported admirably in the press for their linguistic prowess. They don't note their bilingualism in their biographies on their websites. Perhaps they've lost their heritage languages - or perhaps it's just not "Australian" to say you speak another language in your home or to your mum and dad. Either scenario is a sad indictment.
It seems, in Australia, if you learned your second language at school or at university - that's clever and admirable. If your bilingualism comes from your heritage, we'd prefer to ignore it.
Multicultural but monolingual
Australia is generally happy to be multicultural, as long as that just involves some tasty food, and a bit of dance and music at an annual festival. We are definitely not comfortable with being multilingual. We are a country where you are free to speak another language, but preferably in the privacy of your own home or on an overseas holiday. It seems we like our foreign languages to stay that way - foreign.
Australia is currently in a social and political space where "unity" has overtaken "diversity" as the preferred political discourse. A country that speaks multiple languages in its everyday life seems somehow harder to manage. After all, who knows what they're saying? A community that speaks foreign languages to foreign people in foreign lands is much more secure.
It is odd we should be so determined to keep our multilingualism in the closet. For most other countries speaking more than one language is the norm. With so many economic, cognitive, social and political advantages to multilingualism it seems simultaneously extraordinarily wasteful and absurdly paranoid to not celebrate and nurture the languages spoken in homes all around the country.