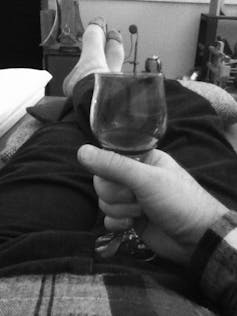 Men who live alone are up to 4.9 times as likely to die of alcohol-related liver disease than men who live with a partner, a Finnish study has found.
The study supports theories that socialising can help contribute to a long and healthy life, experts have said.
The study, led by the Finnish Institute of Occupational Health in Helsinki, involved analysis of 80% of all people who died in Finland between 2000 and 2007. Of those, about 18,200 people died from underlying alcohol-related causes such as liver disease, alcoholic poisoning, accidents, violence and cardiovascular disease. Of those 18,200 people, about two-thirds lived alone.
The researchers determined that between 2000 and 2003, men who lived by themselves were 3.7 times as likely to die of alcohol-related liver disease as those who lived with a partner. Women who lived alone were 1.7 times as likely to die of alcohol-related liver disease than women who lived with a partner.
Price factor
The researchers also examined how the risks changed after alcohol prices in Finland dropped in 2004.
Following the price cut, the situation worsened for men who lived alone as compared to those living with a partner.
After the price reduction, solo-living men were 4.9 times as likely to die of alcohol-related liver disease than married or cohabiting men. Following the price cut, women who lived alone were 2.4 times as likely to die of alcohol-related liver disease than women who lived with partners.
"Living alone is associated with a substantially increased risk of alcohol-related mortality, irrespective of gender, socioeconomic status, or the specific cause of death," the researchers wrote in their paper, titled "Living Alone and Alcohol-Related Mortality: A Population-Based Cohort Study from Finland" and published today in the journal PLoS Medicine.
"The greater availability of alcohol in Finland after legislation-instituted price reductions in the first three months of 2004 increased in particular the relative excess in fatal liver disease among individuals living alone."
A global problem?
The researchers acknowledged that more research was needed to see if the pattern was replicated in countries that may have different cultural approaches to alcohol, such as Mediterranean wine culture.
However, Professor Sandra Jones, an expert in alcohol-related health risks from the University of Wollongong's Centre for Health Initiatives said the study contained important findings for Australia too.
"We typically think of alcohol-related harm as being associated with heavy episodic drinking or 'binge drinking' and as being a problem of teenagers and young adults. However, in reality, much of the alcohol problem in Western countries is equally spread across age groups and is not limited to a small number of 'problem drinkers'," she said.
Professor Jones said the Finnish research echoed findings in another recent study that found that people who consume moderate amounts of alcohol live longer than those who do not drink.
"Many experts commented that this was likely due, in large part, to the association between alcohol consumption and social engagement," she said.
"In fact, perhaps if we could move our culture to one where we could enjoy socialising with our peers for their company and support, without excessive amounts of alcohol, we would have the ideal recipe for a long and healthy life."
Professor Jones said there was growing support among health professionals for the positive impact of social connectedness on physical and emotional well-being as well as reduced mortality.
"For example, a recent meta-analysis of 87 studies concluded that having higher levels of social support, a larger social network, and being married were associated with higher cancer survival rates," she said.