A memorial to victims of lynching in the U.S. is now open in Alabama.
The National Memorial for Peace and Justice is a six-acre site that overlooks Montgomery, the state capital. It uses sculpture, art and design to give visitors a sense of the terror of lynching as they walk through a memorial square with 800 six-foot steel columns that symbolize the victims. The names of thousands of victims are engraved on columns – one for each county in the United States where a lynching took place. In Alabama alone, a reported total of 275 lynchings took place between 1871 and 1920.
U.S. history books and documentaries that tell the story of lynching in the U.S. have focused on black male victims, to the exclusion of women. But women, too, were lynched – and many raped beforehand. In my book "Gender and Lynching," I sought to tell the stories of these women and why they have been left out.
Between 1880 and 1930, close to 200 women were murdered by lynch mobs in the American South, according to historian Crystal Feimster.
Will this new memorial give these murdered women their due in how the U.S. remembers and feels about our troubling history?
Enforcing white supremacy through terror
In a recent report, Lynching in America, researchers documented 4,075 lynchings of African-Americans that were committed by southern whites in Alabama, Arkansas, Florida, Georgia, Kentucky, Louisiana, Mississippi, North Carolina, South Carolina, Tennessee, Texas and Virginia between 1877 and 1950.
Lynching differed from ordinary murder or assault. It was celebrated by members of the Ku Klux Klan as a spectacular event and drew large crowds of people who tortured victims, burned them alive and dismembered them. Lynching was a form of domestic terrorism that inflicted harm onto individuals and upon an entire race of people, with the purpose of instilling fear. It served to give dramatic warning that the ironclad system of white supremacy was not to be challenged by word, deed or even thought.
The conventional approach to teaching the history of Jim Crow and lynching has focused almost exclusively on the black male victim. However, such an approach often simplifies and distorts a much more complex history.
Not all victims were African-American men, and although allegations of African-American men raping white women were common, such allegations were not the leading motive for the lynchings. We know from the pioneering work of anti-lynching crusader Ida B. Wells-Barnett that African-American men, women and children were lynched for a range of alleged crimes and social infractions.
The book "Trouble in Mind," by Pulitzer Prize-winning historian Leon Litwack, provides a detailed account of the many accusations of petty theft, labor disputes, arson and murder that led to these lynchings.
This fact requires a richer, more nuanced understanding of discrimination that is critical of racism and sexism at the same time. Martyrs such as Laura Nelson and Mary Turner experienced racial and sexual violence at the hands of vigilante lynch mobs because of their race and gender.
Laura Nelson and Mary Turner
In May 1911, Laura Nelson was lynched in Okemah, Oklahoma.
Nelson allegedly shot a sheriff to protect her son. The officer had been searching her cabin for stolen goods as part of a meat-pilfering investigation. A mob seized Nelson along with her son, who was only 14 years old, and lynched them both. However, Nelson was first raped by several men. The bodies of Laura and her son were hung from a bridge for hundreds of people to see.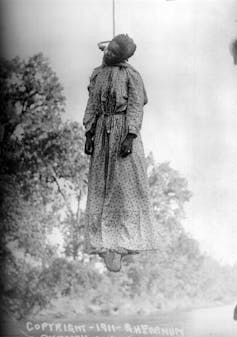 The violent murder of African-Americans was so accepted at the time that a postcard was made of Nelson's lynching by George Henry Farnum, a photographer. Brooklyn-based artist Kim Mayhorn created in 1998 a multimedia installation that memorialized Nelson's death. There's an empty dress in Mayhorn's installation that resembles the postcard of her lynching. The disembodied dress represents the void in the historical record and Mayhorn's effort to redress the absence of Nelson.
The title of Mayhorn's installation, "A Woman Was Lynched the Other Day," refers to a banner the New York NAACP would unfurl from their Fifth Avenue office when news of another lynching surfaced. With white letters inscribed on a black background, it declared "A MAN WAS LYNCHED YESTERDAY" and became a rallying cry for justice.
Seven years later, in May 1918, Mary Turner was eight months pregnant when a mob of several hundred men and women murdered her in Valdosta, Georgia. The Associated Press reported that she had made "unwise remarks" and "flew into a rage" about the lynching of her husband, insisting that she would press charges against the men responsible.
Her death has since been recognized by local residents, students and faculty at Valdosta State University, first with a public ceremony that placed a cross at the lynching site and second with a historical marker in 2010.
Nelson and Turner have often been depicted as tragic characters or "collateral victims" who supported and defended the males in their lives.
Such deaths, however, were not incidental. They were essential to maintain white supremacy, as a form of punishment for defying the social order.
Though women represent a minority of lynching victims, their stories challenge previous attempts to justify lynching as necessary to protect white women from black male rapists.
Understanding lynching and the motives behind it requires including the stories of African-American women who were robbed of dignity, respect and bodily integrity by a weapon of terror. The violence against them was used to maintain a caste system that assigned inferior roles to African-American women and men alike.
Redefining the 'civil rights movement'
By including women in the historical narrative of lynching, the new memorial in Alabama reveals a more complete understanding of this devastating social practice. This memorial brings African-American women like Nelson and Turner to the fore as victims, and the weight of visual evidence on display at the memorial challenges the silence surrounding their deaths.
The Equal Justice Initiative assists scholars, teachers and ordinary people in recognizing the roots of the civil rights movement that began long before the years 1954-68.
The monument sheds light in an unprecedented and innovative way on the reasons and circumstances surrounding the death and torture of countless victims, including women and children, who suffered at the hands of vigilante mobs. By unearthing the soil and pinpointing the counties where such cruel and inhumane acts were committed, the monument sends a powerful message and conveys to its audience a desire for deeper understanding.