Kevin Rudd doesn't do anything by halves so his announcement that he now believes in gay marriage was a big production.
There was a long and reasoned essay on his blog, followed by a news conference, called on another matter but dominated by same sex marriage, which was then soon put up on YouTube.
And, in nicely matched timing, an article by daughter Jessica in the latest issue of Cleo argued the case. She had tweeted on Monday (before dad posted his piece) that she had got "a little bit shouty" about marriage equality. After her father's article, she joined battle on Twitter with the Australian Christian Lobby.
There is no reason to doubt the sincerity of Rudd's change of mind on the issue. Some might wonder why it took him so long.
Inevitably, however, the cynics question the timing.
In the blog, anticipating that "my opponents both within and beyond the Labor party" would read all sorts of political significance into when he had chosen to speak out, Rudd gave a couple of explanations.
First: "This issue has been a difficult personal journey, as I have read much, and talked now with many people, and of late for the first time in a long time I have had the time to do both".
Second: "My core interest is to be clear-cut about the change in my position locally on this highly controversial issue before the next election, so that my constituents are fully aware of my position when they next visit the ballot box".
In his news conference he dwelt on the imminence of the private member's bill from Greens deputy leader Adam Bandt, which comes up in the House of Representatives for debate next week. Bandt is pushing for a June 6 vote.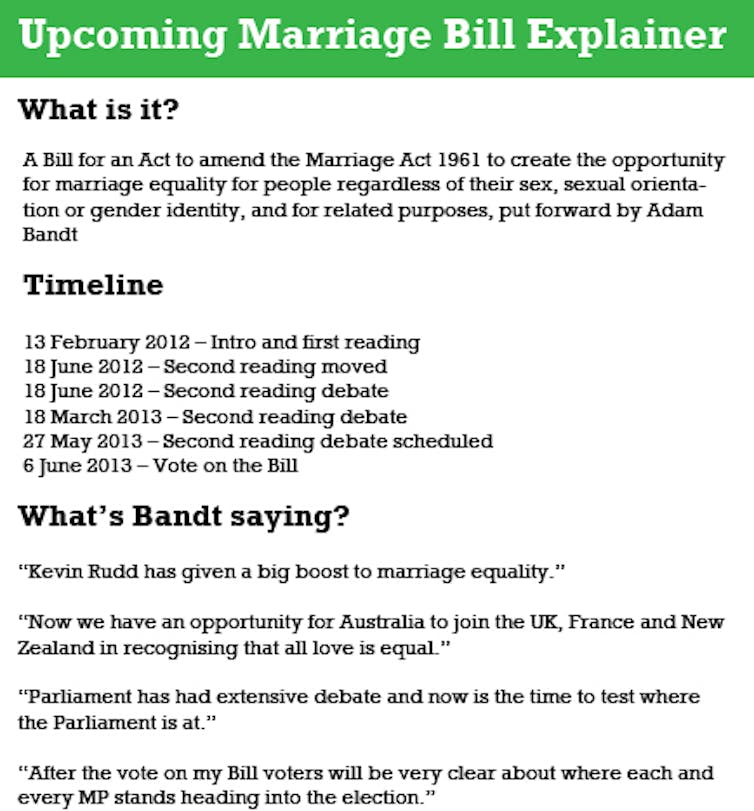 Rudd's stand highlights that Julia Gillard and Tony Abbott, both opposed to same sex marriage, increasingly look out-of-time.
Many on both sides of politics believe Gillard's opposition has its roots in political considerations. Abbott's stand is faith-driven but politics (reinforced by his gay sister) has forced him to promise that after the election the party room can determined whether there is a conscience vote (at present Liberals are bound to oppose a change in the law).
Despite Rudd's conversion resurrecting the issue, there seems little enthusiasm in the main parties for a rerun before the election (which would see the two leaders sitting together).
In last year's House of Representatives vote, change was overwhelmingly defeated. In another vote, the numbers would not be there – even if the Liberals had a free vote, which they wouldn't.
For Labor MPs, who have a conscience vote, gay marriage is a divisive issue. Staring at the prospect of a sweeping electoral defeat on September 14, they don't want a distraction. One Labor MP – who has been a keen Rudd supporter – said: "Why are we talking about gay marriage again?" adding that Rudd's timing was appalling, making it harder for Gillard to get her message out.
Leader of the House Anthony Albanese raises doubt about whether the Bandt bill will come to a vote. Albanese (a strong supporter of same sex marriage) told The Conversation that given that, many people usually wanted to speak on conscience issues, "it's possible there won't be time".
Albanese said that earlier the Greens had prioritised "other issues and opposed there being a vote unless there was a certainty of [a positive] outcome". The Greens reject this, declaring their position was that they did not want a premature vote.
Labor MP Stephen Jones, who sponsored last year's private member's bill, says: "If I thought a vote was going to get up or advance the cause, I'd be happy to push it – but I don't think it ticks either of those boxes".
On the Liberal side, people who want a conscience vote aren't keen to stir the issue now.
Western Australian Liberal senator Dean Smith is gay, against gay marriage, and pro a conscience vote. But he would not be pushing for a free vote before September 14; afterwards, the Liberals should have one, he says.
Rudd suggests that if the Liberals continue to hang out against a conscience vote a national referendum should be considered. This seems excessive. Public opinion has already led the way and the politicians will follow. Probably before too long. Just not now.