This article discusses the film Me Before You, and contains major plot spoilers.
It's rare to find a film about euthanasia as euphemistic as the new British film Me Before You. This romantic odd-couple comedy about a small-town girl and a rich, paraplegic guy topped the UK box office in its second week and is due to open in Australia on Thursday.
It's so dreamy and clichéd that at first blush it might be dismissed as just another helping of cinematic fairy-floss. Yet there's a controversial disability subtext to this story, and it warrants more critical attention.
Cinderella with a twist
Me Before You tells the story of a young and ebullient country-town girl, Louisa Clark (Emilia Clarke), who (with no prior experience) takes a job as a carer for young paraplegic, Will Traynor (Sam Claflin). Will is immensely wealthy and lives on a 13-acre castle at the heart of an idyllic British country town.
The film has all the typical trappings of the rom-com genre – stunning actors, beautiful scenery, sandstone mansions – except for the twist: Will, who became paraplegic after a motorcycle accident, wants to be euthanized.
For a good hour of the film we watch the romance slowly develop between the quirky Lou and the melancholic and aloof Will. Lou manages to break down Will's defences, and helps him to rediscover old passions. Yet despite the romantic moments between the two – watching inspiring foreign films, trips to the horse races, late-night confidences – Will decides to go ahead with his plan to end his life (and indeed, he does so with the encouragement of one of his parents).
The idea of "living boldly" is a recurrent theme in the film. Will, apparently the type of person who can't bear to be confined to a wheelchair, decides to audaciously proceed with his plans. He travels to a Dignitas clinic in Switzerland, leaving a heartbroken Lou behind.

Living boldly?
In a some respects this film is just a textbook rom-com. As Stephanie Zacharek wrote for Time, "Cheerful and efficient, this is the stripey tights of melodramas." Yet – apparently to the surprise of the film's producers and actors – many see it as something less innocuous. Disability advocates reacted with indignation after distributers attempted to promote the film on Twitter with the hashtag #LiveBoldly.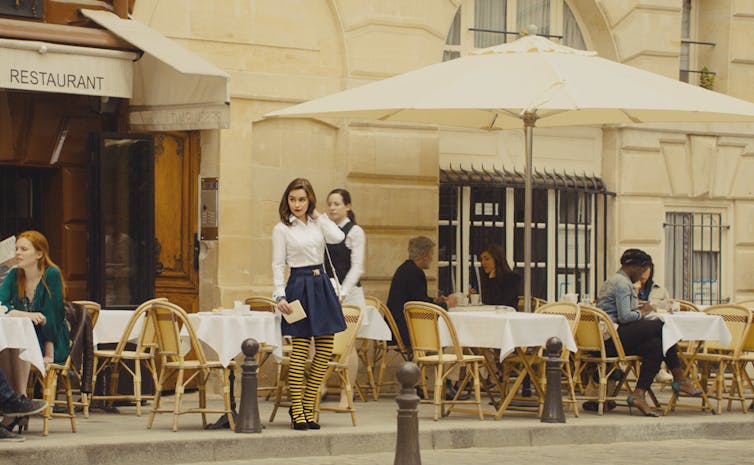 "Do you really want us to #LiveBoldly or do you just want us to #diequickly?", asked one commenter during a twitter Q&A session with actor Sam Clafin. "I'm not your inspiration porn and I'm not a thing to be pitied or killed off to make the audience cry", read another tweet bearing the hashtag #MeBeforeEuthanasia. There was even a protest at the film's premiere last week. Disability rights activists, including Liz Carr, the head of the vocal British advocacy group NotDeadYet, unfurled a banner reading:
Me Before You is not a romance. It is a disability snuff movie, giving audiences the message that if you're a disabled person you're better off dead.
The fact that the film airbrushes the anguish of euthanasia doesn't help. As Ryan Gilby from the Guardian noted, "One minute [Will] is lying fetchingly in his bed at Dignitas, the next we dissolve to Lou receiving news of her windfall in a Parisian café" (Will leaves Lou his sizeable inheritance). There seems to be a deliberate attempt to conceal what Will's death might entail.
A different approach
Critics have attempted to place Me Before You within broader cinematic context of disability. Surprisingly, I have not yet seen the most relevant comparison: the 2012 French film The Intouchables. There are many similarities between this film and Me Before You: both are humorous odd-couple stories where wealthy yet melancholic paraplegics get paired with quirky carers; and in both an isolated and vulnerable individual is reminded, through human affection, that life isn't all that bad.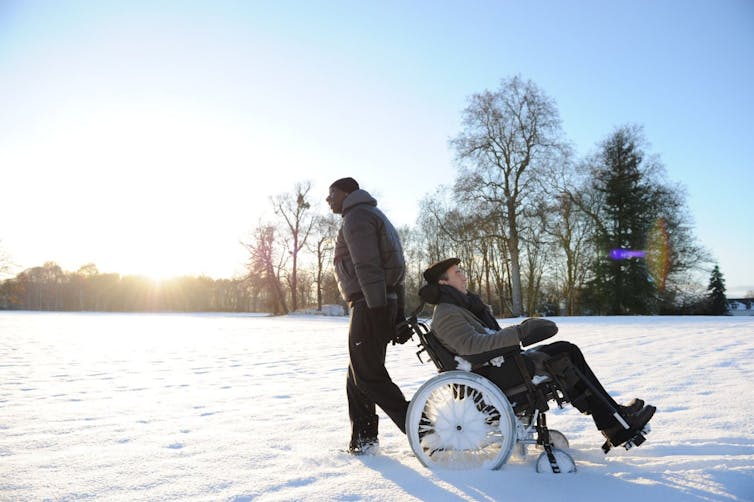 Yet the two films have very different endings. The Intouchables ends on picturesque French beach as the paraplegic man goes on his first date since his accident. The carer (played by the charming Omar Sy) manages to give the melancholic protagonist a new love for life. Contrast this with the quasi-existentialist ending to Me Before You. Rather than a pro-euthanasia subtext, The Intouchables suggests that one can find meaning and satisfaction in spite of – if not through – disability.
Certainly, it would be dishonest for You Before Me to avoid the difficulties faced by disabled people. Yet this is a far cry from endorsing voluntary euthanasia for the disabled. To equate assisted dying with a two word phrase – living boldly – seems not only to simplify a complex bioethical issue, but also insults those in our community who have chosen to embrace life with a disability.
And, please note, Me Before You is out-and-out fiction. The Intouchables is a true story.
---
Me and You opens in Australia on June 16.