You know that feeling when you open the fridge and are met with something "on the nose". We all know what food waste looks and smells like.
But food waste stinks in more ways than one. It is expensive, costing the average household over A$2,200 a year, and it undermines the resilience and sustainability of our food supply.
A new report from our Foodprint Melbourne Project has estimated the amount of food that is wasted in feeding Melbourne. We found that feeding Melbourne generates more than 900,000 tonnes of edible food waste every year, or over 200 kg per person.
This is enough to feed more than 2 million people for a year*.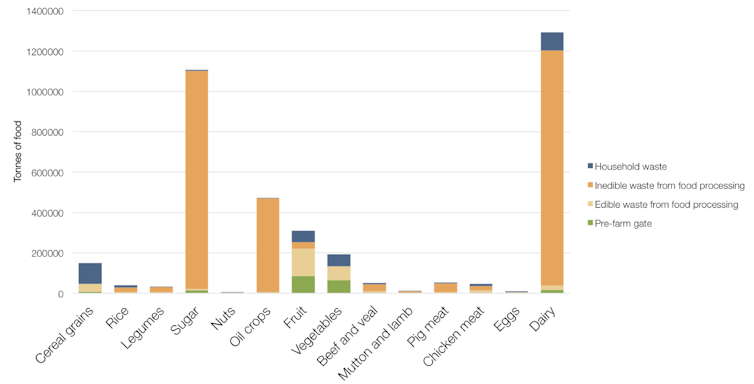 Undermining sustainability
Growing this wasted food uses 180 gigalitres of water each year, or 113 litres per person per day. This is equivalent to running your shower for an extra 10 minutes a day.
This wasted food also uses around 3.6 million hectares of land – around 41 ha per person, or more than 20 times the area of the Melbourne Cricket Ground.
And this wasted food is responsible for around 2.5 million tonnes of greenhouse gas emissions, 60% of which is generated by food waste rotting in landfill, and the rest in producing the wasted food.
This uneaten food is not only a source of unnecessary greenhouse gas emissions. It represents a waste of natural resources that are in increasingly limited supply.
Australia is a water-scarce region that is likely to become drier due to climate change, while only 6% of Australia's land is suitable for growing crops.
With the associated waste of natural resources, high levels of food waste add to the challenge of producing sufficient food to feed a growing population.
Reducing food waste
There are many ways to reduce food waste at home. These include making meal plans, sharing leftover food with friends or neighbours, checking the fridge before going shopping and storing food correctly.
The Cloud-Freezer app can help you to keep track of what's in your freezer and fridge. Worm farms, bokashi bins and other forms of composting are also great ways to divert food waste from landfill.
While we can all take steps to reduce food waste at home, we need to look at the bigger picture. Our research shows that more than 60% of food waste is generated before food reaches your fridge or freezer.
Strict standards defining the shape, size and colour of fresh fruit and vegetables in supermarkets can mean that a significant proportion of a crop never leaves the farm.
Low prices for second-grade produce can make it financially unviable for farmers to pick, pack and ship imperfect produce. Pressure to keep supermarket shelves full for appearance's sake, losses during food processing and storage problems also lead to food being wasted.
Initiatives that aim to make more imperfect fruit and vegetables available, such as Woolworth's Odd Bunch campaign, go some way to reducing this problem, but more needs to be done.
Our research estimates that if food waste was halved across the food supply chain, Melbourne could save 1.8 million hectares of land, 90 million litres of water and avoid 1.3 million tonnes of greenhouse gases each year.
We need to halve food waste
In recognition of the significant challenge that food waste represents to sustainable food systems, the new Sustainable Development Goals set a target to halve the global food waste per person that is generated by retailers and consumers by 2030.
The United States government has also set a national target to reduce food waste by 50% by 2030. It has established a cross-sector partnership of stakeholders across the food system to tackle the problem.
The UK government has been an early mover in taking action to tackle food waste. In 2007, it launched the WRAP Love Food Hate Waste program aimed at reducing food waste. An evaluation in 2012 showed that avoidable waste of food and drink (that could have been eaten) had fallen by 21% in five years following the launch of the program.
Most of this reduction has been in household food waste. The WRAP program is now working with the food industry to reduce waste in other sectors. The successful UK Love Food Hate Waste program aimed at reducing household food waste has been taken up by state governments in Victoria and New South Wales.
Australia is developing a national food waste strategy – the Food Waste 2025 Strategy – and stakeholders from across the food supply chain meet this month to discuss how to reduce food waste.
Australia should follow suit in setting a target to halve food waste across the food supply chain to put Australia's food system on a more sustainable footing.
*Correction: This figure has been updated. It previously incorrectly stated that Melbourne's food waste is enough to feed 2,000 people per year.