Mickey Rooney, the Hollywood star who found fame while still a teenager, has died aged 93. Rooney's passing comes only months after that of fellow child star Shirley Temple. Like Temple, Rooney was the product of 1930s Hollywood. His energetic, wise-cracking performances were box office gold, providing a much needed antidote to the troubles of Depression hit America.
Like many child actors, Rooney was the product of performing parents, Joseph "Red" Yule and Nell Carter. He began his career at the tender age of 18 months as part of their New York vaudeville act, but his first film role came in 1926, at six years old, in the silent short Not to be Trusted. He played Mickey McGuire, a cigar-smoking midget masquerading as a child, and legally changed his name to that of the character.
A move to California following his parents' divorce ensured further film roles. Signing to MGM, the studio with which he would be associated for the next 16 years, saw another name change and the birth of Mickey Rooney. But it was not until 1937 that the diminutive but endearing teenager was to find real stardom thanks to his performance in the Andy Hardy film A Family Affair. The film was a huge success and was followed by a further 16 Hardy films, helping to make Rooney one of the most bankable stars of the late 1930s.
Rooney went on to star alongside another of the Hollywood child greats, Judy Garland, in Busby Berkeley spectaculars Babes in Arms (1939) and Girl Crazy (1943). Audiences loved the show stopping exuberance of the two young leads and Rooney's youthful appeal was given the industry stamp of approval when in 1939 he was awarded a special Oscar for his "spirit and personification of youth".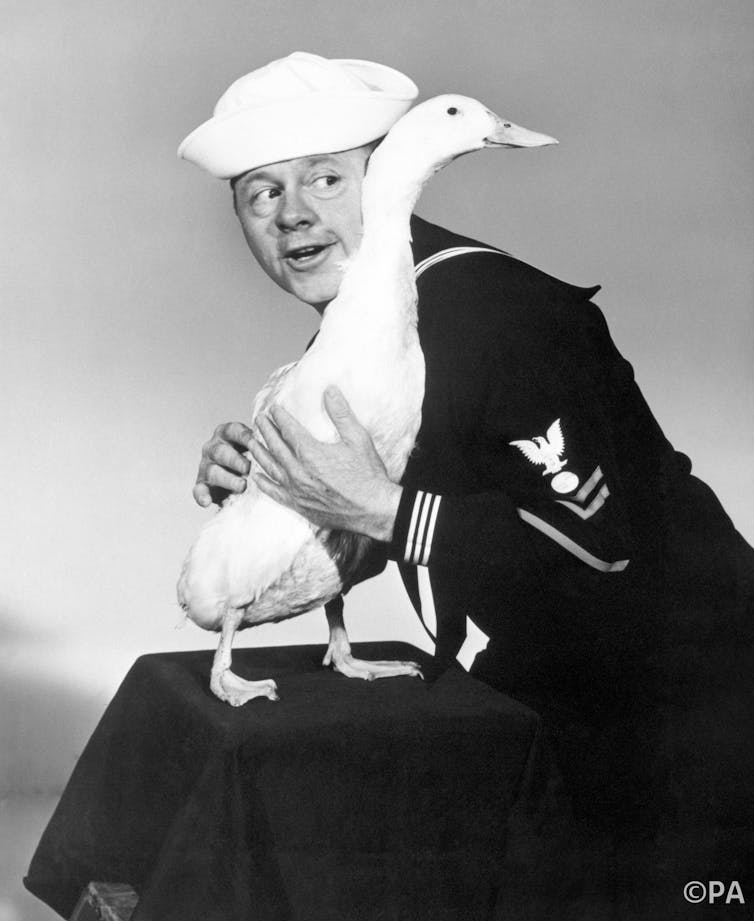 But Rooney was rather more than youthful energy and toothy grin. The cheery child star was also seen in far more challenging fare, including Norman Taurog's hard-hitting Boys Town, (1938) in which he starred alongside Spencer Tracy. Oscar nominations for The Human Comedy (1943) and National Velvet (1944) were testament to the talent of a star described by none other than Sir Laurence Olivier as one of the greatest American actors of all time.
A period serving in the army during the second world war meant a brief hiatus in Rooney's career. And afterwards, the child had become an adult, so film roles were not so easily acquired. But Rooney avoided the inevitable slide into obscurity afforded to so many child stars. Instead, he maintained a less prominent but still productive career in films, television shows and on stage. Two more Oscar nominations followed, and in 1982 Rooney won an Emmy and a Golden Globe for his performance in television film Bill.
So in many ways, Rooney was the child star who broke the mould. No early death or obscurity for him, he won a lifetime achievement Oscar in 1983. But in other respects, Rooney follows the pattern of the troubled child star. His love for booze, women and the card table saw MGM hire a full-time minder to keep him out of mischief, an investment which proved futile when, at the age of 21, he embarked on the first of his eight marriages. His union with Ava Gardner would last barely a year and would be followed by a series of troubled, even violent, partnerships, two filings for bankruptcy and many years of gambling and heavy drinking.
Yet despite this turbulent personal life, Rooney was much more than the Corey Haim or the Justin Bieber of his day. His love for performance and his undeniable talent kept him working throughout the up and downs of his life. Considering this, it is perhaps fitting that at the very moment of his death, this troubled but talented star was hard at work – on a new version of Jekyll and Hyde.