As the Calais refugee camp is closed by French authorities, many of the migrants who have been living there will be looking to finally travel to the UK. While there has been much discussion of the political matters surrounding the movement of people, less has been said about the physical and mental health needs of migrants once they are in the UK.
Making sure that one's family is not only safe but healthy and happy too can be a driving force for migration. One of the best ways to keep everyone healthy is to give children the best start in life, enabling people to have control over their lives and ensuring a healthy standard of living for all.
In the case of migrants, there is a strange paradox: across the world it has been shown migrants have a healthier lifestyle on arrival in a country than a few years post-migration. In the UK, migrants are less likely to practise healthy behaviours once settled in their new country – such as eating diets low in fat, taking regular exercise and breastfeeding – and are instead more likely to take up smoking and drinking alcohol. Though there is individual variation between migrant groups, these poorer health outcomes apply overall for non-UK born individuals when compared to the UK population.
Movement of migrants
Of course much depends on who is considered a "migrant". Horrifying pictures of migrants fleeing war-torn countries, the tragedies of sinking boats in the Mediterranean, and appalling conditions in refugee camps paint one picture of "migrants". But in the UK, most migrants – that is, people born abroad who intend to live in the UK for one year or longer – are not refugees or asylum seekers, but migrate for work or study.
The majority of these migrants are young and do not have children when they arrive, but become parents a few years later. In fact, just 13% of the UK population were born abroad, a far lower percentage of foreign-born residents than in Switzerland (26%), for example. In 2015, 27% of babies born in England and Wales were to a mother who was herself born abroad. The children of migrant parents therefore form a significant and growing part of the UK child population.
A better life?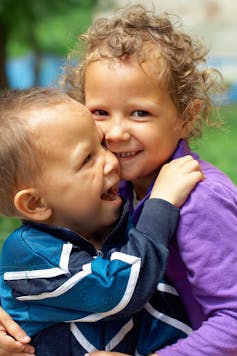 Children, particularly in their early years, are reliant upon their parents for provision of food, living conditions and exercise, which are the building blocks of lifelong health. The health of migrant children is relatively unexplored, but some studies have identified higher rates of obesity than in the majority population. Gaining evidence on the health of migrants and their children is difficult because much data currently collected is related to ethnic group rather than migrant status. Other existing research focuses on refugees and asylum seekers, and specific diseases, rather than on the well-being of those who come to work or study.
We recently published our own qualitative research into how migrant parents keep their children healthy in the UK. We asked parents from five migrant groups – Romanian, Polish, Somali, Pakistani and Roma – to discuss their experiences of health and parenting with others of the same nationality or ethnicity.
The most surprising finding was that the most recently arrived migrants – Polish, Romanian and Roma – experienced challenges in providing children with the basics of good health, that is parental employment and secure housing. Two families, one Polish and one Romanian had experienced temporary homelessness; one mother was asked by a social worker if she could return to her country of origin. Several parents had experienced difficulty in finding work, which was frequently not commensurate with existing qualifications or previous employment. Discrimination was described by a minority – one Roma father said that his Romanian nationality was more of a obstacle to getting work than his Roma Gypsy ethnicity.
Physical health
All groups discussed how changes in diet and exercise had affected their children's health. For the Roma, who predominantly have poor living conditions in Romania, the high standards of environmental health in the UK were valued. However, Pakistani, Somali and Romanian parents thought that food in their countries of origin was more nutritious and fresher. They also believed that there are fewer opportunities for exercise in the UK, due to less space for safe outdoor play, lack of a communal ethic of childcare and a social expectation of children being under constant parental supervision.
The news on migrant children being moved from the Calais camp has so far focused on unaccompanied minors, most being brought to the UK to be reunited with family links. But while these youngsters certainly will have the most pressing health needs, this small study shows that it is highly important that we don't forget about children of migrants already living in the UK.
Parents who come to the UK with or without children do so for a new, and sometimes better, life. But if society is unwilling to help them integrate, and support cultural behaviours, it will increase the difficulties of migrant parents in making sure that the new generation have the best start in life.