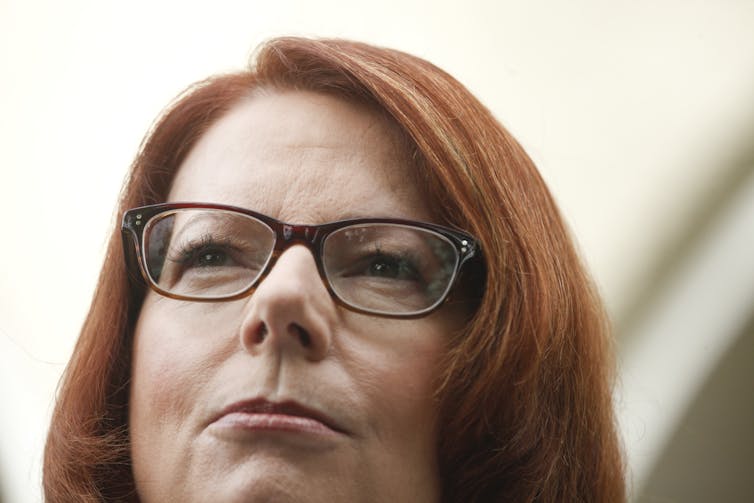 Today's Newspoll brings yet another result pointing to a likely Gillard government wipeout and will predictably cause yet more leadership destabilisation. The 31% primary vote for the ALP virtually replicates last week's Nielsen 30% number and the Newspoll of early this month, which had the ALP on 32%.
These polls have annihilated Labor's earlier hopes that its fortunes were reviving. The government is trailing 45-55% on a two-party basis in the latest Newspoll, published in The Australian. Yesterday's Essential poll had Labor behind 44-56%.
In Newspoll the PM's satisfaction rating (30%) is her lowest since August, down six points since early this month. She has slumped during the month as better PM from 41% to 36%; Tony Abbott, on 40%, is in front for the first time since July.
The results fit the narrative of the Rudd camp which always saw any improvement in the polls as likely to be temporary. They will make the marginal seat holders even more depressed.
But whether or when a tipping point will be reached remains the big unknown. Gillard's leadership is protected by the extraordinary difficulties involving in removing a second PM. On the other hand, the tension is so high it is always possible that eventually the situation just explodes.
Newspoll found swings and roundabouts when people were asked about a change to Rudd: 24% said they would be more likely to vote Labor while 13% said they would be less likely.
The full parliament will meet again in a fortnight. On the weekend before, the voters of Western Australia will go to the polls, when on present indications the Liberal government is set to be returned. Gillard has been kept well out of that campaign, but a bad result for Labor would bring some flak for her. Then as the sitting week starts there will be another Newspoll.
One risk for Gillard is that her politically weak position is likely to feed into policy battles; she is finding herself facing increasingly heavy weather in trying to get the states to agree to her signature Gonski education reforms, with Victoria, Western Australia and Queensland resisting. There is little incentive for Liberal premiers to play ball with a PM they feel confident is on the way out (never mind whether at the hand of colleagues or voters).
Meanwhile the Australian Financial Review reports today that Gillard will campaign next week for five days in western Sydney – a disaster area for Labor – including staying in a Rooty Hill hotel room.
Voters will probably greet the stay-local gesture with some cynicism, as they do most things politicians get up to these days. Their disillusionment comes through in a couple of questions in the Essential poll. Asked whether Labor deserved to be re-elected, 57% thought it did not. But do people believe the Liberals led by Abbott have shown they have the policies and leadership to be ready to govern? 36% replied yes; 45% said no. Caught between their dislike of the government and their scepticism about the opposition, it's not much wonder the electors' mood is sour.