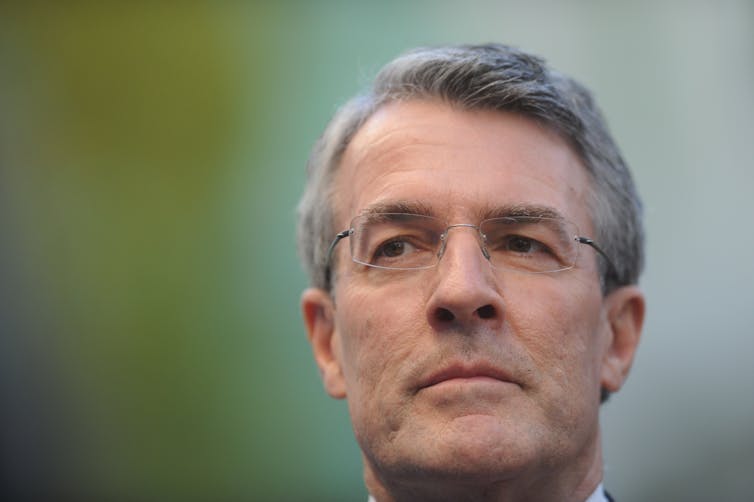 National security issues don't play well for Labor, so to have two controversies erupting simultaneously is a fresh blow for a government already on the ropes.
Four Corners' allegation that Chinese hackers have obtained the blueprint of Canberra's huge new ASIO building was separate from complaints on Monday from Anthony Byrne, Labor chairman of the parliamentary committee that oversights the intelligence organisations, that agencies are struggling under belt tightening.
But the two have been easily conflated by the opposition, which also drew a link between the funding argument and the large numbers of boat people, whom it said are in the community without adequate security checks.
And in the background is a heightened awareness of danger, with chief of the Australian Defence Force David Hurley sending ADF members a warning to be vigilant, in the wake of the appalling murder in London of the British soldier, and a high-profile arrest in Sydney this week by officers of the counter-terrorism team of a man who allegedly threatened a public official.
The government, unsurprisingly, is trying to say as little as possible about the hacking claim, which alleged the Chinese had detail of the "communications cabling and server locations" of the ASIO building.
But Gillard did try to cast doubt on the story, saying that there were a number of "unsubstantiated" allegations of hacking in the report. That, of course, just led to calls for more detail.
Attorney-General Mark Dreyfus insisted that the building – which has had its share of more mundane problems, including falling glass panels – was not compromised and would open later this year.
Former defence minister Joel Fitzgibbon – who had to resign as whip in the wake of the leadership fiasco – fuelled the security debate, saying that China was "extremely busy" with its cyber activities and the question was "are we investing enough" to protect ourselves.
Unless it is denied, the allegation that the Chinese know vital information about what should be the most secure building in the country can be used to suggest national security is not being administered properly. And here's the political segue the opposition makes to Byrne's comments.
In his tough speech, Byrne quoted ASIO and the Office of National Assessments about the financial pressures they were feeling.
Byne told Parliament it was "completely unacceptable" that the efficiency dividend extracted by government was affecting the operations of the intelligence agencies.
"The agencies are tasked to protect our national security and I, frankly, find it astonishing that these agencies would have been effectively sequestered from funding to perform their tasks. I think it is disgraceful and it should be addressed."
It was grist for a Question Time attack by an opposition that hasn't been able to make much of the recent budget cuts that it is swallowing holus-bolus (even if agreeing to the abolition of the baby bonus has caused a few internal burps).
When Abbott asked, "Does the Prime Minister seriously maintain that her government's cuts to our security agencies have had no impact on their ability to carry out security checks on illegal boat arrivals, when Member for Holt clearly doesn't believe her", she accused him of "fear mongering" and "despicable politics".
Gillard pointed out that the committee's review dealt with the 2010-11 budget. In the just-delivered 2013-14 budget, there was a 10% rise in ASIO funding, she said, while since 2007-08 ASIO had had a 27% increase in funding, and 32% increase in staff.
When Abbott asked whether Byrne was right or wrong in his claims about the effect of the efficiency dividend and if he was wrong, would she remove him as committee chairman, Gillard said he was inviting her to engage in some of his own "bully boy" conduct.
"No, I don't agree with the Member for Holt", she said. "But this is the nation's parliament and what happens in the nation's parliament is people should be free to come and put a view.
"It doesn't mean that I will agree with all of the views put. … The Leader of the Opposition is asking me to thug the member for Holt and I won't do so. I'm not that kind of person".
One's impression is that the security and intelligence organisations have had a very good financial deal in recent years. Anyway, it is unlikely that money was the problem if the Chinese hacking did indeed occur.
If that story is true, it's not just a national security worry – it's a downright embarrassment for ASIO, which has had a few of those in its time. And if correct, it would warrant an inquiry - done with the appropriate security of course - to inject some accountability into the system.