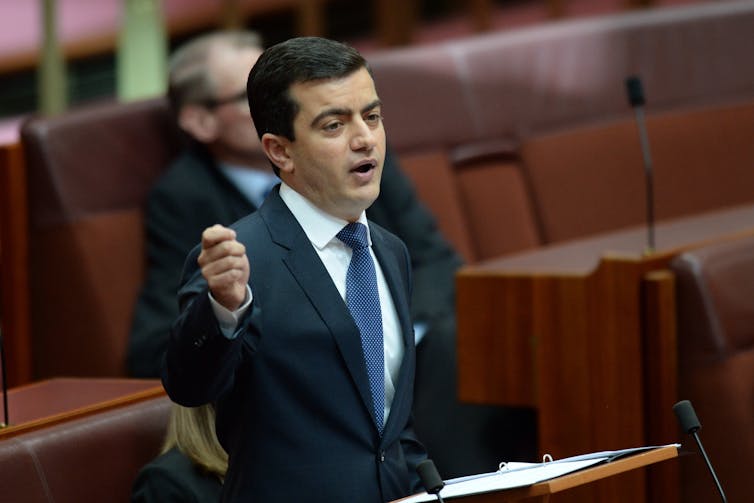 Labor senator Sam Dastyari is best known as former secretary of the ALP in NSW and a right wing power broker. Although he hadn't expected to arrive in the parliament so soon, he followed what has become a well-worn path for party officials from his state and his faction.
He replaced Matt Thistlethwaite, also a one-time NSW secretary, who ran for and won former minister Peter Garrett's lower house seat at the election.
Dastyari, 30, has said he is anxious to make a mark in the debate over the next three years about Labor's directions and he used his maiden speech today to launch into two contentious issues. He urged a more compassionate discussion about asylum seekers and embraced a "big Australia".
After the Labor government lost much political ground over its asylum seeker policy, it sought to out-tough the Coalition, with the so called PNG solution, which Kevin Rudd unveiled after returning to the prime ministership.
Dastyari's family fled from Iran after "a secular political tyranny had been replaced by a religious one" and came to Australia as migrants in the 1980s. He said his personal story had had a profound effect on his views and aspirations for Australian society.
He said the rhetoric of Australia's national discussion about so- called "boat people" lacked compassion.
"It is time for us to have a real conversation in this country about asylum seekers. A conversation that isn't about the number of boats, but about the names, faces and stories of the people they bring.
"A conversation that isn't about how we stop the boats, but about what we can do to improve the situation of those so desperate, that they consider getting on boats in the first place.
"It is far too easy for us as politicians to exploit our communities' natural fear of differences and of change."
A better conversation about asylum seekers did not mean sacrificing values or silencing honest criticism, he said. But what was needed was for the politics to be taken out it.
The reason people risked their lives to come to Australia was "the hope of a better future that this country has to offer for a persecuted people and their children".
On the question of immigration generally, Dastyari declared it was "nation building. Immigration makes us strong.
"The people who come here will drive Australia's economic prosperity for decades to come.
"And immigration is one of the great signs of optimism, of activism, of faith in the future in all of human history
"Let me be clear, I unequivocally believe in a Big Australia."
The notion of a "Big Australia" has been contentious within Labor in recent years. Rudd was a big Australia man, but ran into criticism. After Julia Gillard replaced him in 2010, the party pointedly moved away from the idea.
Dastyari said: "It is no coincidence that a country whose conversation about immigration is so poor is also one where we are far too willing to predict hard times and focus on the negative."
He said Australia's politics had become cynical and negative, and the media was too focused on "our weaknesses rather than our strengths".
"We can achieve far more as a nation by working together than we can working against each other. Whenever possible, we must focus on the things that we have in common.
"We must stop letting the issues that divide us dominate our political landscape.
"It is our role as politicians not just to focus on winning votes through cynical and negative politics. It is our role to remain optimistic and to remind people how great Australia really is."
Listen to the Politics with Michelle Grattan podcast, available below, on rss and iTunes.