High-end fashion label Nicole Farhi has called in the administrators. Restructuring specialists Zolfo Cooper are looking for a buyer, while property consultants are wondering what to do with the firm's stores.
It's quite a fall for a brand that was once the jewel in French Connection's crown. Since French Connection sold up in 2010, Nicole Farhi has passed through various owners while struggling to compete and maintain profitability.
So what went wrong? Is it the product, the stores, the changing market place and outside pressure? Or did they simply not want to move with the times? It could be a mixture of all of these: the recipe was just not right.
Quality rivals
Jil Sander, Joseph, Hugo Boss and Max Mara are all very similar in terms of quality and design to Nicole Farhi. So it's a crowded market where only the strong survive and the rest may not.
Many designer fashion brands have struggled to remain profitable, and there are some well known iconic British brands that have failed in recent years. Most notably, Aquascutum called in administrators last year but eventually were bought out by Hong Kong based private equity partners YGM Trading for £15m.
Private equity partners seem to be the "White Knight" answer for many fashion brands, unable to make profits and adapt their business model without investment.
And profit is what it is about because the fashion business, like any other, is about making money. However, with rapid product obsolescence and a continually shifting world landscape, companies in the sector are faced with some unique challenges. There are always new competitors coming along who may have even better products and even better business models.
What makes a successful fashion brand?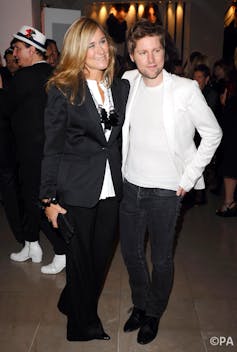 Successful fashion brands are about more than just having great products and amazing catwalk shows; a good business model and organisational structure is equally important.
Burberry seem to have found a winning combination in the successful relationship between Chief Creative Officer Christopher Bailey (responsible for everything related to the company's image) and businesswoman CEO Angela Ahrendts. It is no surprise that their business is one of the most innovative in the fashion world, from its stores and online presence, to its fabric quality and successful brand extension ranges. Maybe lessons can be learnt from finding the right blend of creativity and business acumen.
Farhi from perfect
In the case of Nicole Farhi, the product design and quality appears to be good, the pricing for premium designer brand shoppers is pitched correctly and they have an online presence. So what actually went wrong?
Keeping a couple of expensive flagship stores open - one in London, off Bond Street, and one on Madison Avenue in New York - without the same level of marketing as the competition was a risky retail strategy, even before you consider their chain of regular stores. Flagships are for the few, and have become expensive showrooms for those that can afford it. Fashion brands that take such a retail strategy are left with hefty fixed costs.
More brands have become "pure players" online so is it clever to own lots of stores? Competition such as the beautifully edited and selected brands brought together by Net-a-Porter shows the success of fashion online without a store. A greater online presence plus an innovative marketing campaign could have helped Nicole Farhi out.
Also lets not forget the supply chain: getting the logistics of "right product right time right size" right is the bane of retailers' lives. If this part of the strategy is inefficient it will inevitably impact on everything else. It's a difficult balancing act.
Private equity in shining armour?
Maybe the answer is obvious: work with the right investors. Private equity can provide finance and help to develop business models that evolve over time, through every aspect of the business from products and marketing to manufacturing and supply chain management.
There are many investors who specialise in coming to the rescue of ailing and underperforming fashion brands. Sun European Partners is one such example, already established as a name in fashion brand investments. Jaeger and Hunter Boots are among the brands who have recently been bought by private investors. Many private equity houses actively target the fashion sector, including Isis Equity Partners, 3i and Permira.
However private equity investors often want to take fashion brands in a direction that may not fit with a desire for exclusivity and creative freedom. The creative types are not known for having the same views on growth strategies as their financial backers.
Where next for fashion?
Private equity funding can, on the one hand, facilitate rapid international expansion and large returns for investors. However, an overly aggressive expansion plan can risk damaging a brand by eroding its design integrity and its exclusivity, and also by exposing it to other risks such as counterfeiting. This could happen as part of an international marketing strategy, with the potential for over-licensing of its products.
Investors will target brands who may appear to be inefficient or who are struggling. Equally, they may target brands which give rise to potential for further acquisitions and opportunities for their investment funds.
The fashion industry has become dominated by such large groups or conglomerates that "own" a stable of brands. LVMH group, for instance, owns Fendi, Marc Jacobs and Donna Karan to name but a few. This business strategy will further reduce the originality of fashion brands and increase homogeneity within the fashion industry, leading to similarity in retail formats and duplication of products on a global scale.
Surely this is the last thing we need in the fashion business, which traditionally thrives on individuality and newness coupled with unique niche products?
But fashion brands still need good investors and continually evolving business models to manage logistics and match the competition, while harnessing and exploiting the creativity of the brand. A "dream team" of design and finance working well together could just be the future strategic direction for fashion labels.