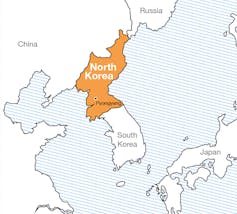 In 2017, the Korean Peninsula retains its status as "political hotspot", due largely to the uncertainty surrounding North Korea's nuclear intentions. Even in the context of the country's most recent missile test, information regarding how North Korean leader Kim Jong-un plans to exploit the country's growing nuclear capability is scarce. We also know very little about how the new Trump administration intends to formulate US policy towards North Korea.
In 2016, North Korea conducted two nuclear tests and launched around two dozen missiles, some of which have the potential to carry nuclear warheads. In his 2017 new year address, Kim Jong-un indicated the further expansion of these capabilities. He said the country had "entered the final state of preparation for the test launch of intercontinental ballistic missile (ICBM)".
On January 3, the incoming US president, Donald Trump, indicated that his White House would not tolerate North Korea testing an ICBM, tweeting "Won't Happen" in response to the new year address.
On February 12, in an unsurprising turn of events, North Korea tested a ballistic missile. While this was not an ICBM test, it does clearly indicate that North Korea's capabilities are expanding.
Trump's response to the the test – which occurred during Japanese Prime Minister Shinzo Abe's visit to the US – was measured, indicating at least a willingness to listen and confer with allies when there are no good policy options.
The Trump administration is conducting a review of North Korea policy, and it remains an open question as to how it might respond to further developments in that country's missile and nuclear testing program. I consider just a few possible scenarios here.
Trump may decide to change little. In this scenario, he would continue his predecessor's approach to North Korea: no negotiations without serious steps towards denuclearisation.
North Korea's response to this approach under the Obama administration was a series of missile and nuclear tests. In the past, these provocations have led to bolstered deterrence, further sanctions and diplomatic or economic pressure on China to take the lead in resolving tensions on the Korean Peninsula.
Alternatively, Trump may consider entering into dialogue with the North Koreans. This could be beneficial and lead back to the negotiating table.
Yet history tells us that any US negotiating team wishing to make progress with Pyongyang must be prepared to weather a roundabout, non-linear process. And it is hard to imagine the Trump administration taking part in the type of give-and-take style of negotiation that characterises "deal-making" with North Korea.