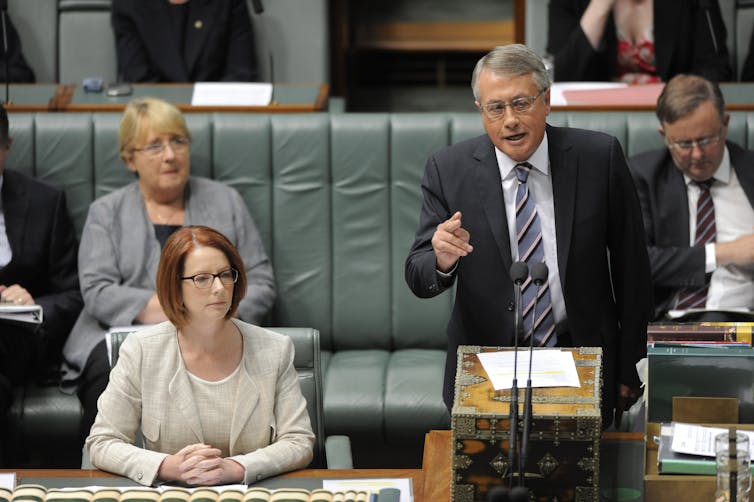 In a notable bookending, the mining tax that helped destroy Kevin Rudd's leadership late last term is causing Julia Gillard serious budgetary and political problems as she heads towards the election.
For Treasurer Wayne Swan, the tax has brought one disaster after another. Rudd bitterly blamed Swan for the vicious reaction to the original tax from the mining sector, because there was not enough consultation beforehand.
The opposition has targeted Swan after figures last week revealed the tax had raised only $126 million in its first two quarters when it should have brought in $1billion. Low commodity prices and the high dollar account for much or most of the shortfall - government and opposition dispute the proportion - but the design of the tax is also seen as a cause.
The Coalition argues the tax should be scrapped altogether, while other critics say that it should be revised to make it effective.
It's going to be a rough sitting week for the Treasurer; Tony Abbott opened question time yesterday by demanding to know whether the Prime Minister still had confidence in him.
The mining tax flop is putting extra strain on the already tough task - with the general revenue outlook bleak – of seeking savings to pay for the National Disability Insurance Scheme and the Gonski education reforms. This tax was supposed to finance various other measures, including the enhanced superannuation guarantee, which will have to be paid for by other means. Workplace Relations Minister Bill Shorten was vague and dismissive when pressed on the ABC yesterday about the money challenge.
There has been previous speculation that in its search for savings the government might again trim some so-called "middle class welfare", and also put a squeeze on the superannuation breaks which benefit higher income earners. In response to the talk about super, it has ruled out changing the tax exemption that over 60s get on payouts, but the favourable tax treatment when people invest in super has not been quarantined.
The government is in a bind. It is looking to the NDIS and Gonski to be vote magnets. But if it has to hit middle class welfare or super breaks to help pay for them, it risks losing votes.
It's true that the Labor heartland would not be directly hurt by such measures. But Labor also has to think of its aspirational supporters in those many marginal seats. These people don't necessarily need to be personally left worse off by changes - they may simply know people who are, or worry that they might find themselves affected in the future.
Fears about such a backlash came though in comments last week by government whip Joel Fitzgibbon (who, incidentally, is in a heartland Labor seat). "On super, we do need to be very careful", he told Fairfax Media. "Aspirational Australia is sick and tired of … constant changes to superannuation and the uncertainty that brings. We need to be rewarding people for their efforts of the past. At the same time, there are some inequities and inconsistencies in the system that need to be sorted out. It's a very difficult balance for the government."
Fitzgibbon, a Rudd supporter, went on: "If there is a story saying Fitzgibbon said that those who worked hard in the past to get to where they want to be in life should be protected, then I'll be happy with that story. We've got to make sure that there is an incentive to work. Hard work brings reward at the end. That is what aspirational Australia is about and that's what we should be promoting." Seeing a potential advantage, Tony Abbott recently promised that a Coalition government would not bring in any unannounced adverse changes during its first term.
The Labor government has already eaten away at middle class welfare and breaks over several years – through changes to eligibility for family benefits, the baby bonus and the private health insurance rebate, as well as some winding back on super. In terms of policy these can be strongly defended. And there is a case for more action. But taking it in a budget four months from an election would be bold - and there will be quite a few Labor troops hoping that political discretion will be put ahead of valour, or even the budget bottom line, by the government's cost cutters.