As we inch towards the start of the winter Olympics in Sochi, Putin's government would be happy that soon they won't have to keep draining their banks. All costs included, it is estimated that Russians will have spent $51 billion to host the event. This makes it the most expensive Olympic games ever held.
What's worse is that Sochi has only one-third the number of events compared to the summer version of the games. On average, then, each Sochi event will cost $520m, nearly four times that of Beijing 2008 Olympic games, which costed an overall $43 billion.
The initial budget, according to the original bid, was about $12 billion. The spiralling costs have brought accusations of corruption and waste on the Kremlin. For instance, the Russians have spent $8.7 billion just to construct a 31-mile rail and road connection between Adler and Krasnaya Polyana. According to an estimate by the Russian Esquire magazine, that would be the same price if the road were to be covered with a one-centimetre layer of Beluga caviar.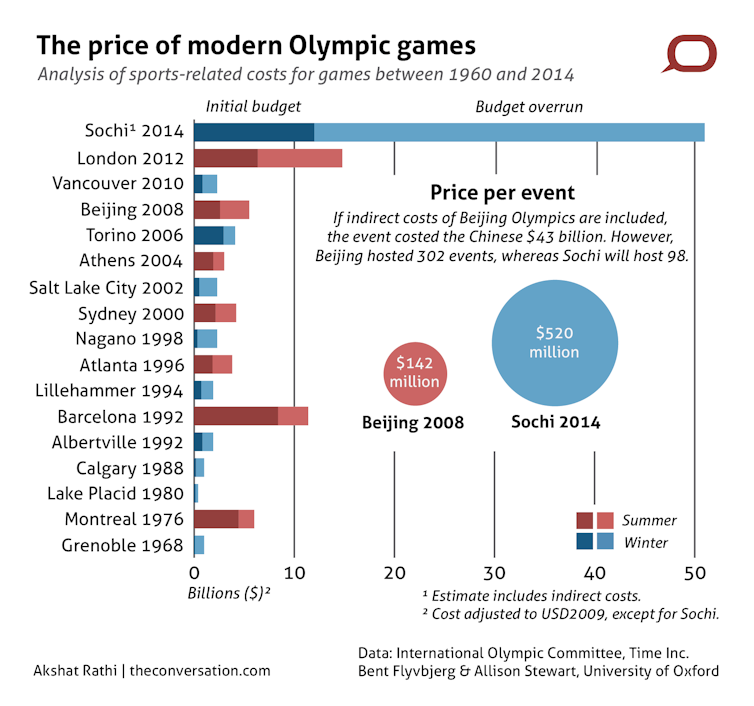 According to an analysis by Bent Flyvbjerg, chair of major project management at the University of Oxford, and his colleague Allison Stewart, all Olympic games since 1960 have had a cost overrun. On average, they cost nearly three times the initial budget.
In their analysis Flyvbjerg and Stewart only considered sports-related direct costs, such as building stadiums and paying staff for running events. Other indirect costs, such as new infrastructure in the form of highways or hotels, were not included because of lack of reliable data. But these costs can be significant, especially in developing countries or completely new locations. And they are reflected in the price tag for the games in Sochi and Beijing.
According to Will Jennings at the University of Southampton, as he writes on The Conversation, such mega-events offer great opportunities to emerging economies with a potential audience of billions. However, their leaders often don't take into account the spiralling financial and human costs associated with them.
Or, alternatively, it might be that they don't care about those costs. Of the 27 games held between 1960 and 2012, only 16 could be duly analysed by Flyvbjerg and Stewart. They write that the lack of data means "for 41% of Olympic Games (we analysed) no one asked how well the budget held thus hampering learning regarding how to develop more reliable ones".
So it is anybody's guess whether these games are hosted to get a country that much-needed economic boost or just to showcase their global ambitions regardless of the price.
---
Related: Olympic-style mega-events reach new frontiers, at a cost