How often do you read a book and get a bit emotional? Not because it's heart-breaking, not because it's nostalgic – but because it's written so well.
Okay, I didn't actually weep wet and woeful tears but I felt intense admiration, wonder and awe when I read this particular book.
Then, to make things worse, what if the situation expands and you are asked to keep secret the fact that the author of this amazing novel is coming to Australia and speaking at the University of NSW as part of the Sydney Writers' Festival and the information is embargoed for months to come? More tortuous emotions!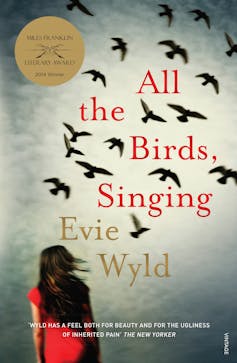 Under this enforced silence, I bought 15 copies of Evie Wyld's All the Birds, Singing, which won the Miles Franklin Award in 2014. I gave them to friends, colleagues and family (I accidentally gave my mother a copy, twice, in my excitement), and spoke quietly about Wyld's writing craft and characterisation, without revealing she was shortly heading to our shores.
Evie Wyld is not the only great talent represented in the Sydney Writers' Festival this May 18-24.
Under the 2015 theme of How to Live, David Mitchell will talk about his speculative masterpiece The Bone Clocks. Mohsin Hamid, will deliver the opening address Life in the Time of Permawar. Ben Okri of The Famished Road is on his way too. Then there is the Australian line-up we all know: Helen Garner, David Malouf, Richard Flanagan, Kate Grenville, Robert Dessaix.
Despite the impressive selection, I am chewing my fingernails in anticipation to hear Evie Wyld.
Why so obsessed? How has this brain-crush become so irrepressible?
Well, mostly, because it is rare to come across writing talent that sings. As a teacher of creative writing at university I read a lot of fiction, poetry and essays. My bed is surrounded by high stacks of books. My car is littered with books. My university desk is neck-high with books; some are crammed beneath my desk, warming my feet. Yet, rarely am I truly intellectually moved.
I interviewed Evie Wyld via email recently and told her that I thought her book was "unforgiving". She replied:
It's an interesting word - the whole book is kind of about not forgiving yourself, so I'd say you're about right. Many people find it very dark and relentless, some people (my mother included) find it funny. Some people see a real hint at lightness at the end and others feel it stops dead in its tracks. All totally valid.
Wyld's book astonished me because she managed to tell her tale in two time frames, but with an interesting twist. The sections set in the present were written in the past tense and the sections set in the past were written in the present tense. Please excuse the pun but the result was tense.
Secondly her narrative voice is one I have never heard before.
I mean it. Jake, her narrator, is new. I like her. She is strong and reserved. She is damaged but competent. She is treated both badly and well, loved and despised. She perseveres … but without pathos, without martyrdom and without sentimentality.
All writers know this is the most difficult quality to master: to create characters that excite pathos without being pathetic. Wyld told me:
There's a tendency to idolise or vilify characters and I find that uninteresting and untruthful. We've all done things in our lives that we're not hugely proud of, but for the most part we try and work them into the narrative of our lives the idea that we are somehow blameless, somehow forgiven. With Jake I wanted her to have nowhere to go with this. Rather she was unthinking, and most of us are guilty of that to some degree.
There are oppressive scenes when Jake lives with a mean and sinister farmer Otto, who won't let her leave the property. There is a Darwin scene where Jake works as a prostitute and is turfed out of a ute without payment once the client Kenneth sees the scars on her back and thinks she has AIDS. Wyld does not abdicate.
Wyld also manages to create a manifestation of Jake's fears as a dark, scuttling animal-like form. This Gothic-style creation is also difficult to achieve without falling into the realm of the formulaic. In her own words:
I'm an atheist, but I do believe that people see ghosts, that the brain is an unexplored country and that it can pop things in front of you that you either want very badly to see, or gather things from your emotional state and translate it into something visual. So in that way I felt very comfortable writing about these fictional things as reality.
The final quality of All the Birds, Singing that left me breathless with "writer respect" was that the author left several of the narrative threads unfinished or unresolved. There are many stranded story fragments and yet the book left me completely satisfied.
Perhaps this irresolution is a symptom of the author living in the UK while harbouring a deep curiosity for her mother's place of birth. She says:
I have dual nationality – my mother was born and brought up in Sydney, and as a kid especially I felt a very strong connection with the place. We'd come out at Christmas and I'd just soak it up. The land has something more traumatic to it than England's gently melancholic landscape. Those films of the 70s, like Picnic at Hanging Rock and Walkabout, left a mark on me as a kid, that great big feeling of not belonging, of being a parasite the land is trying to spit up.
You won't want to "spit up" this novel. You will want to read it again and give it to friends to gauge their response. The desire to share a new book is surely the greatest sign of respect.

Evie Wyld will speak at the Sydney Writers' Festival on May 19. Details here.