The screening of the documentary series Persons of Interest on SBS, in which former targets of the Australian Security Intelligence Organisation (ASIO) surveillance examine their files, has prompted some spirited public debate on the role of ASIO during the Cold War period in Australia.
The arguments have played out along traditional partisan lines. Right-wing commentators such as Sydney Institute director Gerard Henderson have defended ASIO as an organisation that performed its job well while also pointing out that many of its assessments were correct: the Soviet Union did have spies in Australia. Many of its targets should have been watched.
Those on the left, however, have traditionally contended that ASIO was (and is) at best over-funded or unnecessary, and at worst an incompetent and dangerous organisation whose methods infringed civil rights and destroyed livelihoods.
Broadly speaking, both arguments have merit.
Origins of ASIO
ASIO was set up in 1949 by Labor prime minister Ben Chifley to allay concerns from US and British intelligence services that Australia was "leaking". Indeed, Australia was.
A secret US intelligence program known as Venona had begun intercepting and decoding Soviet signal traffic during World War Two. Thanks to some lax security practices by the USSR, the US was able to read parts of the Soviet Union's cables. It revealed an extensive Soviet spy network in Australia, which seemed to emanate from "The Nook" – Australia's Department of External Affairs.
Though investigations were slowed by the Soviet use of cover names, many spies such as External Affairs employees Jim Hill and Ian Milner – organised by the leader of the spy ring, Wally Clayton (or KLOD) – were identified. However, ASIO could not use this evidence as to do so would reveal the existence of Venona.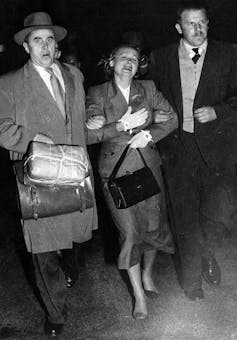 The defection of Soviet spy Vladimir Petrov and his wife Evdokia, a cipher clerk, to Australia in 1954 was a coup for ASIO and its director-general, Charles Spry. The Petrovs were the star witnesses at the Royal Commission on Espionage, announced by prime minister Robert Menzies in the lead-up to the 1954 election.
Though the Royal Commission did not result in any arrests, it highlighted that there was a spy ring in Australia. Petrov was useful, in part, because he allowed ASIO to publicise material without revealing its true source (Venona). The Petrov Affair, as it came to be known, would have far-reaching effects on the Australian political landscape.
Conspiracy
ALP leader Doc Evatt believed that Petrov was the "rabbit out of the hat" that the anti-communist Menzies needed to win the 1954 election, held just six weeks after Petrov's defection. The ALP's narrow loss only heightened his suspicions of a conspiracy.
Evatt had been Minister for External Affairs at the time when leaks had occurred. Following the election it was revealed that his press secretary, Fergan O'Sullivan, was a source of Soviet intelligence. Two more Evatt employees, Allan Dalziel and Albert Grundeman, were also named as Soviet sources.
Believing that this was part of an orchestrated political attack, Evatt (a former king's counsel and High Court judge) elected to represent Dalziel and Grundeman at the Royal Commission, while firing O'Sullivan. Eventually Evatt's leave to appear was withdrawn by the royal commission, which believed he was conducting a defence of himself rather than representing his clients.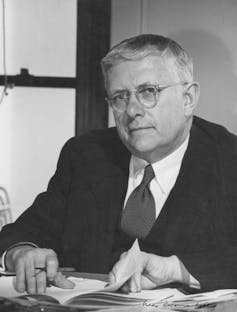 Evatt pursued his claims of a conspiracy in the House of Representatives but his reliance on a letter from Soviet foreign minister Vyacheslav Molotov, which stated that the Soviet Union did not have spies in Australia, was met with howls of derision or laughter from both sides of Parliament. Claims of a conspiracy would nevertheless become commonly accepted by the left for years.
The episode helped split the Labor Party, which would not gain national office again until Gough Whitlam's victory in 1972. Labor's continuing distrust of ASIO was demonstrated when Lionel Murphy, Whitlam's attorney-general, "raided" ASIO with Australian Federal Police officers in 1973 after believing they were withholding information. He came up empty-handed.
Doing its job
Recent scholarship and archival releases have shown that the "conspiracy" idea is untenable. Instead, it should be acknowledged that ASIO did its job. In cases such as Petrov it was very successful.
Nevertheless, questions have been raised about other aspects of ASIO's conduct. It has become clear that members of the Coalition used ASIO in a partisan way to gain information on their political opponents.
In addition, countless careers were stalled by systematic ASIO security checks. Persons of Interest demonstrates this well by using the example of Suse Milliss, wife of then-Communist Party member Roger Milliss, who was denied a job at the ABC after ASIO interference.
These actions were not trivial, and had significant consequences for those affected. Also clear is that ASIO concentrated almost exclusively on the left and excluded right-wing groups like the Croatian Ustasha, which committed violent acts in Australia and overseas.
Another fascinating aspect of the SBS series is its engagement with ASIO's tawdry treatment of former "assets". Any assessment of ASIO in the Cold War must accept that there were areas of deep concern in its activities despite its successes.
Nevertheless, perspective is necessary. Political activist and "person of interest" Arthur Dent's visions of future ASIO "death squads" are unrealistic to say the least. ASIO was closer to the FBI in the McCarthy era than the SS in the Third Reich, though even at its worst, Spry's ASIO never matched the zeal – and political repression – of FBI director J. Edgar Hoover.