The death of Pete Seeger marks the end of an astonishing career. His music, political activism and teaching gave him an extraordinary influence that shows no sign of abating.
Although the American folk revival was well underway when he established The Weavers in 1948, it was this band more than any other that came to epitomise the early folk movement. Young singers throughout America, Britain and Australia were inspired first to imitate their songs, and later, to copy the way in which the band gave participatory music a new lease of life. The character of global folk revival followed Seeger's suit.
Although not a prolific songwriter, his adaptations of traditional songs provided a common repertoire for a generation of folk enthusiasts. His signature songs (Goodnight Irene, Little Boxes, If I Had A Hammer, Where Have All The Flowers Gone) are still sung around campfires. Their simplicity and catchiness has ensured they remain in the public consciousness, but these songs are also political beneath the melody. It is this mechanism for broadening minds through music with which Seeger is most associated.
His mission centred on the importance of building and empowering communities. His music propelled this vision and inspired a generation of disaffected youth around the world to participate in the change they wanted to see happen. He was more than a music maker: he was a catalyst for change.
Gifted at connecting with audiences, Seeger called his ability to inspire people to sing along his "cultural guerrilla tactic". "There's no such thing as a wrong note as long as you're singing it," he told the 15,000-strong crowd at his birthday celebration.
"I'd really rather put songs on people's lips than in their ears," he said. But he achieved more than this; he put thoughts into their heads. It is this power, perhaps, that resulted in the government questioning his connections to the Communist Party. Although he wasn't the only artist to be called in front of the House-Un American Activities Committee, his refusal to take the fifth amendment and denouncement of the questioning as "improper" meant that he became a symbol of the liberal and left wing resistance to the ravages of Macarthyism. The resulting period of censorship had a profound effect of Seeger's reach.
I was helped … by the unique political situation when I was black listed from respectable endeavours and therefore began to sing for some of the most creative audiences in the country, namely students, peaceniks, the left wing and civil rights people. These were and still are some of the greatest audiences I'll know in my life.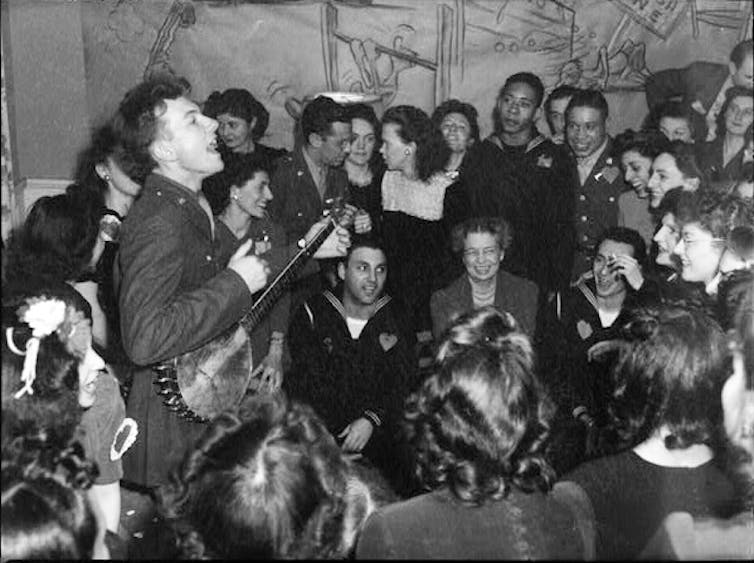 Seeger's activism moved beyond the realms of music. As an environmentalist, he not only provided exposure for the early environmental movement, but also project managed and fund-raised for decades of legal action against General Electric, which resulted in a 2009 agreement for dredging the Hudson River to provide environmental reparation.
The folk scene has had its share of figureheads, legends and totemic didacts. Seeger sits amongst them comfortably. What makes him exceptional is how he maintained that position without a trace of egomania, conceit or guile. His writings, in particular, illuminate his willingness to accept his own fallibility. When a former pupil turned against him in 2007 for his early support of Soviet Communism, Seeger wrote a song explicitly condemning Stalin and, more tellingly, wrote a letter to his critic stating "I think you're right, I should have asked to see the gulags when I was in U.S.S.R [in 1965]".
As Barack Obama put it: "For reminding us where we come from and showing us where we need to go, we will always be grateful to Pete Seeger". A man of passion, dedication, boundless energy, but perhaps above all humility and a deep love for his fellow man, Seeger will be sorely missed, but not forgotten.