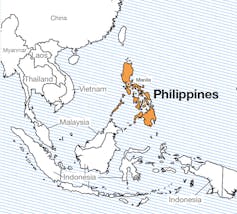 The Philippines grabbed global attention in May 2016 when Rodrigo Duterte was elected president by a landslide. Often described as "Trump of the East", Duterte has gained international notoriety for his off-the-cuff remarks: from calling Pope Francis a "son of a whore" to declaring the Philippines was "separating" from the United States.
However, there is a distinction between what the president says and what he does. While Duterte has developed a reputation for his controversial speeches, his policies, for the most part, remain consistent.
The Philippines' economy is doing well. Economic ministers have committed to high infrastructure spending, especially in cities outside the capital. Meanwhile, tax reforms and cutting of red tape are top priorities for the government. The World Bank recently upgraded its growth projection for the country's economy to 6.9% in 2017 and 7% in 2018.
Debates on shifting to a federal system, allowing for localised forms of governance across the islands, have also begun. And there has been talk about relaxing restrictions on foreign ownership. It will be interesting to see the precise character these reforms will take.
Several divisive issues will be worth monitoring. Duterte's hardline, shoot-to-kill approach to the war on drugs has claimed over 7,000 lives. After exposed corruption in the police force at the start of the year, the president ordered a dissolution of the anti-drug unit. This means the future of the bloody war on drugs is uncertain.
Also uncertain is the future of the peace talks with communist rebels that have been in conflict with the government for nearly five decades. After an optimistic start in three rounds of negotiations, the president cancelled the ceasefire agreement after military men were ambushed last January.
Another issue to watch is how the government plans to engage with China in terms of the disputed Scarborough Shoal.
Finally, natural disasters, particularly typhoons, continue to be the most disruptive risk to the country. Let's hope another disaster like Typhoon Haiyan (the strongest storm that made landfall in recent history) doesn't strike this year.