A legal battle has erupted between art dealer Larry Gagosian and the royal family of Qatar, with each side claiming to have purchased a Picasso statue from Picasso's daughter Maya Widmaier-Picasso.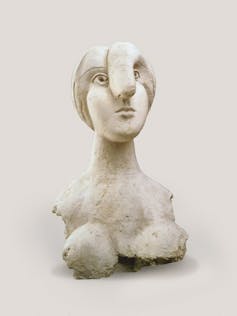 The piece, a bust of Picasso's mistress Marie-Thérèse Walter, is currently being exhibited at New York's Museum of Modern Art. Beyond the astronomical (disputed) sale price – upwards of US$106 million – it's also significant news because it's relatively rare for attention to be lavished upon one of Picasso's sculptures.
In fact, his sculptures remain a mystery to many. The prolific Pablo Picasso is probably best-known as a painter, although his drawings, ceramics, engravings and lithograhs are also often highlighted in museums, exhibitions and auctions.
What hasn't been very well-publicized is the substantial contribution to modern art that Picasso made as a sculptor. In fact, Picasso Sculpture, an ongoing exhibition at New York's Museum of Modern Art, is the first time in nearly 20 years that a museum is directing attention squarely on the artist's sculptures.
While nearly all his early experience, training and prodigious energy went into painting, some have even argued that Picasso was more naturally a sculptor.
Cataloguing Picasso's sculptures
Admittedly, Picasso's sculptures make up a small fraction of the estimated 50,000 works the artist produced in his lifetime.
There's still debate over how many Picasso produced. The famous Picasso biographer Roland Penrose included 284 entries in his extensive exhibition of Picasso sculptures, and Picasso scholar Werner Spies identified 664 items in his catalogue raisonné. Meanwhile, the Online Picasso Project contains 796 sculptures.
But when looking at the output of an artist, it's not merely a question of quantity; it's also a question of quality. It's telling that when Dominique Bozo, the curator of Paris's Musée Picasso, selected a list of the works to be donated to the museum, he chose around 150 sculptures (to accompany 200 paintings).
Given the paucity of Picasso sculptures, it's not surprising that they're rarely sold (and thus lose out on the media buzz generated by each Picasso auction). Of the 116 unique artworks by Picasso auctioned at Christie's in 2014, only nine were sculptures; of the 201 sold at at Sotheby's, only 21 were sculptures.
Yet in most cases, the sculptures sold well above their estimated values.
A personal fondness for his sculptures
One reason Picasso's sculptures remain a mystery to many is that the artist was averse to selling them.
According to Trinity College professor Michael Fitzgerald, "trained as a painter, [Picasso] rarely hesitated to sell his paintings." On the other hand, "He developed a deep fondness for his sculptures, and treasured them as if they were members of his family."
In fact, Picasso didn't agree to a full-scale exhibition of his sculptures until 1966, when he participated in the large Paris retrospective Hommage à Picasso, which would go on to travel to London and New York in 1967.
Only then did the public fully realize that Picasso had been creating – and experimenting – in this medium.
"This is the moment Picasso agrees for the first time to let his sculptures depart from his studio en masse," Anne Umland, curator of painting and sculpture at New York's Museum of Modern Art, explained at the time. "It's the first time the public has the chance to see the scope and range of his sculptures."
Rarely publicized
Because Picasso wasn't willing to exhibit his sculptures until later in his life, they often went undocumented in the (purported) comprehensive publications of his work.
For example, the classic two-volume Picasso by Carsten-Peter Warncke and Ingo F. Walther contains 1,226 illustrations, but has only 66 sculptures among them. Meanwhile, the book Ultimate Picasso by Brigitte Léal, Christine Piot and Marie-Laure Bernadac depicts 1,187 works of art – with only 73 sculptures.
Even John Richardson's detailed Picasso biographies mention the sculptures only in passing.
The current MoMA exhibit aside, Picasso's sculptures make a limited appearance in most contemporary exhibitions. The 2012-2013 exhibition Picasso: Black and White at the Guggenheim Museum and Houston's Museum of Fine Arts displayed 118 artworks, with only 12 sculptures. In 2013's traveling exhibition of the Musée Picasso, a mere 28 sculptures appeared among the 139 works shown.
A wildly experimental sculptor
While Picasso had been formally trained as a painter (and earned most of his income from selling paintings), sculpture was a medium where the artist could experiment freely and break established rules – without fear of damaging his reputation or hurting his bottom line.
According to Ann Temkin, chief curator of painting and sculpture at the MoMA, because Picasso was an amateur sculptor, he was able to be "extremely free in thinking about what is a sculpture."
His cubist sculptures of 1912–1913 were particularly innovative. As The Guardian's Jason Farago put it, they were a "thunderclap," with the artist upending what, at the time, was the traditional method of sculpture: chiseling away at a block of material to achieve a new form.
Instead, by fusing pieces of cardboard, Picasso "built" his Guitare (1912). Constructing objects from sheets of common materials like cardboard, metal or wood, the artist was able to connect his art to the everyday world, blurring the boundaries between art and life.
For art historian Yve-Alain Bois, the role played by this sculpture lies precisely in its full exploration of the nonrepresentational value of sculpture. In other words, he was able to use arbitrary objects and materials to create pictorial signifiers. As the artist once declared, he wanted to "trick the mind" – not simply fool the eye.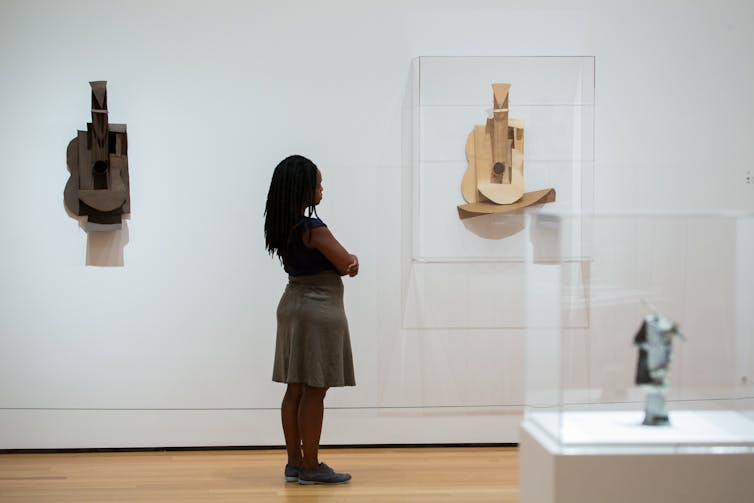 In the 1950s, Picasso would return to planar sculptures. These would also start with paper or cardboard models that the artist would cut out and fold. He would then have them transferred to sheet metal, which he then would either paint or leave unpainted, with the rusted surface of the metal exposed.
The play of folds, hollow spaces and polychromatic tones serves to suggest relief. Folding and cutting allowed Picasso to superimpose different points of view and still retain the frontal view; meanwhile, depth is suggested by the contrast between filled and empty spaces.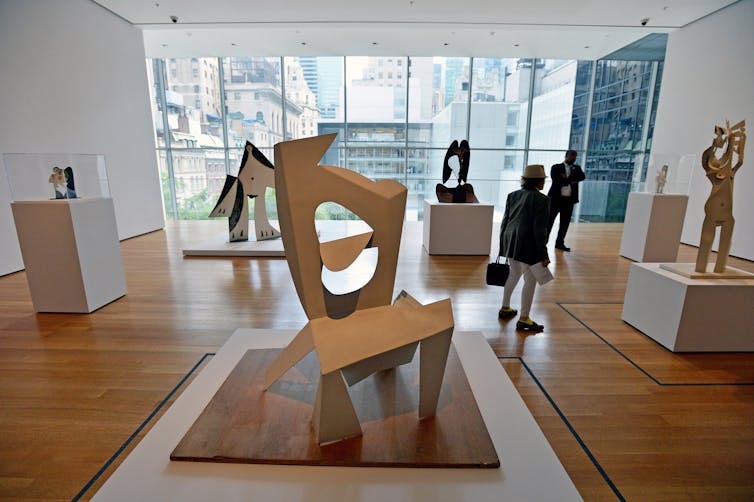 Judging by the critics' glowing reception of the current New York exhibition (which runs until February 7), we may start to see Picasso's sculptures getting the attention they truly deserve.
Of course, two exorbitantly wealthy collectors wrangling over possession of a Picasso sculpture certainly won't decrease their value, and perhaps Picasso's sculptures will go the route of his revolutionary paintings from the late 1960s and early 1970s. Including works like Le vieil homme assis, they were widely panned when they were first exhibited at Avignon's Palais des Papes in 1973.
Nonetheless, these would go on to have a profound influence on later generations of artists. Today, they're some of the most sought-after Picassos in the world.