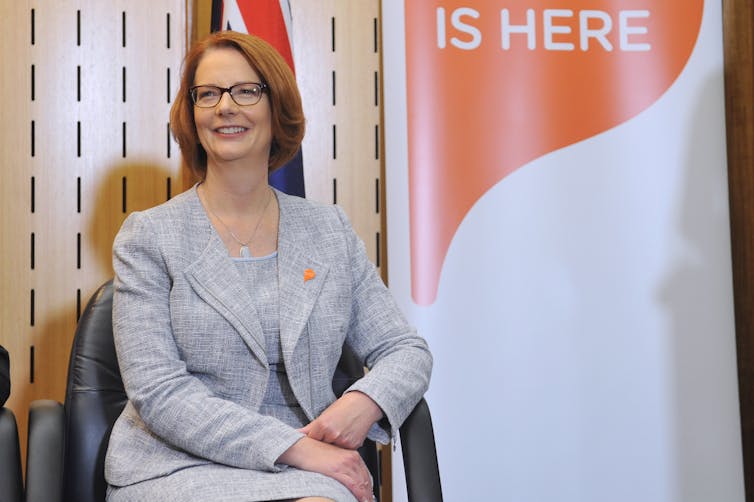 Some pressure has been taken off the Prime Minister with today's Newspoll, which shows Labor substantially narrowing the Coalition's two-party lead and Julia Gillard significantly improving her better-PM rating to be back in front of Tony Abbott.
The poll, published in The Australian, has the ALP's primary vote up 3 points to 34 %, and Labor trailing the Coalition 48-52% in two-party terms. The 4 point gap compares with 10 points (45-55%) just a fortnight ago. The vote boost comes after the PM's high profile campaign in western Sydney, and Newspoll says it appeared to be driven by a "lift in Sydney", with other states "largely unchanged".
Gillard support as better PM has risen 6 points to 42%, leading Abbott, who on 38%, down 2 points.
The results should calm, at least for the moment, nervous caucus members who start a two week parliamentary session today.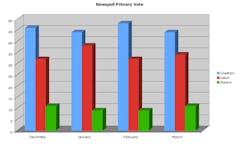 But, with leadership talk rife in Labor yesterday after federal factors were blamed for contributing to Labor's big loss in Western Australia at the weekend, Newspoll holds out the temptation of the ALP potentially doing much better under Kevin Rudd.
When people were asked who they would support if a Rudd government faced an Abbott opposition, 47% said they would vote for the government and 39% for the Coalition. This would be a two-party result of 56-44% in Labor's favour. Rudd supporters will say this validates their argument for change; Gillard backers will argue such a result does not take account of the disruption and division that would accompany a switch.
Rudd rates 44% as preferred Labor leader, Gillard 25 % and Workplace Relations Minister Bill Shorten 16%. While Shorten's name has again arisen in the current speculation, there is general agreement within Labor that Rudd is the only viable alternative if Labor were to change. Shorten's continued backing for Gillard is vital to her hold on her position. Rudd has said he will not mount a challenge, a pledge that works to Gillard's advantage.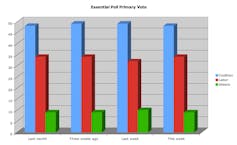 The Essential poll, out yesterday, also had an improvement in Labor's support, with a rise in the primary vote from 32% to 34%. But in this poll Labor trails 45% to 55% in two-party terms.
As debate raged about the relative role of federal and state factors in the WA result, ministers rallied behind Gillard. Special Minister of State Gary Gray declared:
"I believe not only can Julia Gillard win [the election], I believe Julia Gillard is capable of governing not just for the next term but for the one after that. She's a Prime Minister of great standing and great quality, great character and great tenacity."
Trade Minister Craig Emerson said Labor faced a challenge to get its message out, with one reason being the "background noise" of the party talking about itself. He appealed to party members inside and outside parliament to talk to the Australian people about their aspirations rather than focusing inward. Emerson rejected the argument that the Labor brand had a bad name across the nation, pointing to its stronger position in Victoria.
Emerson also said that while the Obeid affair, dramatically documented in the NSW ICAC inquiry, was appalling and Labor had "genuine problems" in Sydney, it was absurd to connect the PM to Eddie Obeid.
In an ABC Four Corners program last night on Obeid, Labor elder, Senator John Faulkner, said that "Labor's standing in the state of New South Wales has been very, very significantly damaged by the revelations at ICAC and it would be very surprising if that didn't have an impact federally".