As a book designer, I'm often asked whether I think printed books have a future. Short answer: yes, but it's complicated.
The future of print question is often followed by a declaration of love for tangible books – people want to share their passion for the smell and texture of paper, the ease of reading a book in bed/bath/beach, the pride associated with a well stocked and organised bookshelf. Books are more than vessels for content, they are objects of fetishistic appeal to those who love them.
Technophiles dismiss this book-lust as sentimentality driven by fear of the new, and argue that the current generation raised on smart-screens won't yearn for the smell of old paper, or the satisfaction of reading one thing at a time.
But there's more to the appeal of books as objects than nostalgia. The form of a book – its size and shape, paper stock, printing, cover and binding – creates an experience of anticipation for the reader. There is a sense of ceremony in buying, borrowing or being given a book. More than evoking a simpler technological past, the physical book promises a new experience – one that will unfold in your hands, page by page.
Artists have long understood the potential of the book form to do more than just display information.
The term artists' book refers to books created by artists, where the form of the book is as important as the text and images it contains. In The Century of Artists' Books, scholar and book maker Johanna Drucker argues that artists' books appear alongside every major art and literary movement in the 20th Century. See, for example, the book art created by the Russian Avant-Garde and American photographer Ed Ruscha's 26 Gas Stations.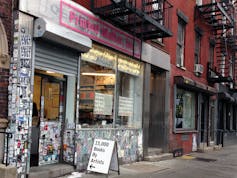 New York City's Printed Matter, Inc. was founded in 1976 by American artist Sol LeWitt and critic Lucy Lippard. The store is a hub for artists' book makers and enthusiasts. Shelves and display tables overflow with zines, periodicals, books, tote bags and other ephemera. A sandwich board outside the store spruiks "15,000 books by artists" and the website cites an annual circulation of 32,000 publications.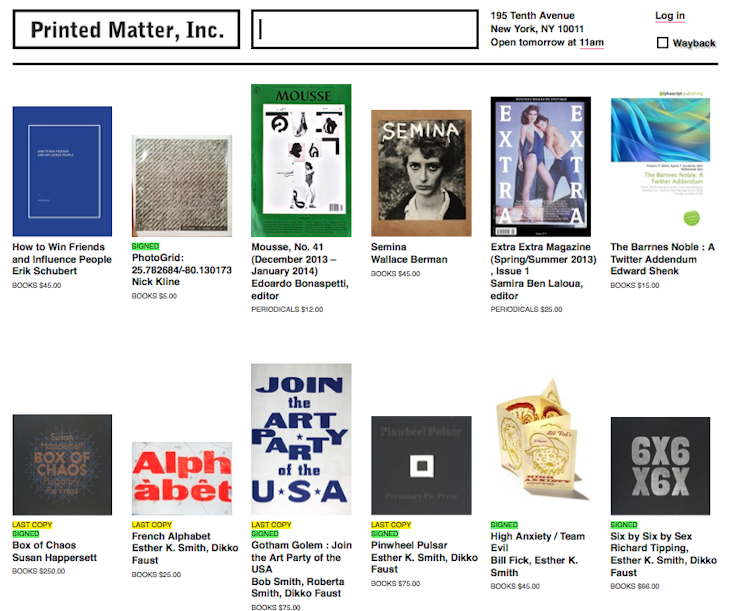 Books are selected to be sold in store and online through an open submission process: artists and small publishers send in a sample book, which is reviewed by a panel of three staff members. The subject matter of the books is diverse – artists' books are a format, rather than a genre. The only thing these publications have in common is that they are "conceived of artworks in their own right" (rather than catalogues of exhibitions or books about art) and are produced outside of mainstream publishing.


Aside from selling books, Printed Matter is dedicated to fostering understanding and appreciation of the artist book genre through exhibitions, events such as lectures and readings, and the annual book fairs held in New York City and Los Angeles. Over three days in 2013, more than 27,000 people visited the NY ArtBook Fair.
27,000 people.
On the huge attendance to the Fair, Associate Director Max Schumann (who has worked at Printed Matter since 1989) reflects: "The fair suggests the potential to move beyond a purely art audience. It's part of a larger context, a response to monolithic corporate culture … people are seeking out alternate cultures, and making their own culture."
Schumann describes observing an new generation of artists interested in the book, as well as learning analogue print techniques such as letterpress and Risograph printing. He links this return to craft and physical book production to a disillusionment with digital media, which is commercially driven.
While distributing artworks and text in digital formats has the advantage of reaching potentially unlimited online commuitites, any artwork posted online becomes instantly download-able, instantly sharable, instantly public property. Ownership is one of the great pleasures of physical books: your copy.
Holding a hand-made publication is even more intimate. Via the paper surface, the hands of the maker and the hands of the viewer are linked. For print lovers, this experience can never be replicated on screen.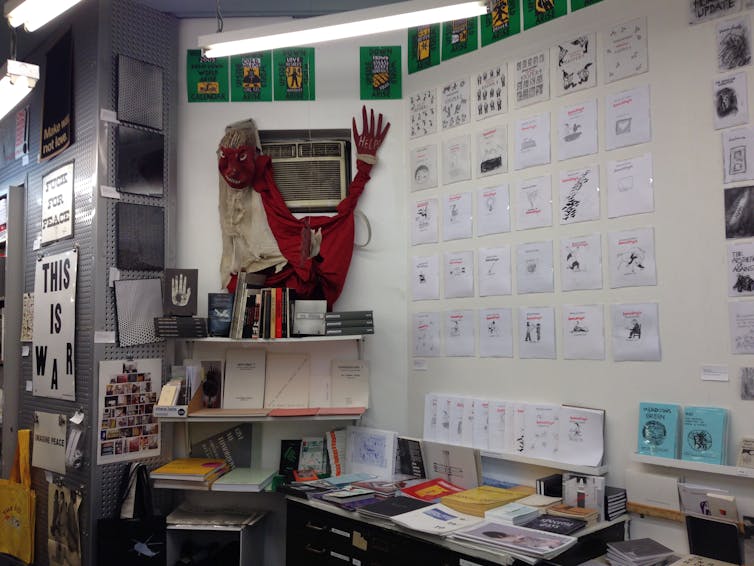 While many independent bookstores are struggling to stay afloat, Printed Matter is expanding. In late 2013 the website was relaunched with more content, advanced searches and a 'table' that allows staff and users to curate groups of books and submit critical essays about them. In addition to the blossoming NYC and LA ArtBook Fairs, they partnered with the Minneapolis Walker Art Center in 2012 to host a 'curated shelf' of books from the NY store and local book artists, with plans to partner with other art institutions around the world.
The growth of Printed Matter shows that people are turning back to books as an artform, both to make and to appreciate.
The largest publicly available archive in Australia is The Artists' Books Collection at the State Library of Queensland, with around 1500 works from local and international artists. Many of the books have been digitised, showing photographs of the books from multiple angles. Some include video interviews with the artists and videos of the work. These "digital stories" richly communicate the complexity of the art objects on screen.
The State Library of Victoria holds a collection of books created by international artists such as Pablo Picasso and Ed Ruscha, and more than 400 Australian artists, that can be viewed by appointment. Also, watch Sarah Bodman's slideshow on 21st-century book arts.
Queensland's Artspace Mackay gallery hosts the biennial national Libris Awards, with an online gallery of exhibited works.
The Victoria and Albert Museum, London has a page of interviews with 6 book artists discussing their work, including links to the artists' favourite books/sites.
As long as artists are making and institutions are collecting/selling printed matter, physical books will never die.