In Australia's political history, elements of both Coalition and Labor governments have used arguments of cultural identity and national pride to justify policies of economic protectionism. The practice continues today.
Take, for instance, this utterance: "The pragmatic zealot view would mean that there was no arts industry, no public transport, no environmental programs because none of those things pay for themselves."
The speaker might have added "no Australian film production industry".
The "pragmatic zealots" are one large faction of the Liberal Party committed to resisting what they see as a drift towards protectionism; policies, ones that defend local production from imported competition.
The Nationals have had a long history of sympathy for protectionist policies, especially for agricultural production. So it was of little surprise that the speaker of those words was the National Party senator for Queensland, Barnaby Joyce.
Manufacturing Minister, Labor's Senator Kim Carr, chose different words but the meaning was the same: "if we didn't have this fund, we wouldn't have an industry." He was talking about another industry, though: the car manufacturing industry.
If cinema is the cultural product that characterised the 20th century, then the car must be the industrial product. Interestingly, there are similarities between the car industry and the film and TV production industry and their courting of government support.
Arguments for government support for either industry cluster around common themes: quantifiable ones, like export earnings and import replacement, maintenance of industrial skills and employment created or maintained; and more nebulous ones like pride and nationalism, strategic defence issues and cultural identity.
A new theme, for your correspondent at least, emerged recently. It seems that all national car industries in the world are dependent on government subsidies, so how can we be different? Or, should that read: all national car industries in the world, capable of taking a vehicle from designer to driver, are dependent on government subsidies.
Here, the comparison with the film industry is clear. All national film industries, except for India and the United States, are dependent on government subsidies. The maze of indirect federal US support, including tax structures and the incentives offered by state film agencies to lure film production to their locations, would seem to invalidate that latter's distinction.
It's worth remembering that cultural nationalism lay at the heart of the 1960s campaign to engage public money in support of the Australian film industry. The Films Committee of the Australian Council for the Arts, whose recommendations shaped the government intervention, made no direct mention of cost at all.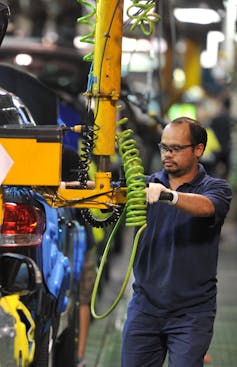 A kind of industrial nationalism underlies claims for continuation of subsidies for the car industry. It incorporates two streams. The first is a technocratic pride that Australia is one of only 13 countries that can design, engineer and mass-produce a modern car. It's seen as a sign of being a grown-up 20th century country. A similar talismanic belief swept Australia in the 1970s, when having a film corporation became a sign of being a grown-up state.
The second is a fear of industrial vulnerability. If war should cut our sea-lanes and isolate us from foreign factories, on which we are already industrially dependent, how will we cope? There is a slight echo here of the film industry's familiar catchphrase of "telling our own stories". Both are worth more scrupulous examination than space allows here.
Sales of Australian-made cars are declining, with 4375 fewer sold last year. Just over 146,000 were sold the year before, barely 15% of total car sales. The film industry knows all about the problem of sales. After the heydays of the 1980s, when Australian films twice accounted for more than 20 per cent of the annual national box office, our box office share went down to around 1.3% in 2004. The share has been bobbing around three or four percent since. Car industry critics say that Australia is not making cars Australians want. Making what Australia wants is an issue for the film industry too.
Employment was not an issue when Prime Minister John Gorton committed fiscal support to the film industry at the Australian Film Institute awards in 1969. Screen industry employment was estimated at a little over 6000 a few years later in a survey by the (then) Australian Film and Television School.
Today, employment in screen production is about 8,000, with flow-on employment approaching 17,000, getting close to the 40 to 50,000 directly employed in the three big car makers. However, there are claims that five times that number is employed in associated industries from component manufacture to repairs and maintenance, so the employment argument for screen industries subsidies is weak.
In the end, the screen industries are left with nebulous concepts like pride, nationalism and cultural identity, to argue continued support for their industry. That will be a tough call for either party.
Conventional wisdom suggests the Labor Party is more sympathetic to those issues than the Coalition. However, the original commitment of fiscal support to the film industry was by a Coalition government led by John Gorton, who graduated from Oxford with an MA and a burning ambition to be a writer. Two other major innovations in government support to the film industry, the 10Ba tax gearing and the present producers offset scheme, were products of Coalition administrations.
Those whom Senator Joyce terms "pragmatic zealots" seem to be ascendant in the Liberals' party room. Given that they are generally unimpressed with concepts like cultural identity, the way the Opposition's policy goes on subsidies to car manufacturers is likely to influence their support for the screen industries.