Australia will soon begin its fourth football World Cup finals campaign – the third successive tournament it has qualified for – with group stage matches against Chile, the Netherlands and Spain.
While some more recent Australian football fans might now view qualification for the World Cup as something we can take for granted, Australia's earlier adventures in attempting to gain access to the pinnacle of the world game prove it wasn't always thus.
Australia began trying to qualify for the World Cup soon after its FIFA membership was restored in 1963. Australia had been suspended because local clubs were signing up overseas players such as Leo Baumgartner and Sjel de Bruyckere, claiming they were just migrants who had arrived here and only wanted a game of football. Their European clubs were not receiving transfer fees and complained to FIFA, which suspended Australia.
Australia's first attempt to get to the World Cup – the 1966 tournament in England – was very disappointing. The Australian team prepared in Cairns with a match against Ingham, while their opponent, North Korea, had about 35 competitive games before the two-match play-off in Phnom Penh. Australia lost both encounters comprehensively, then played a series of matches in Asia to help defray the trip's costs.
Later, Australia learned to play warm-up games before the main event, not afterwards.
In 1967, in the middle of the Vietnam War with prime minister Harold Holt under pressure at home, it was decided that Australia should play in the Independence Day tournament in Saigon. The idea was to help demonstrate the superiority of democracy and boost morale among service personnel and the domestic population.
A young team led by Johnny Warren and coached by "Uncle" Joe Vlasits found itself interacting with Australian troops who would then go off to fight while they played and beat New Zealand, South Vietnam, Singapore and Malaysia en route to the final against South Korea. The Australians threatened not to take part after being informed that there was no space in the stadium for the Australian military personnel who had been a huge support to the players on and off the field.
As it turned out, the service personnel were allowed in and the rest of the crowd supported Australia rather than the Koreans, much to the Australians' surprise. South Korea scored in the first minute, but the Australians responded brilliantly. Billy Vojtek produced a wonderful solo goal after 36 minutes and Atti Abonyi and Warren added the others in a 3-2 win to register Australia's first international tournament victory.
The camaraderie in the face of adversity was an important element in the mindset that eventually helped Australia qualify for the World Cup in West Germany in 1974.
Led by Rale Rasic, a bunch of part-time players, some of whom had to give up their employment to take part, qualified by beating South Korea in another play-off, this time in Hong Kong. Everyone remembers Jimmy Mackay's fierce shot that won the decisive game, but fewer remember Jimmy Fraser's performances in goal that helped get Australia to that point.
In the finals, Australia lost to East and West Germany and drew with Chile. Chile, coincidentally, will be Australia's first opponent in the 2014 tournament, and another draw would be an excellent result. That match against Chile in 1974 was marked by the appearance of Harry Williams as a substitute late in the game, the first recognised Indigenous player to represent Australia at a FIFA World Cup.
In 2005, after a wait of more than three decades, Australia qualified for another World Cup in a now-united Germany. People asked me before the tournament: "Will we qualify for Germany?" I would reply: "We always qualify for the World Cup in Germany."
After the excruciatingly narrow loss to Iran at the MCG in 1997 on the away goals rule, getting to Germany depended once again on a series of brilliant saves by goalkeeper Mark Schwarzer, who has recently retired from international football, and a penalty kick by John Aloisi to defeat Uruguay.
The nation united behind the team. It is estimated that some 60,000 Australians followed them to Germany, the largest outward movement of population since World War Two. Many did not have tickets but enjoyed the tournament in the fan fests in all of the World Cup cities.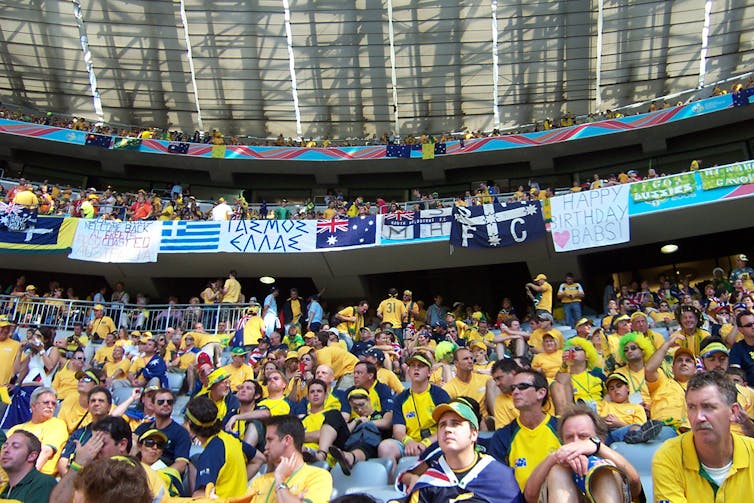 At home, thousands got up in the middle of the night to watch Australia on big screens in cities across the country. Australia beat Japan with three very late goals, lost to Brazil, but then drew with Croatia to qualify for the knockout stages. Only a late penalty to the eventual winner, Italy, brought the campaign to an end.
Australia has since qualified for South Africa in 2010 – where it went out in the group stages after a win, loss and draw – and the tournament in Brazil is now about to start. Bring it on.
---
Roy Hay and Bill Murray's new book, A History of Football in Australia, is published by Hardie Grant.