When most people think of Brisbane architecture, they usually picture a Queenslander: high-set, timber-and-corrugated iron houses that are ideally suited to subtropical conditions. Modernism fits into that picture awkwardly, as if an intruder.
A new exhibition at the State Library of Queensland, Hot Modernism: Building modern Queensland 1945-75, seeks to challenge this conventional view.
The exhibition focuses on modernist architecture in the "Sunshine State", particularly its southeast corner. The story it tells is of a vision that was international in inspiration, yet shaped by local conditions. It transformed the urban landscape. Whole suburbs emerged after the second world war, dotted with flat, angular or butterfly roofs, and the new houses often featured bright-coloured accents on stark geometric patterns.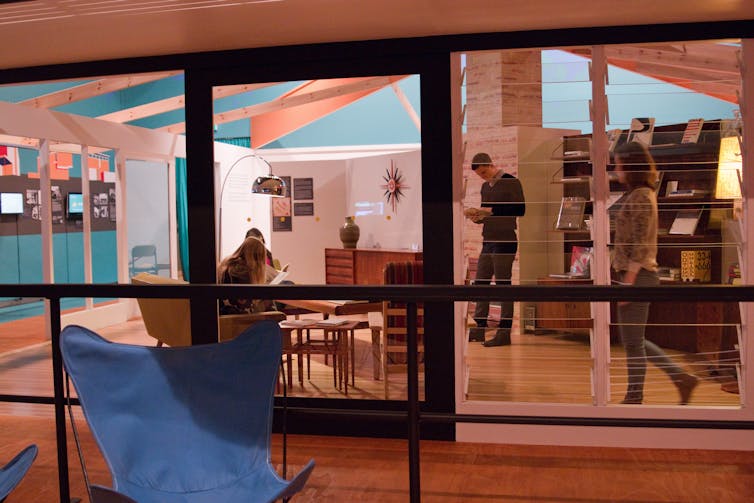 A vivid example is the Jacobi House (1957), which appears in a 1:1 recreation in the exhibition (above). Its bright orange frame takes centre stage, allowing visitors to experience its modest, but transformative, pavilion design. It is also like walking into a time capsule, with modern furniture and design of the day within the Hayes and Scott design.
Perhaps the most conspicuous manifestation of modernist design documented in the exhibition is the Riverside Expressway (1971-75). Its sweeping serpentine lines delineate the northern bank of the Brisbane River. It allowed the city to be experienced from a fleeting drive-by perspective for the first time.
This sweeping, curvilinear modernism finds many echoes, particularly James Birrell's earlier Centenary Pool in Spring Hill (1957-60) (main image). The imposing expressway is, however, the demarcation point for those who deplore the modernist transformation and those who seek to establish a greater understanding of what it meant and strived to achieve.
A fragmentary history
A goal of Hot Modernism is to explain the scope and diversity of the modernist architectural ambition. The only problem is that its history in Queensland exists, as Professor of Architecture John Macarthur noted on the opening night, in a piecemeal and contested state of "conversations, traded anecdotes and memories".
This fragmentary, oral history is reflected in the design of the research initiative, Digital Archive of Queensland Architecture, which is a major impetus behind this exhibition.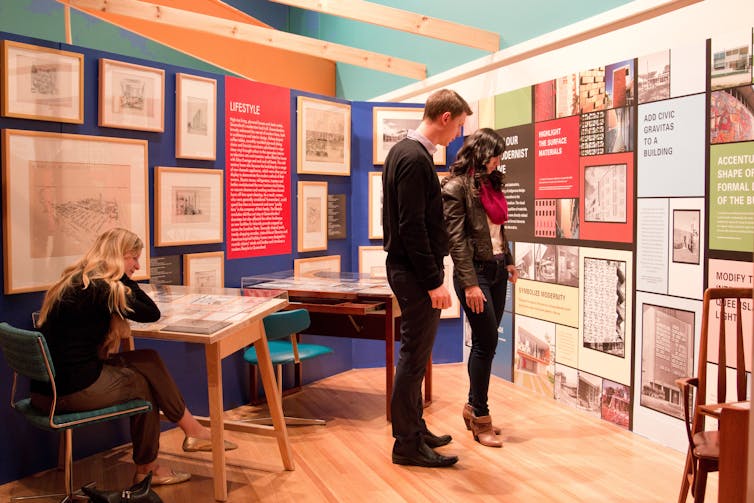 The period covered, 1945-1975, was shaped by rapid population growth, accelerated car ownership, new construction materials and new ideas about how and what to build. It was also an insular, often backward-looking social-political climate never fully comfortable with cultural matters (unless they could be directly translated into money or reflected political glory); a comparatively smaller economy, which limited the prospects for architectural work; and little recognition of local, or Australian, architectural histories, even at universities.
The architectural story of modernism in Queensland is intertwined with the state's social-political and urban history. Hence, the amount of detail is important to record, although, visually, this is a busy exhibition.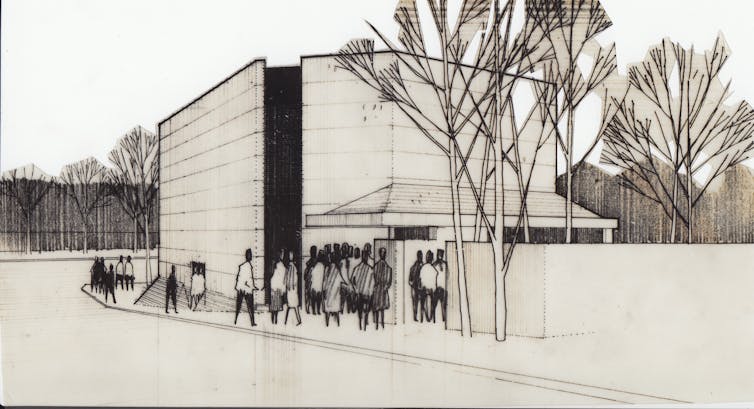 Ironically, its floor-to-ceiling style is more reminiscent of pre-modern exhibition display. There are moments when it looks like the manic by-product of the architect's zeal for documentation and the librarian's penchant for the minutiae of the archive. Plans, drawings, historical films and videos, models and interactives all contest for attention.
The show is also supplemented by reminiscences — such as the poignant interview with architect Blair Wilson, who passed away since the exhibition opened, discussing the original La Boite Theatre in Brisbane's Milton.
Modernist subtropical design
Emerging from all this detail is an architectural history independent from the narrow Sydney-Melbourne outlook; one that also breaks from narratives suggesting modernism presents a schism from the ongoing imperatives of subtropical design.
Hot Modernism reveals a more complex and convoluted reality. While the styles may change dramatically, key design principles of subtropical housing remain remarkably consistent: designing for climate and airflow; an emphasis on a spatial interplay between the internal and external, open and closed; and a continuity of focus on standardisation, prefabrication and building simplicity.
It is not surprising then that the "timber and tin" tradition resurfaces in the delightfully idiosyncratic documentary (above) of the same name by Max Bannah and Kent Chadwick (1976). Examples of complex amalgamations of modernist change and tradition include Roger Heathwood's Speare House (1959) in Indooroopilly (demolished in 1999).
By the time of John Railton's Wilson House at Dickey Beach on the Sunshine Coast (1971) and Rex Addison's acclaimed design for his own house in Taringa (1975), this complex accommodation was emerging as a distinct subtropical style and evidence of a more confident and securer sense of cultural identity.
Architectural loss is also a big theme. There is always a lot of hit and miss with rapid urban development. Unfortunately there was a lot of miss in the 1970s as many important buildings were demolished. The Riverside Expressway, for instance, came with the eradication of trams in Brisbane.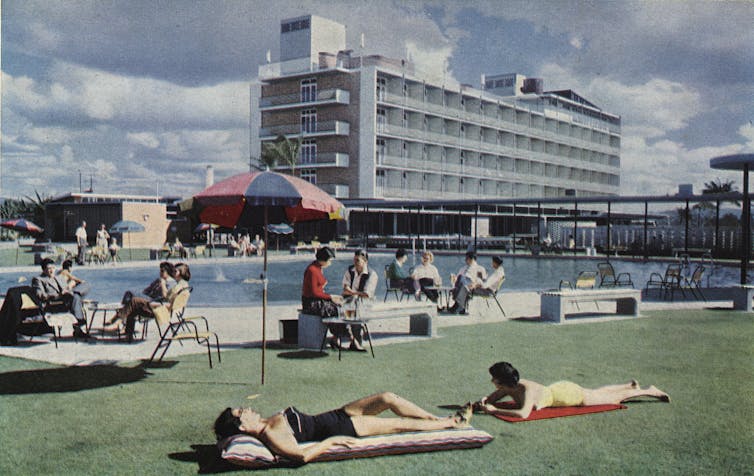 Modernist buildings seem to perish without remorse. Karl Langer's West Furniture Showroom (1953), featured in the exhibition, is now beautifully restored, but his Lennons at Broadbeach (1958) is long gone without anything terribly significant replacing it.
Hot Modernism seeks to draw people's attention to this important, often overlooked, recent heritage, which is now also under threat. Until recently, Queensland has often been poor at commemorating its cultural history beyond a default position of defensive parochialism.
Here we see modernist designs anticipate the more confident, modern city that would eventually emerge. As Macarthur also noted on opening night:
many of the ideas of modern architecture are possible in our climate in a way that they are not in the northern hemisphere.
The exhibition offers clues, but we may have to wait for the book, Hot Modernism: Queensland Architecture 1945-1975 (due for release in November this year), to fully explain which ideas became possible only in the subtropics. The account will be worth waiting for!
Hot Modernism continues until October 12 2014 at the State Library of Queensland.